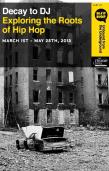 Ithaca, N.Y.
- The History Center is proud to present
Decay to DJ:  Exploring the Roots of Hip Hop
, opening on Friday, March 1st and running throughout the month. The exhibit, featuring photographs from Joe Conzo, will tell the story of the birth of Hip Hop in the Bronx in the early 1970's, and will set the stage for a number of other Hip Hop related programs and exhibits opening in April throughout the community, as part of
Hip Hop: Unbound from the Underground - an Ithaca Community Celebration of Hip Hop Culture
. Decay to DJ will feature about several large-format photographs from Conzo's collection, depicting the urban decay of early 1970's New York City as the backdrop for the birth of what would become a uniquely American artform. The exhibit is co-curated by Catherine Duffy and Jason Otero. Coming in April,
Hip Hop:  Unbound from the Underground
will feature a number of programs and activities at sites such as the Tompkins County Public Library, Cornell's Carl A. Kroch Library, and the Greater Ithaca Activities Center.  
About The History Center in Tompkins County...
The History Center in Tompkins County helps people use the tools of history to understand the past, gain perspective on the present, and play an informed role in shaping the future. In order to accomplish this mission:
we preserve and encourage access to The History Center's unique collections;
seek out the diverse needs and interests of our community;
design learning experiences and provide services that respond to those needs;
create opportunities for people to learn about themselves and their place in the world;
and provide a neutral environment for public discussions that bring historical perspective to current issues.
Press Contact: Scott Callan Executive Director       The History Center in Tompkins County 401 East State Street, Suite 100 Ithaca, NY, 14850 Tel: 607.273.8284 x6 E-mail:
community@thehistorycenter.net
Open hours: Tue, Thu and Sat 11am-5pm and by appointment. For more information visit:
http://www.thehistorycenter.net/
Subscribe to our e-newsletter "History Happenings"