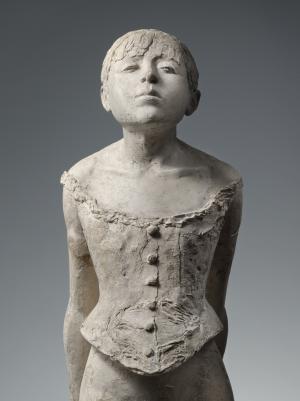 Southampton, N.Y. – In 2004, a plaster cast of Edgar Degas' "Little Dancer" was discovered in the closet of a now defunct foundry outside Paris. For Gregory Hedberg, an eminent art historian and Southampton resident, the discovery was a revelation. What he saw in the sculpture of the 14-year-old dancer was the answer to a question that had long puzzled him: Why did Degas' sculpture of this little ballerina, which had created a sensation in 1881 when it was hailed in Paris as revolutionary, appear to have had no immediate influence on modern sculpture?
In fact, says Dr. Hedberg, it did. And the reason its influence has not been recognized, he contends, is because the recently discovered plaster cast, with its distinctive pose, an original work by Degas, is the one that set off the firestorm in the late 19th-century art world, while the wax sculpture, later reworked in a way that would not have seemed particularly revolutionary, is the one with which the world has become familiar.
On Saturday, July 1, Dr. Hedberg will be at the Southampton Historical Museum to speak about the "Little Dancer," her outsize influence on the course of art history, and his recently published book. In "Degas' Little Dancer, Aged Fourteen: The Earlier Version That Helped Spark the Birth of Modern Art," Dr. Hedberg takes on those who dispute his theory. The book offers persuasive evidence in all categories—art, historical, technical, scientific—that the plaster was created during Degas' lifetime and that the little ballerina's iconic pose, previously reserved for august or religious figures, was truly revolutionary. The author's claim that the sculpture as originally conceived did indeed influence many artists is persuasively argued and lavishly illustrated with examples from the likes of James McNeill Whistler, Edouard Manet and John Singer Sargent.
Dr. Gregory Hedberg is Senior Consultant of European Art at Hirschl and Adler Galleries in New York City. He received his B.A. in Art History from Princeton University and his Ph.D. from New York University. For 20 years he had a distinguished museum career as Lecturer and Fellow at The Frick Collection, New York; Curator of Paintings at The Minneapolis Institute of Arts, Minnesota; and Chief Curator at the Wadsworth Atheneum, Hartford, Connecticut. In 1987, he left the museum world to help found a new art school in New York City, The New York Academy of Art, and was appointed its first Director.
In 1992, Greg joined Hirschl & Adler Galleries as its Director of the Department of European Art. He has since curated several gallery exhibitions including Yanks Paint Brits (1996); New York Classicism Now (2000); and The Grand Scale: New Watercolors by Alexander Creswell (2006), Alexander Creswell: Aquaterra (2010); Bouguereau & His Milieu (2011); and Alexander Creswell: Fire & Light (2012). Greg also regularly lectures around the country on European art and contemporary realist painting. Dr. Hedberg and his wife Margaret have a summer home in Southampton.
Dr. Hedberg's talk begins at 5 p.m. in the beautiful Music Room of the 1843 Rogers Mansion, 17 Meeting House Lane, Southampton. Admission is free and a reception for the author follows the lecture. Seating is limited. RSVP (631) 283-2494 or lcollins@southamptonhistoricalmuseum.org
###
WHAT?    Adult Lecture
WHERE?  Rogers Mansion, 17 Meeting House Lane, Southampton, NY 11968
WHEN?    Saturday, July 1, 5:30 pm 
FEE?         Free admission, a reception follows the lecture.
                  RSVP (631) 283-2494
                  or lcollins@southamptonhistoricalmuseum.org
CONTACT: Tom Edmonds  631-283-2494; 
tedmonds@southamptonhistoricalmuseum.org