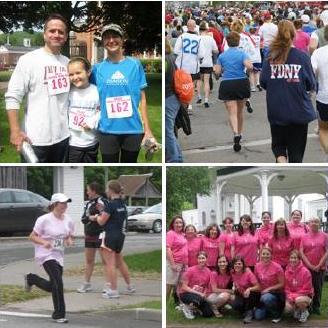 Delhi, N.Y.
- The Greater Delhi Area Chamber of Commerce, in partnership with The Catskill Ladies Association to Support and Inspire (CLASI), has announced that the 17th Delhi Covered Bridge Run will take place on Saturday, June 2nd, 2012. This charitable event consists of a 10K Run, 5K Run and 5K health walk and is being held in conjunction with the Second Annual Delhi Health Festival which will bring all things health related to the Court House Square in Delhi to help inform the public about the resources that are available in this rural area. The Delhi Covered Bridge Run is the only road race in the greater Delhi area and attracts runners of every level from many neighboring towns and counties. The course is mostly flat with a couple of rolling knolls. The 10K course participants will cross the West Branch of the Delaware River on Delhi's historic covered bridge. 5K participants will enjoy exquisite scenery and beautiful views of SUNY Delhi's college golf course. Timing for this event is provided by Leone Timing. "We were overwhelmed with the support that we received at last years event" says Amy Beveridge, race director and Fund Development Manager at O'Connor Hospital. She is also on the committee for the Health Festival, which is sponsored by O'Connor Hospital. "Last year we had 200 participants and we're hoping that combining forces with the Health Festival will only help to bring in more runners and walkers." Runners and walkers interested in The Delhi Covered Bridge Run can complete the online entry form by visiting the Cardio Club website
http://www.thecardioclub.com/
. Long sleeve T-shirts are guaranteed to the first 200 race participants, prizes to the top finishers in each category, plus wine raffle, free massages and other gifts to be awarded to race participants! Fees for signing up are $25 when you sign up at the Race on June 2, but if you sign up online it's $20. Proceeds from this event will be contributed towards college scholarships for two local Delaware County graduating seniors whose lives were impacted by athletics. In addition, a donation will be made to the Delhi Pool. "We are actively recruiting sponsors for this great event and these great causes," says Jen Green, avid runner and local business women. "I'm excited to be a part of this year's event in more ways than just running." For more information of if you are interested in participating or sponsoring the event, please email The Greater Delhi Area Chamber of Commerce at delhichamber@delhitel.net or call Amy Beveridge at 607-278-5461.If you'd like more information about this topic or to schedule an interview with Amy Beveridge, please email
thebeveridges@yahoo.com
or call (607) 278-5461.
###
Contact
: Amy Beveridge 607 278 5461
delhichamber@delhitel.net
Greater Delhi Area Chamber of Commerce