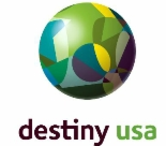 Destiny USA looks back on the past year and its accomplishments in tourism, programming and marketing
Syracuse, N.Y.- Destiny USA celebrates its two-year anniversary on Saturday, August 2. The shopping, dining and entertainment destination was rebranded from Carousel Center to Destiny USA on August 2, 2012, after the expansion opened to the public. It's been a busy year for Destiny USA between its increased tourism outreach, expanded programming and new marketing initiatives.
Tourism
Tourism is an important piece to the Syracuse economy. Tourists fill the local hotels and spend thousands of dollars in shopping, dining and entertainment in Syracuse each year.
In the past year, Destiny USA increased its presence at trade and consumer shows by 28%, with representation at major shows in cities across the United States including New York City, Los Angeles, Washington DC, Miami, Orlando, Chicago, Nashville and Boston. International outreach spans as far as Berlin, Vancouver, London, Sao Paulo and Toronto.
Registered tour bus traffic at Destiny USA is up more than 37% year to date with more than 40 new operators sending busloads to the property since last year. Visitation is coming from throughout New York, Massachusetts, Pennsylvania, New Jersey and Maryland, plus major cities and small towns throughout Ontario and Quebec. Destiny USA has recently hosted buses of guests from Spain, India, China and Turkey as a result of these efforts.
"We've received very positive feedback from both drivers and tour escorts about Destiny USA's new motor coach lounge on the first level," Rose Hapanowich, Director of Tourism of Destiny USA, said. "The lounge opened in 2013 and features two TVs, computer, refrigerator, microwave, coffee maker, comfortable seating and more. It has proven itself to be an important asset, providing an added incentive for those making the decisions as to where their buses end up."
Programming
Destiny USA launched several programs during the past year, including the Summer Fun Day Pass and Tykes Tuesday. The Summer Fun Day Pass is a voucher booklet that allows guests to enjoy four entertainment venues in one day at a lesser cost. Guests can purchase and redeem their Summer Fun Day Passes until August 31 on the third level of the expansion or at www.destinyusa.com/summer. Tykes Tuesday is a free children's program that runs every Tuesday through August 26 from noon to 2 p.m. in the Canyon Area. Each week has a different theme, from Dave and Buster's Day to Syracuse Chiefs Day. A full calendar of events is available at www.destinyusa.com.
"Destiny USA is more than a place to shop; it's a place for families to have fun together," Sara Wallace, Director of Marketing of Destiny USA, said. "We wanted to create these programs to show families that there's a lot to do at Destiny USA during the summertime, and year-round. The excitement surrounding the Summer Fun Day Pass is showing us that families and friends are looking for more to do, more experiences to have and more memories to create."
Marketing
In 2012 and the beginning half of 2013, Destiny USA was mostly focused on the openings of great retail stores, restaurants and entertainment venues in the expansion. With more than 60 new venues to explore, Destiny USA shifted its focus to help market all the unique, new venues to people across New York State, New England and Canada. Destiny USA is investing advertising funds in major markets including Montreal, Toronto, Albany, Scranton, Rochester and more. In partnership with the Syracuse Convention and Visitors Bureau this year, Destiny USA is raising awareness of the experiences Syracuse has to offer through billboard, radio, online and video advertisements.
"We're very proud of the many things we've accomplished in the past year at Destiny USA," Rob Schoeneck, General Manager of Destiny USA, said. "Our plan is to continue to make it a destination for friends and family from around the world to shop, dine and play all year round."
Destiny USA has several great events planned for the weekend of its two-year anniversary, including collaboration between Destiny USA's restaurants, and a kick-off event for this year's Bubble Blast Run. Stay tuned for more details on these events in the upcoming week.
###
Destiny USA is a 2.4 million square foot tourist destination in Syracuse, NY that includes a strong mix of luxury outlet tenants, restaurants and entertainment. New brands are continuing to open to create a unique and dynamic consumer shopping experience. A stunning three-story glass atrium provides perfect weather year round. Oxford Economics has projected an annual visitation rate of over 29 million visitors from throughout the U.S. and Canada. Destiny USA is expected to be the second most visited shopping center in the country, according to Travel and Leisure magazine. It is the largest LEED® Gold certified retail commercial building in the world.
MEDIA CONTACT: Sara Wallace, 315.466.6000