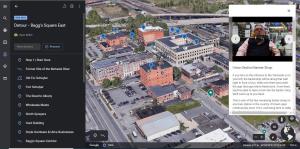 Scheduled for Wednesday, April 7, 2021 at 6:30 pm
Detour Utica is an innovative new project focusing on the history of the Baggs Square area in downtown Utica.  The Oneida County History Center is pleased to host Ryan Miller and Geoff Storm, the project creators who will share insights on how the project was born, the research involved, and other details of its development. Join us virtually via Zoom and find out more about this engaging way to experience Utica history.
The project uses modern technology to present the past in new ways. Miller and his team worked extensively with local historians and citizens to collect stories of some of the major landmarks of Baggs Square: where the city of Utica began, and what has now become a center or revitalization.  Available via phone, or desktop computer, Utica Detour delivers interactive 3D buildings, historic photographs, documents, and even a walking tour with interviews and insightful commentary.
Ryan Miller is the director of the ThINCubator, an organization meant to drive innovation and foster a culture of entrepreneurship in Utica, NY. He is a founder of TEDxUtica, YouticaEATS, and co-founder of the Utica Firefly Storytelling Project.
This online program takes place on Wednesday, April 7, 2021 starting at 6:30 pm. The event is free and open to all. Advanced registration is required and can be completed at https://www.oneidacountyhistory.org/programs.html. Registrants will receive a link and instruction on how to join this online event after registration is complete.
The Oneida County History Center is a private 501(c) (3) not-for-profit educational institution dedicated to preserving the history, heritage, and culture of the Greater Mohawk Valley for present and future generations. Admission to this program is free for the general public; donations are encouraged. Please contact the History Center at 315-735-3642 or visit the OCHC website (http://www.oneidacountyhistory.org) for additional information.
###
Registration Link: https://zoom.us/meeting/register/tJAqc-uorj4pGda9sYed4P8YEscOfAt5im1S
Photo Caption: Screen capture of Detour Utica's 3D Tour of Baggs Square.
Contact:
Patrick Reynolds
(315) 735-3642