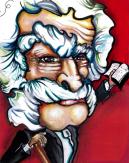 If you didn't, you will after "Trolley into Mark Twain Country" tours begin Tuesday
Elmira, N.Y.
- Did you know that that the Mark Twain Study in Elmira, N.Y. is the most famous literary landmark in America? Twain penned such classics as The Adventures of Tom Sawyer, Adventures of Huckleberry Finn, The Prince and the Pauper, Life on the Mississippi, A Tramp Abroad and A Connecticut Yankee in King Arthur's Court while summering in Elmira for more than 20 years. You can learn about this and many other fascinating pieces of trivia about Elmira as you take a guided one-hour tour aboard "The Elmiran," an authentic reproduction of one of the earlier trolleys that rode the rails here. The trolley departs on the hour from 10:00 a.m. to 2:00 p.m. from the Chemung Valley History Museum at 415 E. Water Street. Tours run Tuesdays through Saturdays from Tuesday, July 3rd to Saturday, September 1st, with the exception of July 4th. All riders on Opening Day will receive a free, limited-edition Twain poster. Reservations are suggested and can be made by calling (607) 734-4167.
Other fun facts:
Did you know that the New York State Fair had its beginnings here in Elmira? Back in the 1860s, 1870s, and 1880s, you would have seen two massive gates, made of cast iron and bronze, located at the end of the median on Luce Parkway that marked the entrance to the New York Interstate Grounds.
Did you know that  Brand Park Pool, designed as an upturned straw brimmed hat, is one of only six surviving Bintz pools in the nation? Brand Park Pool, an architectural wonder dating back to 1936, was created by Bintz Pool Corp., in which the salesman sold the pool by upturning his own straw brimmed hat and saying, "Gentlemen, there's your new municipal swimming pool."
Did you know that  back in the 1800s, Maple Avenue was best known for its trolley run? The trolley tracks ran down the middle of Maple Ave., whisking passengers from the downtown train stations to the bustling village of Wellsburg. Wellsburg, at the time, was quite the tourist attraction, boasting four resort hotels that were built over the natural mineral springs.
Did you know that  for each Confederate soldier who died in Elmira's prison of war camp during the Civil War, an earthen crock was buried next to his tombstone? Each of these crocks included his personal effects as well as a detailed handwritten account of each soldier such as his name, the unit he served with, his home address, cause of death, and any last personal requests. Former slave and sexton John W. Jones buried the fallen soldiers.
The trolley tours are a joint project between the Chemung County Chamber of Commerce and C TRAN (formerly Chemung County Transit). Come and learn about Elmira's rich history!
CONTACT
: Cynthia Raj
Cynthia@ChemungChamber.org
(607)734.5137 Elmira, New York. www.MarkTwainCountry.com