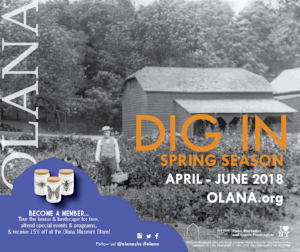 OLANA Announces Upcoming April through June Highlights
Hudson, N.Y. – Olana invites visitors to "DIG IN" to all that the site offers including participating in public programs, volunteering or becoming a member, shopping at Museum Store and continuing to learn about this cornerstone site to our region. 
The Olana Partnership/Olana State Historic Site announced a full schedule of upcoming programs, promotions and events on site beginning on April 28.  There are several new and exciting highlights happening this season, beginning with the first in a series of planned improvements in Olana's artist-designed landscape, based on the award-winning Olana Strategic Landscape Design Plan.
The first event of the season begins on April 28th at 4pm with an illustrated talk by renown photography artist, Justyna Badach.  Travelling Talks: Justyna Badach and the Land of Epic Battles shares landscapes and scenes from both the Middle East and the United States in the geo-political time that spans from Frederic Church's time in the 19th Century through Badach's own present experiences.  Badach's work pulls from early color western films and her new series of large, hand-made dichromate photographic prints of landscapes are made using film stills from ISIS training videos.  Her photographic prints use gunpowder as a pigment. Badach is a Philadelphia-based artist, educator, and museum professional whose work is in numerous museum and collections. This event introduces the topic of this year's exhibition titled: Costume & Custom: Middle Eastern Threads at Olana opening June 17.
This season, The Olana Partnership has partnered with the Center of Excellence for Alzheimer's Disease to offer a program called Gray Matters: Connecting Dementia & Alzheimer's to Olana.  Gray Matters is a free bi-monthly tour option for people with early onset Dementia and Alzheimer's and their caregivers.  Today, it is estimated that 5.2 million Americans have some form of Dementia. In the coming years, this number will escalate rapidly as baby boomers age. The Olana Partnership wants to be part of the solution of addressing this fast-growing trend and develop tours and programs that can respond and assist these populations in our immediate surrounding communities to improve their quality of life. The intent of this program is to create a safe and stimulating space for adults with early onset Alzheimer's/Dementia to explore and be inspired by art, history and the wonder of the natural world at Olana. In this program there will be no right answers, or factual lecturing; just free associative exploration. Partnership educators have been trained by some of the best museum programs in NYS offering this opportunity to their audiences and we are thrilled to have the opportunity to offer this program at Olana. Participants in this program will take part in conversation and create art around specific Olana-related themes.  The tour will take place once a month in the Main House at Olana and once a month outside in Olana's artist designed landscape in an electric carriage.  
The Olana Partnership's Historic Landscape Tours return on June 1 for a third year. Historic Landscape Tours give visitors new views and celebrates Frederic Church's legacy which is Olana in its entirety. The Olana Partnership is launching the season with more regular public tours and specialty tours of Olana's historic site. Landscape tours are offered every Friday, Saturday, Sunday, Tuesday (June 1-November 6) Reservations are strongly encouraged. Walk-ins welcome, but not guaranteed.
The Historic Landscape Tours are offered as Walking Tours and Electric Vehicle Tours. The electric vehicle guided tour of Olana's artist-designed landscape covers most of Frederic Church's 250-acre composition and spans more than 150 years of history. Following nearly 5 miles of Olana's carriage road system and approximately one hour in duration, the tour is led by a knowledgeable guide who transports visitors in an electric open-air vehicle through Church's naturalistic creation. The route circles Olana's hilltop for 360-degree views, circles the lower lake, ascends Crown Hill, passes through the farm complex, and up the North Road switchback route. Topics include art and design, the native woodlands and meadows, the farm at Olana, the constructed lake, the historic road system, Church's original painting studio, architectural elements, viewshed protection, and Olana's ongoing preservation story through public and private support. It culminates with an arrival experience at the main house. Maximum: 5 persons. Adult: $25 (Due to safety reasons, children under the age of 8 are prohibited.) The guided walking tour covers some of the same great highlights of Olana's artist-designed landscape and its integral viewshed in a shorter loop approximately 1.5 miles in length and one hour in duration, a knowledgeable guide leads the group along Olana's upper carriage roads.
Celebrate Mother's Day (Sunday, May 13th) at Olana by joining us for a Free Community Day celebration, sponsored by Columbia Memorial Health.  Access to the Main House is limited to the first 500 registrants to sign up for self-guided touring tickets online. Historic Landscape Tours will also be offered for free on the hour with special tours given by Site Manager Kimberly Flook and The Olana Partnership's President, Sean Sawyer.  In addition to free tours, participants can join a Birding Hike with Audubon expert Eric Lind, Mom & Me Jewelry Making with natural stones and gems lead by The Peach Tree Jewelry (available to the first 150 people who visit) and participate in the meditative and health conscience practice of Zentangle. Live music will include both classical and family friendly performances.  The Olana Museum Store will be featuring Pop-up stores with Delightful Bites by Nina for fresh baked snacks, and The Peach Tree for local, handmade jewelry. Shop for mom and take advantage of BOGO ½ off scarves and jewelry, mix and match. Additional entertainment on-site is free; advance registration is required for tours. Families are encouraged to pack a picnic and spend the day with us. Prepare accordingly as parking can be full.
Join OLANA's first Facebook Book Club with the newly published book Embattled River: The Hudson and Modern American Environmentalism, by David Schuyler, Arthur and Katherine Shadek Professor of the Humanities and American Studies at Franklin & Marshall College. Embattled River describes the efforts to reverse the pollution and bleak future of the Hudson River that became evident in the 1950s. Through his investigative narrative, Schuyler uncovers the critical role of this iconic American waterway in the emergence of modern environmentalism in the United States.  Pre-order your copy today through the Olana Museum Store, available for shipment May 15th, 2018. If you are on Facebook, and like Olana's online content, join this dynamic, interactive, virtual book club which will include occasional online appearances from the author and The Olana Partnership educators. This program is free and anyone can participate, just join the OLANA BOOK CLUB group.
In mid-May, Nancy Wu Houk, owner of NYBUZZ®, will be installing Olana's first colony of bees on-site near the farm and old orchard. Wu Houk says, "Olana is an ideal and pristine environment. For so many visitors, Olana is all about the unspoiled view and the stewardship of the unspoiled natural landscape. But this landscape's health is much more complicated and interconnected than what you see at first glance; this project is about supporting and understanding a much bigger idea of the ecosystem of this place. Church cared about farm production science- he understood the idea of human's place and interconnectedness of all living organisms in balance with land, water and air." Wu Houk raises her honey bees on clean forage without pesticide to produce the most delicious raw honey possible. Her pure and premium product is available at Olana's Museum Store and she will be doing many programs at Olana throughout the season. Stop in and gingerly introduce yourself to our new and important colony, and certainly leave with honey from the Museum Store for your tea or toast! Nancy Wu Houk is a UMT Certified Master Beekeeper and Proprietor of NYBUZZ® Apiary, proud member of Certified Natural Grown, Fair Trade and The NYS Farm Bureau.
Interested in volunteering?  Join us for two upcoming Volunteer Recruitment Days, April 6 and April 21 to learn more about the opportunities available, no matter your availability.  Volunteers are a vital part of Olana's team.  The annual state-wide I Love My Parks Day clean-up event will take place on Saturday, May 5 to get the site ready for spring. Olana's vibrant volunteer program includes a number of community building perks of service. In the next few months volunteers will enjoy a cocktail hour on the Piazza, trips to the Metropolitan Museum of Art and the Wadsworth Atheneum, an appreciation luncheon, and access to programs at no cost.  Volunteering is a truly rewarding experience.
You may also consider becoming a member of The Olana Partnership or giving the gift of membership. Members receive free house and walking landscape tours, public program fee savings, and significant discounts on purchases at the Museum Store. You will also receive special event invitations to member-only occasions like our Member's Mimosas and Hard Hat event on April 22, in which participants will sip a cocktail while seeing the current construction developments at Olana. Membership now makes the next 12 months at Olana affordable while also showing support for OLANA's innovation.
The Olana Museum Store, open Friday-Sunday 10 AM to 4 PM, offers unique merchandise inspired by Frederic Church's art, travels and his life at Olana. Stop by Taste New York, located within the Olana Museum Store for fresh, locally sourced snacks and beverages to enjoy during your visit.
Don't forget to register for Panorama: Summer Learning for Youth with 3 superb weeks of summer programming from July 16-Aug 3rd. These programs fill up quickly, so don't delay!
To learn more about the highlights above and register to attend or to become a member visit us online at OLANA.org. 
About Olana and The Olana Partnership: Olana is the greatest masterpiece of Frederic Edwin Church (1826-­‐1900), the preeminent American artist of the mid­19thC and the most important artist's home, studio and designed landscape in the United States. Church designed Olana as a holistic environment integrating his advanced ideas about art, architecture, landscape design, and environmental conservation. Olana's 250-acre artist-designed landscape with a Persian-inspired house at its summit embraces unrivaled panoramic views of the Hudson Valley and Catskill Mountains and, today, welcomes more than 170,000 visitors annually.
Olana State Historic Site, a historic site administered by the New York State Office of Parks, Recreation and Historic Preservation, Taconic Region, is a designated National Historic Landmark and one of the most visited sites in the state. The Olana Partnership, a private not-for-profit education corporation, works cooperatively with New York State to support the restoration, conservation, and interpretation of Olana State Historic Site. To learn more about Olana and The Olana Partnership, please visit www.olana.org.
###
Media Contact:
Melanie Hasbrook
Development and Marketing Communications Manager                            
518-828-1872 x 103                                                                           
Program Contact:
Amy Hufnagel
Director of Education
518-828-1872 x 105