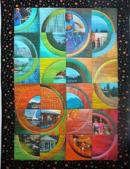 Sackets Harbor, N.Y.
-- "Who would think that a camera and computer are great quilting tools?" say Piecing with Pixels: Unique Quilts from Your Own Images authors Gudny Campbell and Sandra Hart. The pair is sending 10 of their digitally-designed quilted works to the March 20-21 Great Lakes Seaway Trail Quilt Show in Sackets Harbor, NY. The works feature circular patterns and pieces to fit the show theme of "Circles and Wheels on the Byway."   Campbell is a retired Navy computer specialist; Hart is a digital quilting expert.   Hart says, "Using computer hardware, software, and fabric as tools, much like an artist uses oil paint, brushes and canvas, we combine our two passions to create a new approach to the design and construction of art quilts."   The pair uses Photoshop computer software to digitally piece traditional blocks of patterns and landscapes, create original appliqué designs and print fabrics with photo and art images used in uncommon ways. They transfer snapshots to fabric using an inkjet copier or printer and commercially printed fabrics that are placed into either traditional quilt block or free-form design quilts.   Campbell and Hart have exhibited their quilts at international quilt and art museums. The annual Great Lakes Seaway Trail Quilt Show fills three floors at the Great Lakes Seaway Trail Discovery Center at the historic former Union Hotel.   Other featured works at the 2010 show will be quilts by Native quilter Dyan Swamp of Dreamcrafters Quilt Shop on the Akwesasne Mohawk Nation, designer Mary Knapp of Watertown, NY, and Norah Meeking whose Bella Bella quilts are based on Italian mosaic floors.   Quilting demonstrations, vendors, and the Fort Drum Chapter of Operation Kid Comfort quilt project are also show participants. The $5 admission benefits the Seaway Trail Foundation. The Orleans County Country Barn Quilt Trail is a show sponsor. Call 315-646-1000 for more information.
###
Contact
:  Teresa Mitchell, 315-646-1000
Photo Caption
: This "Trip to Mt. Shasta" quilt is one of 10 works Piecing with Pixels authors and digital design quilters Gudny Campbell and Sandra Hart are sending for exhibit at the March 20-21 Great Lakes Seaway Trail Quilt Show in Sackets Harbor (www.seawaytrail.com).