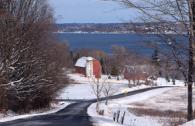 Travel Tips include Traditions and Firsts
Great Lakes Seaway Trail, NY and PA
- This holiday season find a full slate of fun activities along the 518-mile Great Lakes Seaway Trail National Scenic Byway. Welcome winter and experience the holiday spirit with shopping, shows, the Polar Express, and more great travel activities. Seaway Trail. Inc. offers these top 11 holiday travel tips for 2011.
Enjoy a Toys Story, The Nutcracker, A Christmas Carol
November 12-13 professional Duncan Yo-Yo'ers welcome 2011 National Toy Hall of Fame inductees at The Strong (
http://www.thestrong.org/
) in Rochester. NY. Try hula hooping, "Etch A Sketching," changing a tire in the Pit Stop Challenge, and playing with past winners: Slinky, Mr. Potato Head, LEGOs, and Raggedy Ann & Andy. Rochester hosts two classic Christmas stage performances: November 25-27 Rochester's Philharmonic and City Ballet present Tchaikovsky's The Nutcracker at the Eastman Theatre Kodak Hall; November 25-December 24 it's A Christmas Carol at Geva Theatre.
A 37-Day European Style Holiday, the First-Ever in Niagara Falls
In Niagara Falls, NY, November 25 through New Year's Day January 1, 2012, America's first and largest European-style Niagara Holiday Market and Festival features national retailers, local boutiques, artisans, gifts, apparel, specialty food, ice rink, Santa's Workshop, concerts, including one with a Von Trapp grandchild (The Sound of Music), and events (
http://www.niagaramarket.com/
).
Enjoy Medina's Old Tyme Christmas and Polar Express
The November 26 Medina, NY's Old Tyme Christmas celebration includes a daylong Festival of Lights with window decorations, horse-drawn rides, bell choir, and an evening holiday parade. Weekends November 26-27 through December 17-18 the Polar Express calls families "all aboard" for cocoa, cookies, storytelling and music. After the one-hour train pulls in to one of the last, and the largest, remaining RR freight depot in the U.S., Santa boards with a gift for each child (
https://railroadmuseum.net/PolarExpress
).
Auburn Celebrates November 26
The City of Auburn, NY, holds its Holiday Parade and Family Fun Day November 26. Wagon rides begin at 3pm. There will be face painting, Christmas carolers, dancers, roller skating demonstrations, free massages, and shopping. Evening activities include Daut's Restaurant chili sampling; a City of Syracuse Highland Pipe Band performance; 6pm parade with Dickens characters, floats and Santa; 7pm Auburn Public Theater concert, and community bonfire. (
http://www.auburndowntown.org/
).
First VolksWalk Available Until November 30
The Sackets Harbor 1812 VolksWalk presented by the Great Lakes Seaway Trail Volkssport Association is available until November 30. Contact Daryl Giles at the Seaway Trail Discovery Center in Sackets Harbor, NY, to purchase your new walker kit or to learn more about the organized leisure activity known as Volkswalking. The walking route highlights the village's War of 1812 heritage. Learn more at
www.seawaytrail.com/volkssport
.
Looking for a Holiday Shopping Getaway?
For a relaxing holiday shopping getaway, drive the byway to Wayne County, then follow the 2011 Holiday Traditions Guide to country markets, antique emporiums, apple stands, wineries, and Christmas tree farms. The Museum of Wayne County History in Lyons hosts its Holiday Boutique December 2-4. Rest easy at the 1846 cobblestone Maxwell Creek Inn B&B in Sodus with a rare carriage house and Lake Ontario view. Contact Wayne County Tourism for a free guide: 1-800-527-6510, tourism@co.wayne.ny.us.
Winter Birders Flock to Byway
Bring binoculars to the Great Lakes Seaway Trail's Niagara River region to see the 19 species of gulls that winter here. Professional ornithologist and Birding the Great Lakes Seaway Trail author Gerald A. "Gerry" Smith says, "The Niagara River is one of the world's best gull watching spots. The 'blizzard of gulls' is awe-inspiring. Thousands and thousands migrate through here in the early winter with attendant larophiles (avid gull-watchers)." Most gulls belong to the genus Larus (
www.seawaytrail.com/birding
).
Fabulous Fishing in the Riffs, Runs & River
As fall winds into winter, Oswego County, NY's pristine rivers and streams continue to offer plenty of opportunities for hardy anglers.  Brown trout run the rivers in autumn while steelhead and rainbows are available from autumn through spring. In late fall, look for fresh-run steelhead in faster flowing riffs, runs and pocket water on the Salmon and Oswego rivers. In winter, look for steelhead in deep, slow-moving areas. For river guides, fishing conditions and visitor information, go to
http://www.visitoswegocounty.com/
.
December Lights Up the St. Lawrence River
December 11th the Great Lakes Seaway Trail City of Ogdensburg, NY, hosts Frederic Remington Art Museum's 1-4pm free Open House of the artist's work with music, family fun, refreshments, and holiday decor (www.fredericremington.org). The same day take Ogdensburg's Holiday House Tour of historic homes and notable buildings (www.ogdensburgny.net) . December 17-23 enjoy Lisbon's Holiday Lights on the (St. Lawrence) River (
http://www.lightsontheriver.org/
). Enter free or donate to local food pantry.
Frozen Fun, Sports, Theatre & More in Erie PA
Pennsylvania's only Great Lakes Port City of Erie is found on the Great Lakes Seaway Trail. Explore Presque Isle State Park on cross-country skis or snowshoes. Enjoy ice fishing, ice sailing and ice kiting.  Cheer on the Erie Otters OHL hockey and Erie Bayhawks NBA D-League Basketball teams.  Find cultural and theatrical treasures at the Erie Playhouse, Erie Philharmonic, and Erie Art Museum. www.VisitErie.com offers information on wineries, walking and driving tours, gallery exhibits, and events.
Still Time to Register for Great Lakes Seaway Trail 1812 Quilt Show
Register by January 15, 2012 to make a "cot-to-coffin" 70x30-inch quilt with 1812-style fabrics, colors and patterns for the March 17-18, 2012 Great Lakes Seaway Trail Quilt Show in Sackets Harbor, NY:
www.seawaytrail.com/quilting/1812quiltchallenge
. For year'round travel ideas and free itineraries, visit
http://www.seawaytrail.com/
or call 315-646-1000.
###
Contact
: Teresa Mitchell, 315-646-1000 x202 Publicist Kara Lynn Dunn, 315-465-7578,
karalynn@gisco.net
Notes
: Photo: Cayuga County winter scene. Photo: Cayuga County tourism Some items are date-specific. Find release at:
http://www.seawaytrail.com/Press_Room/2011/11-9DiscoverHolidayFunTravelTips.php