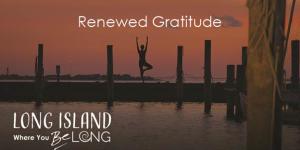 Long Island, NY (May 22, 2020) ­– Discover Long Island, the official destination marketing and management organization for the region, encourages residents to welcome the impending summer season with a renewed sense of gratitude and offers insight to navigating a different approach to promoting the destination as it enters into peak season and takes steps toward recovery.
 "Long Islanders wait all year long for our summer season and this year, while we will still enjoy the benefits of living where those long to vacation, it will be with a greater appreciation and a renewed sense of gratitude as we start to see our businesses and attractions begin to re-open," said Kristen Jarnagin, President & CEO of Discover Long Island."While tourism and hospitality was among the first and most negatively affected industries resulting from the Pandemic crisis, this industry is also historically the first to lead in economic generation and job creation in times of recovery. We have been working closely with our elected officials and industry partners on a safe and calculated strategy to open local businesses and stimulate local economic activity. We intend to see an increase of residents staying local and when appropriate drive-markets taking advantage of our region's renowned tourism assets and vast outdoor experiences."
The organization's launch of its 'Renewed Gratitude' video shares a message of strength and hope with the community whose $6.1 billion tourism industry supports over 100,000 local jobs, including over 80% of small businesses across the island. Developed in-house by the Discover Long Island team, the creative asset will be gifted to local businesses and media outlets for inspirational use. Discover Long Island will be shifting its summer marketing strategy, empowering residents and when appropriate drive markets to explore the tourism gems available in their own backyard and supporting local businesses.
"Now more than ever it is important for our residents, who are staying safe and local, to support our local downtown businesses," said Eric Alexander, Director of Vision Long Island and the LI Main Street Alliance. "We greatly appreciate the efforts of Discover Long Island to encourage economic activity by guiding our residents to enjoy Long Island's Main Streets, attractions and parks at a time when we would normally be sharing them with the rest of the world."
To view the 'Renewed Gratitude" video, please visit https://youtu.be/JE5_uP33Xxs. For information on openings, virtual events and more, please visit DiscoverLongIsland.com.
###
ABOUT DISCOVER LONG ISLAND:
Discover Long Island is the region's official destination marketing and management organization charged with furthering the $6.1 billion tourism economy. The organization contributes to the economic development and quality of life on Long Island by promoting the region as a world-class destination for visitors, meetings and conventions, trade shows, sporting events and related activities. For more information, please call 631-951-3900 or visit DiscoverLongIsland.com.
Contact:
Maggie LaCasse
Director of Communications
Discover Long Island
631-951-3900