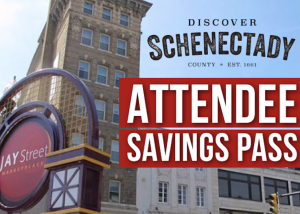 Schenectady, NY (November 16, 2021) – Discover Schenectady introduces a new digital Group Attendee Passport designed to attract new, and retain existing, conferences and group tour business to Schenectady County by offering an easy place to find discounts and specials at participating businesses and attractions.
A temporary, customizable link will be given to individuals attending meetings, conferences, weddings, sports tournaments, and more including crews working on film, TV or stage productions in Schenectady County. This digital passport will list discounts and specials offered by Schenectady County businesses. Passport holders open the link on their mobile device at the participating business of their choice to redeem the deal or discount.
Todd Garofano, Executive Director for Discover Schenectady said, "We are thrilled to launch our new Group Attendee Passport! This new Passport invites visitors to experience the wide array of dining, shopping, and attractions we have to offer and allows our community to show their appreciation for their business. Since launching, we have nearly 20 local businesses and attractions registered and, because this is a digital format, we can add new businesses quickly and easily. There is no cost to the businesses to participate and they control the discount or special they offer. So, we expect the number of participating businesses to grow significantly."
Wolf Hollow Brewing owner, Pete Bednarek said, "We are excited to see tourism and group visitation rising in Schenectady County. Joining other Discover Schenectady Partners in the Group Attendee Passport is a fantastic way to highlight all the diverse offerings we have throughout our area - and to encourage new business through some great deals." 
He continued, "We look forward to welcoming new visitors to our brewery through the group passport so they can get a taste of the Wolf Hollow experience and branch out to experience all the fun things to do and see in Schenectady County."
To learn more about the Passport or to register your business, contact Todd Garofano at 518-383-0390 or email todd@discoverschenectady.com
About Discover Schenectady
Discover Schenectady is a non-profit organization responsible for promoting travel, tourism, conference, and convention assets and opportunities throughout Schenectady County. Discover Schenectady inspires visitors to experience and enjoy all that Schenectady County has to offer, from its vibrant communities with dining, entertainment, and shopping to its gorgeous waterfront and outdoor activities. 
For more ways to Discover Schenectady County all year long, visit www.discoverschenectady.com
###
Contact:
Todd Garofano, Discover Schenectady
518-383-0390 Office ~ 518-312-8944 Cell