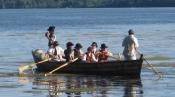 New Evening Guided Waterway Tour Offered this Summer at Fort Ticonderoga
Ticonderoga, N.Y.
- See Fort Ticonderoga the way two generations of soldiers saw the great lakeside citadel in the 18
th
century during Fort Ticonderoga's newest premium sunset tour,
The Place Between Great Waters
.  The ninety minute tour will take place on scenic Lake Champlain located just below the Fort's imposing walls.  Costumed historic interpreters will lead the tour in an 18
th
-century battoe while guests paddle along side in their canoes and kayaks.  Fort Ticonderoga canoes will be available for rent the evening of the program.
The Place Between the Great Waters
tour will be offered in July and August on Tuesday evenings at 6:30 pm.  Limited space is available for this must-do experience and advanced reservations are required.  To learn more details about this program visit
http://www.fortticonderoga.org/visit/what-to-see/living_history/evening
or call 518-585-2821. "With a crew of costumed historic interpreters serving as the tour guide in the Fort's battoe, participants will see Fort Ticonderoga's magnificent walls in a whole new way, surveying the historic and beautiful sights on Lake Champlain, and hearing the stories of Ticonderoga and Mount Independence's famous shoreline," said Beth Hill, Fort Ticonderoga's President and CEO.  "Guests can paddle one of the Fort's canoes or bring their own to follow in the wake of five great battles.  This is a once in a lifetime opportunity for Fort Ticonderoga's guests this summer." "Our story is in our landscape. The unique combination of lakes, hills, mountains, and streams that surround Fort Ticonderoga made it a strategic location in the 18
th
century and make it one of North America's most beautiful destinations today.  Its history cannot be appreciated without an understanding of its landscape." Tours will be offered on the following Tuesdays:
July 2, 9, 16, 23 and 30; August 6, 13, 20 and 27. Tickets are $35 per person. All sales are final, no exchanges or refunds.  This is a rain or shine event.  Recognized as the top destination in the Adirondacks by USA News Travel, Fort Ticonderoga connects all guests to a place and time that defined a continent, a nation, and its continued legacy. Fort Ticonderoga offers more than one hundred exciting and unique events and programs this season! Visit
http://www.fortticonderoga.org/
for a full list of ongoing programs or call 518-585-2821. Funding for the 2013 season is provided in part by Amtrak.  Visit
http://www.fortticonderoga.org/visit/directions
for a special 2 for 1 Amtrak offer!
FORT TICONDEROGA
America's Fort
TM
Located on Lake Champlain in the beautiful 6 million acre Adirondack Park, Fort Ticonderoga is a not-for-profit historic site and museum that ensures that present and future generations learn from the struggles, sacrifices, and victories that shaped the nations of North America and changed world history. Serving the public since 1909, Fort Ticonderoga engages more than 70,000 guests annually and is dedicated to the preservation and interpretation of Fort Ticonderoga's history.  Accredited by the American Association of Museums, Fort Ticonderoga offers programs, historic interpretation, tours, demonstrations, and exhibits throughout the year and is open for daily visitation May 17 through October 20, 2013. The 2013 season features the Fort's newest exhibit
"It would make a heart of stone melt" Sickness, Injury, and Medicine at Fort Ticonderoga
which explores early medical theory, practice, and experience as each relates to the armies that served at Fort Ticonderoga in the 18
th
century.  Visit
https://mail.fort-ticonderoga.org/exchweb/bin/redir.asp?URL=http://www.fortticonderoga.org/
for a full list of ongoing programs or call 518-585-2821. Fort Ticonderoga is located at 100 Fort Ti Road, Ticonderoga, New York.
America's Fort is a registered trademark of the Fort Ticonderoga Association.
Photo: Fort Ticonderoga offers a new premium sunset tour on Lake Champlain this summer on Tuesday evenings. Advanced registration is required.  Photo credit Fort Ticonderoga.
###