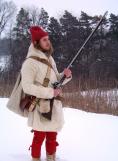 Living History Event Presented at Fort Ticonderoga January 11th
Ticonderoga, N.Y.
- Discover the story of "Carillon's First Winter" and the French soldiers that garrisoned the fort at Fort Ticonderoga's upcoming living history event, Saturday, January 11, from 10 am - 4 pm. Spend time at a place where 1756 feels like now and join the French soldiers tasked with building the fort and guarding the frontier against raids by Robert Rogers and other rangers. Special tours, museum exhibitions, historic trades, and living history programs will be offered throughout the day. Admission to the living history event is $10 per person and payable at the gate.  Friends of Fort Ticonderoga and children 4 years and under are free. For more details visit
http://www.fortticonderoga.org/
or call 518-585-2821. "The event will explore the first fort built at Fort Ticonderoga. Imagine travelling across the Atlantic Ocean to defend New France in the harsh winter at a small wooden fort carved out of the deep woods," said Stuart Lilie, Director of Interpretation. "Peer out on a landscape of snow and forest with enemy capture potentially lurking behind any tree trunk. Meet the French soldiers of the Languedoc regiment who remained behind at Carillon to guard the southern frontier of New France on Lake Champlain in the winter of 1755-1756. Discover how French soldiers from the south of France learned to survive and defend the fort from patrols and raids from Robert Rogers and other rangers."
Event Schedule
:
10:15 am , 1:15 pm, and 3pm Fort Guided Tour
Where did Fort Carillon fit into the French and Indian war at the beginning of 1756? Examine how its location made this hastily erected fort front page news as well as the challenges of surviving the winter.
11 am and 2:30 pm French Drill & Musket Demonstration (Fort Demonstration Area)
Discover the form and function of the French fusil in the hands of the Languedoc soldiers. See how parade ground drill and Alpine tactics in Europe were applied in at this front line Fort.
11:30 am "Obliged to Return Through the Forest"
March along with a patrol of Languedoc soldiers, leaving the safety of the Fort and entering the woods. Try to find patrols of Roger's Rangers before they find you.
Hiking boots and winter clothing recommended.
12:30 pm Tools of the Trade
In the warm comfort of the Mars Education Center, explore French soldier's equipment as well as the research that informs recreating this fascinating time in history.
Available All Day
Tailor's Shop (Second Floor of the Officers Barracks)
If you think things were simpler back then...think again. See how greed, embezzlement, and political in fighting affected the supply of French soldiers in Canada. Examine the construction of Native trade goods and their use by French soldiers.
Artificer's Post (Ground Floor of the Officers Barracks)
How do you keep your feet warm playing in the snow? See how Canadians and French soldiers alike used Native moccasins as the footwear of choice in deep snow.
Soldier's Quarters (Ground Floor of the Officers Barracks)
With barracks space at a premium, personal space was a privilege of rank, not a right. Try out a soldier's mattress tick laid out on the floor, with four other good friends. Check out the tools of the French soldier's trade, and the few perks of space and privacy that an officer's commission offered.
Soldier's Life (Fort Parade)
Stand with French soldiers, wrapped in their heavy wool capotes as they go through their daily duties to stay alive. Whether cooking up their rations, cleaning their guns, or even washing their laundry, learn more about how soldier's discipline could mean life or death.
"It Would Make a Heart of Stone Melt" (Ground Floor of the Soldiers Barracks)
Examine wounds, disease, injury, and the treatment of these ailments for soldiers at Fort Ticonderoga during the American Revolution.
Pork, Pigeon, & Pottery (Ground Floor of the Soldiers Barracks)
In this exhibit of original artifacts recovered from the ruins of Fort Ticonderoga explore the meals of soldiers and officers who served inside this "Old French Fort."
Historical Background:
Looking down from heights overlooking Ticonderoga, Robert Rogers could see of the French that, "they appeared to be very busy at work." After the defeat of General Baron Dieskau's French and native force at the Battle of Lake George, French soldiers worked quickly to fortify the peninsula. Axes, shovels and saws turned forest to barracks, storehouses and an earthen wall about five feet high. A small detachment of the Languedoc regiment was ordered to remain at this new forward post for the winter while the rest of the army headed into more comfortable barracks located at located north down Lake Champlain. A young Lieutenant of the Languedoc regiment described this time.
The army left camp at Carillon, November 27, 1755, to go into winter quarters, I was detached to winter at the said Carillon, where we were camped, despite the rigors of the season, by January 9, 1756 and thereafter in barracks in the fort that we were building; it was only 5 or 6 feet high at the time. We were worried and harassed by parties of English and Indians, to the point that I cannot define the pain and misery that we have had in this uninhabited land, where we were deprived of everything.
About Fort Ticonderoga: America's FortTM
The Fort Ticonderoga Association is an independent not-for-profit educational organization which serves its mission to ensure that present and future generations learn from the struggles, sacrifices, and victories that shaped the nations of North America and changed world history. It serves this mission by preserving and enhancing its historic structures, collections, gardens and landscapes; and educating the public as it learns about the history of Fort Ticonderoga. Welcoming visitors since 1909, it preserves North America's largest 18
th
-century artillery collection, 2000 acres of historic landscape on Lake Champlain, and Carillon Battlefield, and the largest series of untouched 18th-century earthworks surviving in America.  Fort Ticonderoga engages more than 70,000 visitors each year, and annually reaches more than 5,000 people in outreach programs.  Fort Ticonderoga offers programs, historic interpretation, tours, demonstrations, and exhibits throughout the year and is open for daily visitation May through October. Fort Ticonderoga is accredited by the American Association of Museums and pursues its vision to be the premier cultural destination in North America. Visit
http://www.fortticonderoga.org/
 for a full list of ongoing programs or call 518-585-2821. Fort Ticonderoga is located at 100 Fort Ti Road, Ticonderoga, New York.
Photo:
"Carillon's First Winter" Living history event will take place at Fort Ticonderoga January 11th from 10am-4pm.
Contact:
Beth Hill - 518-585- 2821
bhill@fort-ticonderoga.org