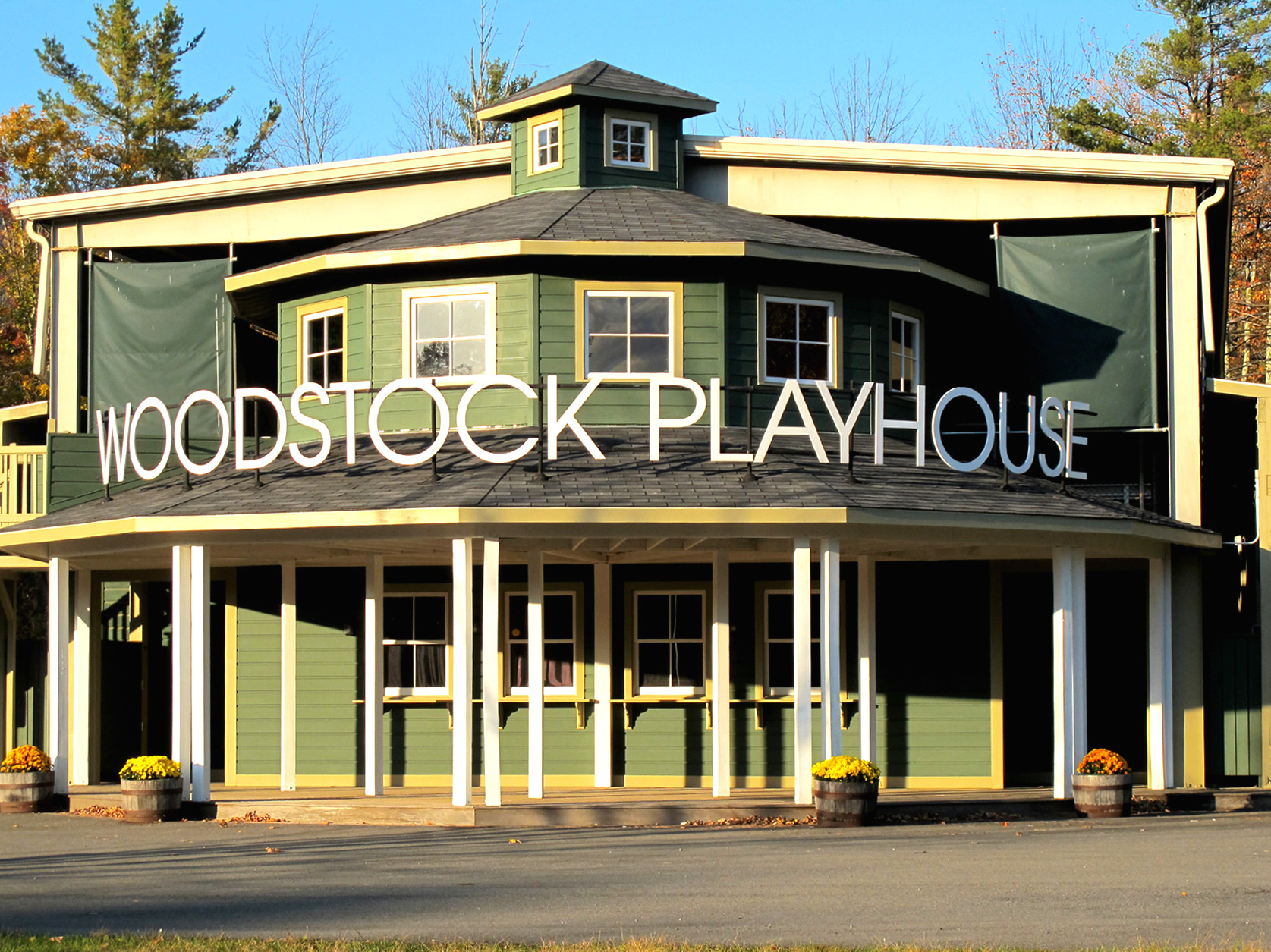 Kingston, N.Y.
– Like your Arts low-key and in the woods? Then Ulster County is, once again, the place to be this summer for music and theater enthusiasts, as multiple venues feature an array of concerts and shows. Events at Shadowland Theater in Ellenville, Maverick Concerts in Woodstock, The Phoenicia Festival of the Voice, Woodstock Playhouse, Belleayre Music Festival in Highmount, Woodstock's Bird-on-a-Cliff Theatre Company and The Fourth Annual Mount Tremper Summer Arts Festival highlight the eclectic collection of programs.
This summer, step into Shadowland Theatre, an intimate restored 1920s Art Deco vaudeville/movie house in Ellenville. Sitting 35 feet from the stage patrons watch magical storytelling performed by well-known actors from Broadway and television. The season opened with The Seafarer, an award-winning and epic Faustian fable of a drunken Christmas Eve, which is playing until June 19. On June 24 is the world premiere of Jackass Flats by CC Loveheart and John Simon.
Voicefest 2011 in Phoenicia, is a four-day festival of opera, gospel, baroque, cabaret, choral and world music in charming venues within walking distance of each other. On Thursday, Aug. 4, Gospel Diva Rozz Morehead opens the festival. Friday afternoon features Justin Kolb's 6 hands piano, Kitchen Sink cabaret, and jazz duo Dennis Yerry and Ann Osmond. That evening, rising opera professionals perform in Parrish Park. Saturday, Mozart's Don Giovanni (subtitled), with the Woodstock Chamber Orchestra and celebrated cast is conducted by Metropolitan Opera maestro, Steven White. Throughout the festival many events – several for children – transform this mountain hamlet into an informal stage welcoming world-class performers.  Festival-goers are encouraged to bring a picnic and sip champagne under-the-stars.
Maverick Concerts, America's oldest continuous summer chamber music festival and winner of the Chamber Music America/ASCAP Award for Adventurous Programming, offers concerts in a 1916 hand-hewn amphitheater nestled in the woods. Maverick's stellar lineup includes the Tokyo String Quartet with Samuel Quintal on viola on June 26 and The Stars and Stripes with The Canadian Brass and NEXUS Percussion on July 2. Jon Nakamatsu, one of the most sought-after pianists of his generation, will take the stage on Aug. 7. Daedalus String Quartet, with Andrew Garland, baritone performs the last show of the season at Maverick Concerts on Sept. 4.
This summer marks the return of Woodstock Playhouse, a long fabled summer stock theater that has been dark for 25 years. The newly renovated and fully air-conditioned playhouse features dancers, singers and actors from around the world and also includes performers from Ulster County. A performance of Chorus Line begins the season on June 30 for its first of eight shows, which conclude on July 10. Anything Goes follows from July 15 to 24. The program concludes at Woodstock Playhouse with a rendition of Hair from Aug. 8 to Aug. 14.
Bird-on-a-Cliff Theatre Company, celebrating 15 years of Shakespeare outdoors on the lovely Comeau Property in Woodstock, presents his pastoral comedy: As You Like It. As usual, Bird-on-a-Cliff gives Shakespeare their own particular "Woodstock" twist. Expect to see the Bard interpreted in a new and unique way.  Performances are scheduled for Fridays, Saturdays and Sundays, from July 29 through Labor Day weekend.
Belleayre Music Festival, an eclectic music festival held at Belleayre Mountain in Highmount celebrates 20 years of music in its mountain top setting this season. It kicks off with superstar recording artist k.d. lang on July 3. Other feature acts include Tommy Tune, the legendary Creedence Clearwater Revisited, country music star Clint Black and the smooth sounds of Mary Chapin Carpenter. Attendees can enjoy watching performances inside a magnificant tent set at the base of the ski hill or bring their own chairs to enjoy the sound of music on the lawn. Either way, the atmosphere is laid-back and friendly.
The Fourth Annual Mount Tremper Arts Summer Festival, which supports contemporary artists in the creation and presentation of new works of art, is scheduled for July 9 to Aug. 21. Acclaimed by The New York Times, the festival's program begins on July 16 with a performance by Tere O'Connor Dance, who has performed throughout the U.S., Europe, South America and Canada. Other features at Mount Tremper over the summer include readings by John Yau, Patricia Milder and additional writers from The Brooklyn Rail on Aug. 5. Yau is the author of more than 50 books of poetry, criticism and fiction. His collaborations with artists have been exhibited at the Museum of Modern Art in New York and the Pompidou Center in Paris.
Milder is a writer, art critic and independent curator. She is the Managing Art Editor of The Brooklyn Rail. A popular event at the Mount Tremper Summer Arts Festivals is the weekly Friday Night Food for the Arts barbecue. Artists share work with audience members in an intimate, informal setting over dinner from July 15 through Aug. 19.
Summer Art Festival Information Belleayre Music Festival
800-942-6904; www.belleayremusic.org
Schedule: July 3-September 3, 2011
Ticket information: Tickets for all shows are available at Ticketmaster
Maverick Concerts,Woodstock
845-679-8217; www.maverickconcerts.org
Schedule: June 18-September 4
Ticket information: General admission: $25; Book of 10 tickets: $175 (save $75); Student tickets: $5 (with valid student ID); Children under 12: free when accompanied by an adult; Reserved (assigned) seats: $40.  A limited number of reserved seats are available only in advance and online by credit card or by phone 24 hours 800-595-4TIX (4849); Rock Bottom: "Pay-what-you-can" seating: Bring your own chair or blanket.
Mount Tremper Arts Summer Festival
845-688-9893; www.mounttremperarts.org
Schedule: July 9-Aug. 21
Ticket information: Tickets for all events are $20 in advance or at the door.
Phoenicia Festival of the Voice
845-688-5411; www.phoeniciavoicefest.com
Schedule: Aug. 4-7
Ticket information: 4-day General Pass $165; Evening Concerts $25; Daytime Concerts $15; Students 13-17 $5 and Kids under 12 Free (except $5 for Kids Concerts). VIP Passes are $55 Evening and $265 4-Day
Shadowland Theatre                                       
845-647-5511; www.shadowlandtheatre.org      
Ticket Information: $30 for Thursday, Friday and Saturday performances; $25 Sunday. $2 discount for seniors and students.                                                                
Shakespeare Festival at Woodstock's Bird-on-a-Cliff Theatre
845-247-4007; www.birdonacliff.org
Schedule: Performances are at 5 p.m. on Fridays, Saturdays and Sundays from July 29 through Labor Day.
Ticket information: Admission is free (a $5 donation is suggested)
Woodstock Playhouse
845-679-4101; www.woodstockplayhouse.org
Schedule: A Chorus Line (June 30-July 10); Anything Goes (July 15-July 24); Hair (Aug. 4-13)
Ticket information: Tickets will be on sale through the Woodstock Playhouse Box Office later this month.
###
Contact:
Lisa Berger
Ulster County Tourism
845-340-3567