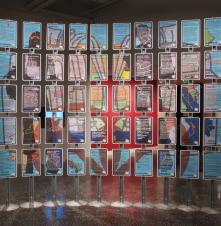 New Paltz, N.Y.
- The
Samuel Dorsky Museum of Art
(Dorsky Museum) announces the purchase of two artworks from its current Hudson Valley Artists exhibition for its permanent collection.  The artworks are:
Carrying (Pistol Packing Pupils)
, by Belshe/Prown (Curt Belshe and Lise Prown), an installation of 50 digital prints on aluminum, and steel.
Available
, by Francois Deschamps, a multi-media project including archival pigment prints, an artist's book and digital frame with 92 images. The purchases have been made possible through the museum's Hudson Valley Artists Annual Purchase Award program as well as through the generosity of the participating artists.  The Purchase Award program is supported by funding from the Alice and Horace Chandler Art Acquisition Fund. Artists whose work was purchased through this program in 2009 are photographer Gilbert Plantinga and painter Thomas Sarrantonio. The artworks are currently on display at The Dorsky Museum through Nov. 14 as part of the exhibition
Hudson Valley Artists 2010: Contemporary Art and Praxis
.
Hudson Valley Artists 2010: Contemporary Art and Praxis
was curated by Thomas Collins, the former Director of the Neuberger Museum at SUNY Purchase. Collins included work from approximately 20 artists and artist teams from the Hudson Valley. The Dorsky Museum's annual Hudson Valley Artists exhibition is open to all emerging and mid-career artists living in Columbia, Dutchess, Greene, Orange, Putnam, Rockland, Sullivan, Ulster, and Westchester Counties who have not yet had a major one-person museum exhibition and who do not have an exclusive contract with a commercial gallery. Students are not eligible. There is no application fee.  Next year's Hudson Valley Artists Call for Artists will be available on the museum's website in early February 2011.  Artists who wish to receive notification of the artist's call are encouraged to visit the museum's home page at
www.newpaltz.edu/museum
to add their e-mail addresses to the museum's e-mail list. Funding for Dorsky Museum exhibitions and programs is provided by the Friends of the Samuel Dorsky Museum of Art and the State University of New York at New Paltz. For more information, call (845) 257-3844 or visit the museum's website at
www.newpaltz.edu/museum
. 
- 30 -
Located in the heart of a dynamic college town, ninety minutes from metropolitan New York City, the
State University of New York at New Paltz
is a highly selective college of about 8,000 undergraduate and graduate students.
One of the most well-regarded public colleges in the nation, New Paltz delivers an extraordinary number of majors in Business, Liberal Arts, Sciences, Engineering, Fine and Performing Arts and Education.
New Paltz embraces its culture as a community where talented and independent minded people from around the world create close personal links with real scholars and artists who love to teach.
Contact
: Suzanne Grady, Interim Director of Communication & Marketing (845) 257-3245 Sara Pasti, Director, Dorsky Museum (845) 257-3846 Note to editors: Photos of artwork images may be downloaded from the New Paltz web site at
http://www.newpaltz.edu/news/images/2010PurchaseAward.html