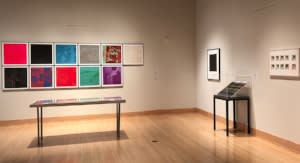 New Paltz, N.Y. – The Samuel Dorsky Museum of Art at SUNY New Paltz and the Frances Lehman Loeb Art Center at Vassar College will co-host a two-day symposium titled "Displaying Warhol: Exhibition as Interpretation," focusing on the history and significance of different approaches to exhibiting the work of Andy Warhol.
The symposium begins with an evening keynote on Thursday, April 12, at Vassar College, and will continue with a day-long program featuring panels, lectures and multimedia presentations at SUNY New Paltz on Friday, April 13.
Both the evening and day programs of "Displaying Warhol" are free and open to the public. To view the full schedule and to register, please visit: https://newpaltz.wufoo.com/forms/pxig5o10vatx03/
Art critic and Warhol biographer Blake Gopnik will kick off "Displaying Warhol" with a keynote address, titled "Warhol's Wallpower: Art on Display in a Pop Painter's Life." Gopnik's talk will take place on Thursday, April 12, 6 p.m., at Vassar College, Taylor Hall, Room 102 (adjacent to the Frances Lehman Loeb Art Center), and will be followed by a Q&A and public reception.
On Friday, April 13, the symposium continues at SUNY New Paltz's College Terrace, with a series of presentations featuring distinguished curators and art historians.
The morning panel, from 10 a.m. to noon, brings together the curators of "Warhol x 5," a series of exhibitions about the artist's life and work at five Hudson Valley collegiate museums:
Mary-Kay Lombino (Frances Lehman Loeb Art Center, Vassar College)
Reva Wolf (Department of Art History, SUNY New Paltz)
Jacqueline Shilkoff (Neuberger Museum of Art, SUNY Purchase)
Corinna Ripps Schaming (University Art Museum, University at Albany)
Alex Kitnick (Center for Curatorial Studies, Bard College)
An afternoon panel scheduled for 2 p.m. will address new approaches to exhibiting the art of Warhol and his world. That conversation includes curators who have worked on important exhibitions of Warhol's art in the New York City area:
Sheelagh Bevan (Morgan Library and Museum)
Claire Henry (Whitney Museum of American Art)
Anastasia James (Samuel Dorsky Museum of Art, SUNY New Paltz)
The symposium will close with a reception for the speakers and all attendees.
"Displaying Warhol" is funded by a generous grant from the SUNY Conversations in the Disciplines program, with additional support provided by the five institutions that have collaborated on "Warhol x 5," and by the Department of Art History and School of Fine & Performing Arts at SUNY New Paltz.
About "Warhol x 5"
"Warhol x 5" is a unique collaboration among five Hudson Valley collegiate museums, who have borrowed works from each other's collections in order to present thematically cohesive exhibitions.
Each of the five exhibitions features works generously donated by the Andy Warhol Foundation for the Visual Arts.
The Dorsky Museum's "Warhol x 5" exhibition, titled "Marking Time: Andy Warhol's Vision of Celebrations, Commemorations, and Anniversaries," is on view now through July 15, 2018, in the Dorsky's Sara Bedrick Gallery.
About the Dorsky Museum
Through its collections, exhibitions, and public programs, the Samuel Dorsky Museum of Art, located at SUNY New Paltz, supports and enriches the academic programs at the college, presents a broad range of world art for study and enjoyment, and serves as a center for Hudson Valley arts and culture. The museum is gaining wide recognition as the premier public showplace for exhibition, education, and cultural scholarship about the Hudson Valley region's art and artists from yesterday and today. With more than 9,000 square feet of exhibition space distributed over six galleries, The Dorsky Museum is one of the largest museums within the SUNY system. The Dorsky was officially dedicated on Oct. 20, 2001. Since then it has presented over one hundred exhibitions, including commissions, collection-based projects, and in-depth studies of contemporary artists including Robert Morris, Alice Neel, Judy Pfaff, Carolee Schneemann, and Ushio Shinohara, historic Woodstock artists Eugene Speicher and Charles Rosen, and Hudson Valley luminaries Russel Wright and Dick Polich.
Museum Hours:
Wednesday – Sunday, 11 a.m. – 5 p.m.
Closed Mondays, Tuesdays, holidays and intersessions.
For more information about The Dorsky Museum and its programs, visit http://www.newpaltz.edu/museum, or call (845) 257-3844.