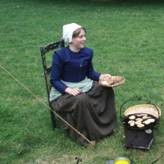 (Kingston, NY)
   Kingston (or Wiltwyck as it was known in the 17
th
Century), one of the earliest settlements in the Dutch New Netherland colony, is taking an active part in Quadricentennial-year celebrations, including hosting a free festival celebrating Dutch culture in the Hudson Valley, at Senate House State Historic Site, on
Saturday, June 13, from 11:00 am to 4:30 pm
. The rain-or-shine event will offer fun for all ages, including music, dance, living history presentations, hands-on activities and more. Thanks to the Friends of Senate House, admission to the site's museum and the historic Senate House itself (begun in 1676) will also be free on both June 13 and 14.  For more information, please call (845) 338-2786. Senate House State Historic Site is located at 296 Fair Street, Kingston, NY 12401.  You can also visit the following website for more information:
http://www.nysparks.state.ny.us/
Saturday, from 11:00 am to 4:30 pm
, enjoy performances and a chance to learn traditional Dutch clog dancing with the
Van Wickle Dancers
, and hear traditional music performed on period instruments by the
Bells & Motley Consort
.  Also enjoy period music by the musical group
Heart's Ease
, and learn the secrets of the early colonial cook from expert Lavada Nahon.  Take part in hands-on craft activities, and speak with living history presenters about life in Dutch New Netherland in the 17
th
and 18
th
centuries.  Displays of period weapons, wampum production and other early currencies, and a sutlery, or traveling store, selling handcrafted items recalling the colonial period will be available throughout the Saturday event.
On Sunday, from 1:00 - 4:00 pm, three free lectures
by experts on Dutch colonial culture and artifacts will offer a fascinating look into the cuisine and gardens of New Netherland, and Delft tiles that graced early Dutch homes.
At 1:00 pm, food historian and author Peter G. Rose, presents, Art in Food and Food in Art
, a lusciously-illustrated talk on food and drink seen in 17
th
-century Dutch paintings, while also exploring the foodways brought to America by the Dutch more than three centuries ago. Ms. Rose will show how the works of art give insight into 17
th
century food practices and shed new light on the colonial diet. 
At 2:00 pm, historian Firth Fabend will present The Gardens of New Netherland
, in which she describes the orchards, produce gardens, flower gardens and crops that were planted in New Netherland. The talks by Peter Rose and Firth Fabend are made possible through the support of the New York Council for the Humanities' Speakers in the Humanities program, and are free and open to the public.
At 3:00 pm, the third lecture in the free series, presented by Walter R. Wheeler, is entitled "Once adorned with quaint Dutch tiles..." A preliminary analysis of Delft Tiles found in Archeological Context and Historical Collections in the Upper Hudson Valley.
Mr. Wheeler is Senior Architectural Historian at Hartgen Archeological Associates a cultural resource management firm headquartered in Rensselaer, New York, and with offices in Albany and Putney, VT.   His talk will present a preliminary analysis of Delft tile fragments discovered in archeological excavations in the upper Hudson Valley region in the past 40 years. A comparison of this group of tiles with examples known to have been contemporaneously available in the Netherlands will add depth to an analysis of the aesthetic choices and cultural meanings represented by these artifacts. A brief reception will follow the three talks. Also part of the Quadricentennial celebrations at Senate House are a free exhibition and video, both entitled
Archives Alive!!,
running through October 31. 
Archives Alive!!
offers
a lively and informative introduction to the wealth of documents available in the Hudson Valley, and particularly in Ulster County, helping viewers appreciate the many different ways that archival materials can reveal the past and inform the present...and future. The exhibition and video were created collaboratively with two other important county repositories, the Ulster County Hall of Records and Historic Huguenot Street. The
Double Dutch
Weekend events and
Archives Alive!
are supported by the Ulster County Legislature, the Ulster County Quadricentennial Commission, the Friends of Senate House, the Palisades Interstate Parks Commission, the New York State Office of Parks, Recreation and Historic Preservation, the Hudson River Valley National Heritage Area in partnership with the National Park Service and Congressman Maurice Hinchey, and the Hudson-Fulton-Champlain Quadricentennial. Senate House State Historic Site is open through October 31, Wednesday through Saturday, 10am to 5pm, and Sundays 1:00 to 5pm. Senate House is part of a system of parks, recreation areas and historic sites operated by the New York State Office of Parks, Recreation and Historic Preservation, and is one of 25 facilities administered by the Palisades Interstate Parks Commission in New York and New Jersey.  To obtain further information about this and other upcoming events please call the site at (845) 338-2786 or visit the State Parks website at
http://www.nysparks.com/
. 
Media Contact:
Rich Goring or Pam Malcolm (845) (845) 338-2786                                                                                        richard.goring@oprhp.state.ny.us                                                                                        pam.malcolm@oprhp.state.ny.us