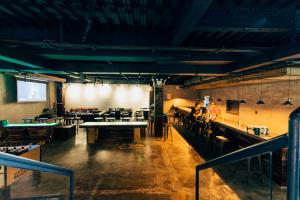 New York, NY - Sour Mouse, a vibrant bar and game hall is set to open on Saturday, October 3rd at 110 Delancey Street and is the latest on a growing list of restaurants and businesses revitalizing the community on the Lower East Side. 
Drawing inspiration from the unique character of the neighborhood, Sour Mouse transports you back in time when love, music, art and community were freely expressed. The founder of Sour Mouse, Aaron Ho, aspires to be more than a gaming bar. From its inception, the space has been designed to cater to the community as a place where you can put your phone down and enjoy the company of others, partake in fun recreational games, and throw an exciting party or event. 
"As a life-long LES resident, I have always wanted to provide a space that caters to locals of the area, and I strongly believe that the community is what makes the Lower East Side so special." Said Aaron Ho, Owner and Managing Partner of Sour Mouse. "During these unprecedented times, we are grateful and committed to providing a safe environment for our guests and team members." Ho is also the former proprietor of the Black Cat LES, a coffee shop on Rivington Street, which he owned and operated for 3 1/2 years.  
With the recent announcement made by Gov. Cuomo, that indoor dining can begin at 25% capacity starting Wednesday, September 30th, Sour Mouse is committed to the health and safety of its guests and team members. The new space will operate with the highest standards of food safety, cleanliness and health. In addition to following all capacity requirements and social distancing protocols, Sour Mouse has implemented enhanced cleaning and sanitation procedures. To view Sour Mouses new safety precautions, visit sourmousenyc.com/safety.
Sour Mouse will be open Monday through Friday from 2pm to 4am and Saturday and Sunday from 9am to 4am. The grand opening will take place on Saturday, October 3rd from 12pm to 6pm and be open to the public.
 
Both opening events will follow the city's guidelines for safety rules and capacity regulations. 
Website: www.sourmousenyc.com 
Instagram: www.instagram.com/sourmousenyc 
Facebook: www.facebook.com/sourmousenyc
Media Contact:
Rachel Margolin
914-649-4133