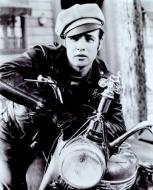 Retrospective features 17 popular and lesser-known titles, including On the Waterfront, Guys and Dolls, The Godfather, and A Streetcar Named Desire
Rochester, N.Y.
- The Dryden Theatre at George Eastman House is declaring "Viva Brando!," and showcasing actor Marlon Brando's larger-than-life persona, and unparalleled career that spanned more than 50 years, with a 17-film series in May and June. "Marlon Brando was one of the most influential artists of the 20th century, and within his chosen medium of film acting, it's safe to say that his influence is still being felt," said Jim Healy, assistant curator of motion pictures for George Eastman House. "His performances continue to be admired and studied for their naturalism and spontaneity. But while the quality of his work as an actor rarely wavered from excellence, the final two-thirds of his career (at least those years when he wasn't entirely absent from filmmaking) were marked by erratic choices in a number of film projects - some he did for mysterious personal reasons, others he clearly did just for the money." Whatever the motivation behind his participation in any of the films screened in this retrospective, they are the best remembered, most iconic, and most critically acclaimed of Brando's body of work. While the series begins with two early Brando performances for directors Fred Zinnemann (The Men) and Laslo Benedek (The Wild One), it was in the actor's triumvirate of roles for the innovative director Elia Kazan - Stanley Kowalski in A Streetcar Named Desire, Emiliano Zapata in Viva Zapata! and Terry Malloy in On the Waterfront - where he established a certain type of character that could be unpredictably volatile but still capable of tenderness. Brando's break from Kazan in 1954 led to a few busy years of acting in different genres and styles of moviemaking, one of the highlights being his portrayal of the seductively charming Sky Masterson and his more than adequate rendition of "Luck Be a Lady Tonight" in the musical Guys and Dolls. After several years in the late 1950s and early '60s spent developing the western One-Eyed Jacks for his production company, Pennebaker, Brando dismissed such distinguished personnel as Stanley Kubrick and Sam Peckinpah and decided to direct the project himself. He also took on the lead role of Rio, who utters the immortal line, "Get up, you scum suckin' pig!" Brando's box office success sputtered in the 1960s, though a few collaborations with important filmmakers yielded some interesting results in films that are recognized today as significant achievements, like Arthur Penn's star-studded Southern gothic, The Chase. Brando rebounded in the early '70s with back-to-back performances in the landmark classics The Godfather (for which he won his second Oscar®) and Last Tango in Paris. But instead of capitalizing on this success or challenging himself as an actor, Brando, who never hesitated to express his lack of seriousness about the profession, withdrew from the big screen, choosing to appear in only four films between 1973 and 1989, most of which, including his memorable work in Superman and Apocalypse Now, contain what amount to extended cameos from the always top-billed star. While his performances were always suffused with humor, Brando returned to comedy for the first time in more than 20 years when he took on the self-parodying role of Don Carmine Sabatini in Andrew Bergman's hilarious farce, The Freshman. "Though it was a much larger role for a much larger actor, Brando, for the most part, fell back on the sort of smaller parts with very big paydays for the remainder of his life and career, rarely joining forces with directors whose talents matched his own," Healy said.
The films of Viva Brando!
Admission to each film is $7 general/$5 students and members. For more information visit dryden.eastmanhouse.org or call (585) 271-4090. Sunday, May 2: Marlon Brando Double Feature! (two films for the price of one) 7 p.m. THE WILD ONE (Laslo Benedek, US 1953, 79 min.) 8:30 p.m. THE MEN (Fred Zinnemann, US 1950, 85 min.) 8 p.m. Tuesday, May 4: A STREETCAR NAMED DESIRE (Elia Kazan, US 1951, 122 min.) 8 p.m. Tuesday, May 11: VIVA ZAPATA! (Elia Kazan, US 1952, 113 min.) 8 p.m. Tuesday, May 18: ON THE WATERFRONT (Elia Kazan, US 1954, 108 min.) 7 p.m. Sunday, May 23: GUYS AND DOLLS (Joseph L. Mankiewicz, US 1955, 152 min.) 8 p.m. Tuesday, May 25:  ONE-EYED JACKS (Marlon Brando, US 1961, 141 min.) 8 p.m. Saturday, May 29: THE GODFATHER - THE COPPOLA RESTORATION (Francis Ford Coppola, US 1972, 175 min.) 8 p.m. Tuesday, June 1: THE FUGITIVE KIND (Sidney Lumet, US 1959, 135 min.) 7 p.m. Sunday, June 6: THE YOUNG LIONS (Edward Dmytryk, US 1958, 160 min 8 p.m. Tuesday, June 8: THE CHASE (Arthur Penn, US 1966, 135 min.). 8 p.m. Saturday, June 12: LAST TANGO IN PARIS  (Bernardo Bertolucci, France/Italy 1973, 129 min., English and French/subtitles) 8 p.m. Tuesday, June 15: A COUNTESS FROM HONG KONG (Charles Chaplin, UK 1967, 108 min.) 8 p.m. Saturday, June 19: APOCALYPSE NOW REDUX (Coppola, US 1979/2001, 202 min.) 2 p.m. & 7 p.m. Sunday, June 20: SUPERMAN THE MOVIE (Richard Donner, US 1978, 151 min.) 8 p.m. Tuesday, June 22: THE FRESHMAN (Andrew Bergman, US 1990, 102 min.) 8 p.m. Tuesday, June 29: "Mondo Brando!" compilation (running time approx. 105 min.) and MEET MARLON BRANDO (Albert and David Maysles, US 1966, 28 min.),             Contact: Dresden Engle dengle@geh.org (585) 271.3361 ext. 213