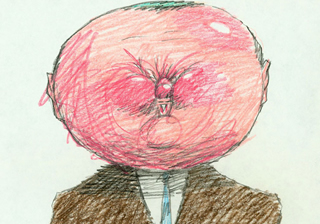 Legendary animator Bill Plympton in Person Saturday, Oct. 1
Rochester, N.Y.
- The Dryden Theatre at George Eastman House salutes animation with the film series "The Weird World of Bill Plympton," with screenings every Thursday evening in September plus Sunday, Sept. 11. Bill Plympton visits the Dryden and presents his latest film, Idiots and Angels, at 8 p.m. Saturday, Oct. 1. "Animation has always been popular at the Dryden, and to kick off our fall season we're very happy to welcome the legendary cartoonist and animator Bill Plympton, one of the field's most creative and honored artists," said Lori Donnelly, Eastman House film programmer. Plympton began his career in the 1970s as a cartoonist for publications like National Lampoon and the Soho Weekly News, and after some unreleased experiments and a commissioned work, he broke into animation in a big way with the short Your Face (1987). Nominated for an Academy Award®, the short immediately established the Plympton style: comic, surreal, jittery, and textured, with the distinctive colored pencil work that would become his trademark. Since then, Plympton has produced a remarkable amount of animated films, ranging from short comic pieces to full-blown features, always hand-drawn by their director no matter their frame count.  In addition to a selection of Plympton's shorts and features, the Dryden also will be screening a program of animation by Tex Avery and Bob Clampett - two of Plympton's major influences - as well as an evening of vintage silent animation from the Eastman House archives. The film series is supported in part by the School of Film and Animation at the Rochester Institute of Technology. The films of "The Weird World of Bill Plympton" series
8 p .m. Thursday, Sept. 1 and 7 p.m. Sunday, Sept. 11
Tex Avery And Bob Clampett Cartoons! (US 1937-1946, program approx. 80 min., 35mm and 16mm) Tex Avery and Robert Clampett worked in tandem at Termite Terrace, the ramshackle animation studio responsible for the anarchic and rude thrills of Looney Tunes and Merrie Melodies. These seven-minute wonders - jam-packed with gags, cultural irreverence, and alchemical fury - have inspired generations of kids and animators alike, not least Bill Plympton. Program highlights include the first Bugs Bunny cartoon, A Wild Hare; exemplary genre parody The Great Piggy Bank Robbery; and two of Avery's outrageous post-Looney endeavors, Swing Shift Cinderella and Red Hot Riding Hood in Technicolor prints.                
8 p.m. Thursday, Sept. 8
Before Mickey: Eight Shorts from the Pioneers of Animation As part of the Dryden at 60 series, Before Mickey is a salute to early film animation featuring rare treasures that pre-date Disney's iconic mouse. The evening's line up of shorts includes two classic examples of line drawing animation A Ramble On Skates With Inky Dink (ca. 1916) and The Bottom Of The Sea (1914). Also included will be the treat of two shorts featuring the braggart thought to be based on Theodore Roosevelt, Colonel Heeza Liar On The Jump (1917) and Colonel Heeza Liar Naturalist (1914). Two from the greatest names in animation will also be included: Walt Disney's Alice's Spanish Guitar (1926) and Georges Méliès's Les Fromage Automobiles (1913). And we'll be treated to two from the cel animation-pioneer Bray Studios featuring a mischievous boy who was modeled on R. F. Outcault's Buster Brown: Bobby Bumps At The Dentist (1917) and Bobby Bumps' Disappearing Gun (1918).
8 p.m. Thursday, Sept. 15
The Tune (Bill Plympton, US 1992, 69 min.) A songwriter is given 47 minutes to write a hit song lest he lose his job (and sweetheart) in Plympton's critically acclaimed feature debut. In a mad rush to work, Del takes a wrong exit and finds himself stranded in Flooby Nooby, a strange and unfamiliar town populated by such characters as an Elvis-impersonating dog, a noseless cab driver, a babbling guru, and a psychotic bellhop. The film was written by Plympton along with fellow cartoonist P.C. Vey and composer Maureen McElheron.
8 p.m. Thursday, Sept. 22
Plympton Short Films A showcase of Bill Plympton's short films, ranging from his classic earlier works Your Face and 25 Ways to Quit Smoking to some of his most recent films, including The Cow Who Wanted to Be a Hamburger, The Fan and the Flower, and the Oscar®-nominated Guard Dog series, as well as other highlights from his 25-year animation career.
8 p.m. Thursday, Sept. 29
Adventures In Plymptoons! (Alexia Anastasio, US 2011, 85 min., digital projection) This new documentary about Bill Plympton follows his path from a Portland childhood spent drawing indoors to a self-made career as an independent animator and cartoonist. Featuring interviews with Terry Gilliam, Ralph Bakshi, Will Vinton, and other animation luminaries, Adventures in Plymptoons! is a remarkable portrait of a remarkable artist.
8 p.m.Saturday, Oct. 1
Legendary animator Bill Plympton in Person! Idiots and Angels (Bill Plympton, US 2008, 78 min.) Angel is a selfish, abusive man who awakens to discover himself blessed with a pair of wings. At first frustrated by his new appendages, he soon must battle those who wish to exploit them. Plympton's new feature is a dark, gorgeous fable, featuring soundtrack contributions from Tom Waits, Pink Martini, and others. Plympton will be on hand to sign copies of his new book Independently Animated, and pledges hand-drawn caricatures to all who purchase a copy! PLUS: A special preview screening of Bill's in-progress restoration/reimagining of Winsor McCay's 1921 short The Flying House. Cleaning, coloring, and adding voiceover to McCay's original, Plympton has created a unique collaboration between himself and the "father of animation." Regular Dryden admission for each film: $8 general/$6 students and members. For more information call (585) 271-3361 or visit dryden.eastmanhouse.org.
Media Contact
: Dresden Engle
dengle@geh.org
(585) 271.3361 ext. 213