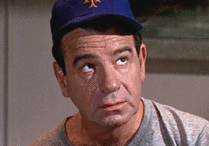 Film series in March and April includes The Odd Couple, Plaza Suite, Grumpy Old Men, The Bad News Bears, and The Taking of Pelham 1-2-3
Rochester, N.Y.
- The Dryden Theatre at George Eastman House will pay homage to actor Walter Matthau with a two-month film series in March and April. When Matthau strode onstage to receive his Academy Award for The Fortune Cookie, he thanked the Academy for giving him the chance to "make a pretty good bit of money," then - pointing out the injuries he had incurred in a bicycle accident two days earlier - reproached his colleagues who hadn't bothered to show up. It was classic Matthau: a one-two punch of self-deprecation and sarcasm that showed his talent for the well-timed insult and the humility that gave the lie to his grouchy exterior. "When thinking about Matthau, it's easy to focus on his curmudgeonly side, but to take a more detailed look at his career is to discover not just a brilliant comic performer, but an actor of uncommon (and under-appreciated) depth and ability," said Lori Donnelly, Dryden Theatre film programmer. Born into a working-class Jewish family on the Lower East Side in 1920, Matthau spent most of his childhood hustling for money after his father abandoned the family. In 1942, he enlisted in the Army Air Force, serving with none other than Jimmy Stewart. Back in New York and flush with money from the GI Bill, he promptly registered at the New School for Social Research's Dramatic Workshop, resurrecting the interest in acting he had developed as a child at summer camp. Working primarily in the theater throughout the 1950s, Matthau made gradual inroads into film as a foil to bigger stars, beating up Elvis, hunting down Kirk Douglas, and clashing with President Henry Fonda in Sidney Lumet's Fail-Safe (March 2). At age 44, Matthau's big break came in the form of Neil Simon's Broadway hit The Odd Couple (March 3), for which he would earn a Tony Award and a role in Billy Wilder's The Fortune Cookie (March 31), the film that made him a superstar. A private man who loved reading, gambling, and classical music, Matthau always invested his characters with a deep humanity. Like Groucho Marx, his wisecracks were so witty that he came off as charming, and though he could seem pessimistic, you always got the sense that he was confident in his sense of self. When given the opportunity to take on dramatic roles, Matthau always shone: in Don Siegel's Charley Varrick (April 20), his body language subtly conveys a lifetime's worth of struggle and disappointment, and his triple performance in Neil Simon's Plaza Suite (March 24) is a remarkable display of versatility. As Billy Wilder once remarked, "Walter can play anything from Rhett Butler to Scarlett O'Hara." He might not have made it that far, but he did prove himself to be a master of every genre, sliding between farce, drama, romantic comedy, and action with the grace of a leading man. All films begin at 8 p.m., with the exception of Sunday screenings which begin at 7 p.m. Admission to each film is $8 general admission/$6 students. For more information, please visit
http://www.dryden.eastmanhouse.org/
or call (585) 271-3361.
###
Attn. Media: High-res film stills from the Walter Matthau  series are online at
https://secure.eastmanhouse.org/pressroom
(click on Dryden Theatre and then March/April 2011 folder)
Media Contact:
Dresden Engle
dengle@geh.org
(585) 271.3361 ext. 213