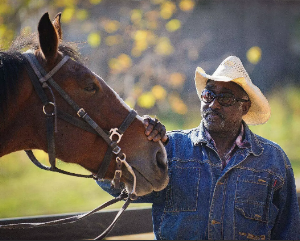 Kerhonkson, N.Y. —One of the Catskills' last-standing, iconic resorts has just reopened after undergoing a $1 million renovation and adding 25 horses to its herd.
Hundreds of guests—many from the Tri-State area--returned on April 2 for their yearly pilgrimage to Pine Ridge Dude Ranch, formerly known as Pinegrove Ranch and Family Resort.
The rebirth of the longtime, western-style site is due to the effort of former barn manager Mike Offner, who led the rescue of 34 horses after the resort closed suddenly last September.
The all-season tourist attraction was shuttered following the death of longtime owner and Hudson Valley businessman David O'Halloran in May 2017.
His family could no longer operate the ranch and put it on the market. The herd had subsequently been plucked from the stable and transported to a Sullivan County auction house. Many feared the horses were doomed for slaughterhouses.
The 37-year-old Offner rallied to raise more than $10,000 to buy back 16 of the 34 horses that were fixtures at the ranch known for its extensive riding programs. Another half dozen went to a rescuer in Vermont, while the rest were settled at private homes.
In February, Offner boosted the herd to 40, buying 25 additional horses, including two Clydesdales, a Percheron, Haflinger and more Quarter Horses. Old favorites such as Jazzy, Nemo and Hunter are back home and being prepared for the resort's reopening this spring.
Buoyed by his love for the horses and the ranch he had visited as a child, Offner bought the 150-acre property from Sterling National Bank in January. Two private investors helped him realize his dream to resuscitate the rundown facilities that included 126 guest rooms, a lodge, tavern and nightclub.
Pine Ridge's new owners have upgraded the popular Dakota guest rooms with new bedding, flooring and bathrooms and replaced roofing and siding throughout the resort at 30 Cherrytown Road. They also have refurbished the dining room, kitchen, Silver Dollar Bar and Bull Room Night Club and updated the pool, barn and grounds.
Offner, a Westchester County native, made it a point to rehire many of the 80 employees, who lost their jobs when the ranch closed. He expects to add more staff in the months ahead.
"We did all of this in six weeks, and as soon as people pull up to the building, they're going to notice the difference immediately, " Offner said. "By the time the grand opening comes, there will be an additional 'wow factor.' Guests who have been coming back all these years will be astounded by all the improvements."
 
New dining options are among those improvements. The newly hired head chef, Jeremy Hughes, will be introducing gourmet twists on the ranch's traditional home-cooked meals and offering greater diversity to accommodate those with special dietary restrictions. Plans are in place for a ranch-grown organic garden later this year, according to Offner.
More changes are expected in the coming months as ranch owners team up with area attractions to offer guest-excursion packages to Hudson Valley wineries and breweries, Catskill ski slopes, the Resorts World Catskills casino in Sullivan County and nearby Minnewaska State Park Preserve. Offner said he plans to purchase a 40-passenger bus to make that happen.
He called the ranch a "meeting hub" for generations of tourists and said he expects that Pine Ridge will grow in popularity among scouting groups, seniors, families and young couples under the new ownership.
"The ranch was iconic. This was one of those legendary Catskill resorts dating back to when this area was booming with tourists. It goes back to the days of Kutsher's, the Granite and the Nevele. This was the place to be. Our ranch is one of the last-standing places, and we are proud of what we have to offer our returning guests," he said.
"Families love this place. Kids have grown up with our horses. They always want to come back and see their favorites. We're like their home away from home. We're an all-inclusive resort. You can come up, and the whole family can take a horseback ride. If the parents want time alone, their kids can go to our safe day camp. To me, that's the essence of what this place is all about. Families meet other families and plan a vacation here together next year."
Offner expects the ranch's rebirth will once again bring guests back to Ulster County, particularly, the agriculturally rich hamlet of Kerhonkson. In its glory days, the old Pinegrove was the second-largest employer in the town of Rochester and a huge tourist draw, most notably for city dwellers looking for an outdoor escape.
Under his vision, Offner expects to further plug and grow the area on the outskirts of what was once known as the Borscht Belt.
"We hope to put Kerhonkson on the map again," he said. "We think our guests coming up from the city will like what they see. A lot of them who came up here over the years have discovered area attractions like Minnewaska and Mohonk Preserve.
"Not only are we immediately bringing jobs back and opening the door for out-of-towners to experience our region, but a lot of them like it so much they end up moving here. We expect to continue being that central hub for this town."
While the ranch just reopened for business on April 2, the owners are going all out for the Memorial Day grand opening weekend. Offner is planning to introduce new equine programs like the "Barbecue Ride" and "Own a Horse for a Day" experience. Live entertainment and a fireworks display also will be part of the summer kickoff weekend.
Offner said Pine Ridge is an affordable family destination that encourages kids to put their smart phones down and engage in outdoor play in the foothills of the Catskills.

"As we were taking reservations, our staff spent 20 minutes on the phone with guests, who were happy that we're back and wanted to talk about their experiences. This is a very unique place with a lot of things to do," he said.
To reach Offner directly, call (845) 542-6378 or the office at (866) 600-0859
Please check out Pine Ridge's website at  http://www.pineridgeduderanch.com/ or  https://www.facebook.com/pineridgeduderanchny/.
 
Contact:
Pine Ridge Dude Ranch
(866) 600-0859