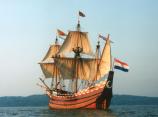 Albany, N.Y.
- A group of Dutch and American middle school students are making a ten-day Voyage of Discovery aboard the replica 17
th
century sailing ship
Half Moon
as they re-create the original voyage of Henry Hudson from September, 1609.  After lying at anchor in lower New York Harbor on September 10, the students are slowly making their way up the Hudson River, and plan to reach Albany on Tuesday, Sept. 18. Living aboard ship in the same manner as Hudson's original crew, these students are learning to overcome language and cultural differences, just as did Hudson's crew in 1609.  In addition, they are handling all aspects of operating the
Half Moon
, from steering and navigating, to climbing the rig to set sails and standing nightly anchor watches.  One job they have that Hudson's crew did not is to complete a rigorous academic program that combines math and science with history and geography. "It is inspiring to see these students rise to the challenge of life aboard this unusual ship.  They face everything from stormy weather, to the physical demands of ship work, to staying up at night for anchor watch," noted Menno de Leeuw, the teacher accompanying the Dutch students.  The voyage calls for the student crew to sail the
Half Moon
from the entrance of New York Harbor, following the route of Henry Hudson, completing their journey in Albany on Sept. 18, 2012. Along the way the students are studying and measuring environmental conditions, with each student completing an independent research project and final report before leaving the ship.  Studies include ecological conditions, river currents, weather, and geography. The Dutch student crew is from the Bornego Lyceum in Heerenveen, The Netherlands; the American student crew is from Myers Middle in Albany; Taconic Hills Middle in Columbia County; Rensselaer Middle in Rensselaer; and the Schenectady City School District, NY.  Their diverse backgrounds exemplify that of the early settlers of New Netherland, the Dutch colony that developed out of Hudson's exploration. Daily reports from the crew are being posted to the internet; schools and interested persons may follow the voyage at
http://www.halfmoon.mus.ny.us/
.
The public is invited to the arrival ceremony at noon on Tuesday, September 18, 2012, at the Corning Preserve in Albany, NY.
###
For Further Information: Replica Ship
Half Moon        
OR      
Schuyler Bull, Marketing Manager +914.433.9747 shipboard                   Albany County Convention & Visitors Bureau
http://www.halfmoonreplica.org/
                  (518) 434-1217, ext. 203 |
sbull@albany.org