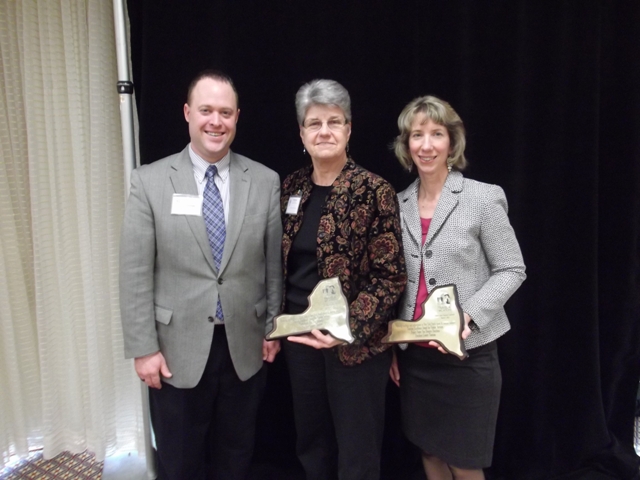 Poughkeepsie, N.Y.
- Dutchess County Tourism (DCT) was recognized for excellence in tourism in two out of four award categories at the 2012 Empire State Tourism Conference held at the Albany Marriott on March 7.  The awards, which were given by the New York State Travel and Vacation Association (NYSTVA), were presented during a ceremony recognizing various achievements in the tourism industry during the past year. In the Economic Development category, DCT was selected for its "Farm Fresh One Day Getaways" program. According to DCT Director Mary Kay Vrba, "The Farm Fresh Getaways have brought more than 4,000 visitors to Dutchess since the program began back in 2007, and those people have spent an average of $80 per person on their trip." She added that, "Many of them have been so impressed with all Dutchess County has to offer, they have made return visits and brought friends along, further increasing the benefits of this terrific program."  Conference Chairperson Suzanne Bixby noted that "The 'Farm Fresh One Day Getaways' program demonstrated a laser-focused effort to give metropolitan-based travelers an immersion in our state's agricultural industry, and educated them in a fun way about how their food, wine and other agricultural-based products are brought into their homes and lives. And, at the same time, it provided huge and immediate economic benefits to the local tourism industry through the travel itinerary component. It is no wonder this project stood out among our outstanding nominees." DCT's advertising campaign "You Deserve Dutchess" won in the category for Tourism Marketing. According to Bixby, the judges selected DCT because its marketing campaign, "demonstrated an innovative and multi-layered approach to marketing that took full advantage of traditional and new approaches." Said Bixby, "Mary Kay Vrba and the staff at Dutchess County Tourism have a knack for developing exciting programs that net positive results for their county and stakeholders, and are usually the envy of their peers across the state. Their work with Deborah Garry and her agency, BBG&G Advertising and Public Relations, on the 'Simple and Sophisticated. You Deserve Dutchess' campaign is another fine example of results-oriented and admirable tourism marketing." DCT's Farm Fresh Link packages have been made possible by grants from the New York State Department of Agriculture and Markets, the United States Department of Agriculture, and Dutchess County, as well as a gift from a private donor. DCT was founded in 1984 under the umbrella of the Dutchess County Economic Development Corporation, both of which are funded by the county of Dutchess. Their offices are located at 3 Neptune Road in the Town of Poughkeepsie and they can be reached at 845-463-4000 or via their web site at
http://www.dutchesstourism.com/
.
###
Photo: Jim Walter, President of the New York State Travel and Vacation Association with Mary Kay Vrba, director, Dutchess County Tourism and Deborah Garry, BBG&G Advertising.
Contact
:Nancy Lutz, Communications Manager
Nancy@DutchessTourism.com
845-463-5446