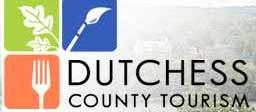 Poughkeepsie, N.Y.
- The New York State Travel & Vacation Association (NYSTVA) honored tourism excellence with the presentation of awards at the Empire State Tourism conference on March 2 in Albany. Dutchess County Tourism was the recipient of the Cultural Heritage Award for their group tour video promoting the new experiential tours offered at the area's historic and cultural sites. The Empire State Tourism Conference is hosted by NYSTVA, an organization established to bring together the state's tourism industry professionals. In bringing the industry together, their goals are to: advocate government policies and programs which will strengthen the industry; to raise the level of professionalism within the industry; to encourage the development of cooperative relationships and partnerships among its members; and to raise consumer awareness and appreciation of travel and vacation opportunities in New York State.             The Cultural Heritage award honors a program or project aimed at exposing visitors to the state's unique cultural aspects, increasing visitation to a community or region, and stimulating the local economy. The award recognized the group tourism video Dutchess County Tourism created in order to stimulate tours at the county's historic and cultural sites by making them more experiential and interactive. Teaming up with consultant Joe Veneto, they were able to successfully enhance their sites' signature tours with interactive exhibits and hands-on experiences.             Dutchess County Tourism used this as a marketing tool for attracting groups by creating a flash drive featuring videos of the new experiential tours. The goal was to provide tour operators with a portable marketing tool, specific to their needs serving multiple purposes in their efforts to promote tours to their group leader clientele. The ultimate goal is to increase group visitation at area attractions and historic sites. The Dutchess County sites featured in the video are:
The video featured actual footage from the sites and showed what it would be like if the group was physically at the location. Testimonials are utilized to support the experience of the tours.  The video was created by Dawn Hopper, Tour and Travel Manager for Dutchess Tourism, and the videographer was Raj Sirohi. It's now posted on
YouTube
and visit the
Dutchess Tourism Facebook page
. For more information on Dutchess County Tourism, visit
http://www.dutchesstourism.com/
###
Dutchess County Tourism in Poughkeepsie is a division of the Dutchess County Economic Development Corporation and is funded by the county of Dutchess.
Contact
: Nancy Lutz, 845-463-5664