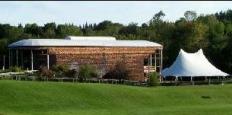 Howes Cave, N.Y.
- The Iroquois Indian Museum in Howes Cave, NY announces its 4th Annual Early Technology Day, this year-on Saturday, May 18th, from 10 am to 4 pm. You're invited to join the staff for flint knapping demonstrations, atl-atl shoot, and various demonstrations of early technology. The museum's archaeology department will have a staffed display of local finds, artifact identification and more information on local digs. Flint knapping is the ancient art of making chipped stone tools. Are you a knapper? Please join us! Curious? Want to learn? Come and see or learn hands-on! Are you interested in archaeology? Have you ever found an artifact? Please bring your finds and staff will try to identify them. The museum has one of the largest point-type collections on display, so you can compare your finds to theirs! This is a public event, please bring a friend. This year staff will demonstrate the process of flint knapping, using local and semi-local cherts and lithics. Orient period "Fish-tail-points" are some of what they will aim to make, going for the largest and thinnest of them. There will be examples of points, replica tools, and various archaeological displays. A variety of local stones will be provided, as usual, as well as some knapping kits, for those who wish to try making stone points. Knappers are welcome to bring their own stone and tools too. The museum encourages demonstrations and teaching. Primitive fire making, atl-atl spear throwing, early archery and show-and-tell are also welcomed as part of this event. Ganondogan interpreter, Michael Galban will present an illustrated talk on historic tattoo practices. Galban has conducted extensive research on historical body modification practices among the Iroquois and other northeastern native nations and has first-hand experience with the traditional hand poking method of tattooing. Galban's presentation is offered in partnership with Ganondogan Historic Site. For more information please contact: Iroquois Indian Museum, P.O. Box 7, 324 Caverns Rd., Howes Cave, NY 12092. (518) 296-8949,
info@iroquoismuseum.org
or
http://www.iroquoismuseum.org/
.
###