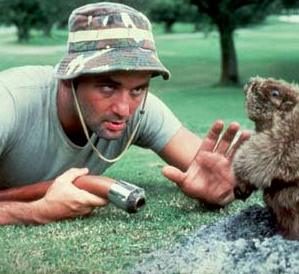 "Back to Back to the '80s" on the big screen weekends in July and August; Titles include
Dirty Dancing
,
Heavy Metal Parking Lot
,
Say Anything
,
Terminator
Rochester, N.Y.
- Hold a boom box over your head and order a pizza during class, but don't say Beetlejuice or put baby in the corner ... as this summer the Dryden Theatre at George Eastman House takes another spin through the classics of the 1980s. This time around the series of 18 films, titled "Back to Back to the '80s" mixes genre masterpieces, children's favorites, kitsch classics, and guilty pleasures for a veritable feast of popcorn entertainment. "So don your parachute pants and tease out your bangs for this tribute to those glorious days of yesteryear, when films were shot on film, action movies didn't cause nausea, and no one cared about the cholesterol content of popcorn," said Lori Donnelly, Eastman House film programmer. One highlight of the series is Jeff Krulik's visit to the Dryden on Friday July 8, to present the canonical cult classic Heavy Metal Picnic, which marks its 25th year, and also screen his film Heavy Metal Parking Lot. Krulick is also in attendance Saturday, July 9, for a look at his career with "The Wonderful World of Jeff Krulick and Friends." The films of "Back to Back to the '80s":
Friday, July 1, 8 p.m. and 4 p.m. Sunday, July 3
CADDYSHACK (Harold Ramis, US 1980, 98 min.)
Snobs vs. Slobs! Bill Murray chases gophers, Chevy Chase drinks and cracks wise, and Rodney Danger- field gets Ted Knight's goat in Harold Ramis's classic golf course comedy. How many lines can you quote?
8 p.m. Saturday, July 2 and 7 p.m. Sunday, July 3
BREAKIN' (Joel Silberg, US 1984, 90 min.)
Poppin', lockin', cross-cultural love a la west Side Story, and Ice-T! Classically trained dancer Kelly (Lucinda Dickey) befriends Ozone and Turbo (legendary breakdancers Adolfo Quinones and Michael Chambers), and take the establishment by storm when they join forces to enter a dance contest.
8 p.m. Friday, July 8
Rochester Premiere! Jeff Krulick In Person!
HEAVY METAL PICNIC plus HEAVY METAL PARKING LOT
(Jeff Krulik, US 2010, 66 min., Digital Projection, program approx. 90 min.)
Potomac, MD, 1985. An out-of-control rock party called The Full Moon Jamboree is taking place in a field surrounded by wealthy, irate suburbanites. One concertgoer prowls the grounds with a VHS camera and a microphone stolen from the Reagan inauguration, interviewing participants before his battery (and sobriety) failed. More than 25 years later, director Jeff Krulik has returned to the scene of the crime, mixing the original footage, new interviews with the participants, and contemporary TV reports to create a hilarious, surprising documentary. Wild, wasted, and oddly reflective, heavy Metal Picnic is a celebration of mid-'80s Maryland rock 'n' roll by those who lived it. PLUS! Heavy Metal Parking Lot (1986), the deathless record of shirtless teens waiting for deliverance before a Judas Priest show.
8 p.m. Saturday, July 9
Jeff Krulick In Person!
The Wonderful World of Jeff Krulik and Friends
(Jeff Krulik, US/various, approx. program time 90 min., Digital Projection)
For almost 30 years, Jeff Krulik has focused his camera on folks not quite tony enough for traditional documentarians: drunken teens waiting in a parking lot before a heavy metal concert, professional wrestlers, fanatical porn collectors, and public access superstars. (Oh, and Ernest Borgnine.) Krulik will join us in person for a selection of highlights from his career, including King Of Porn, Obsessed with Jews, I Created Lancelot Link, Ernest Borgnine On The Bus, Mr. Blassie Goes To Washington, and other surprises.
8 p.m. Friday, July 15
THE NEVERENDING STORY (Wolfgang Petersen, US 1984, 102 min.)
"In the beginning, it is always dark." Bookworm Bastian (Barret Oliver) is bullied by the kids in school while his father has fallen into depression after the death of Bastian's mother. Taking refuge in a strange book from a stranger bookstore, Bastian is soon transported to the magical world of Fantasia, where a young warrior named Atreyu (Noah Hathaway) must battle an evil force called the Nothing to save the kingdom and its childlike Empress from ruin.
8 p.m. Friday, July 22 and 4 p.m. Sunday, July 24
THE TERMINATOR (James Cameron, US 1984, 107 min.)
"I'll be back." The first of the classic series and Arnold Schwarzenegger's career-defining role. A cyborg is sent from the future to kill Linda Hamilton, mother-to-be of the leader of the resistance against Skynet, a supercomputer that waged war against and nearly destroyed the human race. In a race against time, the flesh and blood Michael Biehn is also dispatched as her protector. Post-release writing credit was awarded to legendary sci-fi author Harlan Ellison.
8 p.m. Saturday, July 23 and 7 p.m. Sunday, July 24
WAR GAMES (John Badham, US 1983, 114 min.)
"Shall we play a game?" High school computer geek Matthew Broderick hacks into what he thinks is the network of a video game manufacturer, but turns out to be the NORAD nuclear missile command, and the games this computer plays have names like "Global Thermonuclear Warfare." When the computer confuses its simulations with real-world military maneuvers, things get tense, drawing Broderick and Ally Sheedy into a frightening military intrigue. A classic "what if?" of the late Cold War era, this film was nominated for three Oscars®, including Best Screenplay, Sound, and Cinematography.
8 p.m. Friday, July 29
SAY ANYTHING (Cameron Crowe, US 1989, 100 min.)
The iconic '80s romantic comedy that ensured John Cusack's place as the ultimate geek crush. Cusack is a recent high school graduate with little plan for the future ("I don't want to sell anything, buy anything, or process anything as a career") besides getting pretty class valedictorian Ione Skye to be his girl. To the surprise of everyone, including Skye's overprotective father John Mahoney, the two begin an intense relationship that threatens to crumble when Mahoney gets involved.
8 p.m. Saturday, July 30
THE SURE THING (Rob Reiner, US 1985, 100 min.)
Opposites attract in this smart romantic comedy about two college students who drive each other crazy during a cross-country road trip. In his first starring role, John Cusack establishes himself as the ultimate '80s crush with his wide-eyed enthusiasm and charisma, while Daphne Zuniga plays his serious and scholarly counterpart to perfection.
8 p.m. Friday, Aug. 5 and 2 p.m. Sunday, Aug. 7
THE PRINCESS BRIDE (Rob Reiner, US 1987, 98 min.)
"As you wish." Dashing stable boy turned pirate Wesley (Cary Elwes) must rescue his true love Buttercup (Robin Wright) from the clutches of evil Prince Humperdink with the help of a magician (Billy Crystal), a giant (Andre the Giant), and a vengeful swordsman (Mandy Patinkin). Director Rob Reiner drew on his background in comedy to create a lighthearted antidote to the self-important fantasy films of the 1980s, one that has since become a beloved family classic.
8 p.m. Saturday, Aug. 6 and 5 p.m. Sunday, Aug. 7
BEETLEJUICE (Tim Burton, US 1988, 92 min.)
A pair of newly dead newlyweds returns to their country home to discover unwanted guests: an obnoxious yuppie family whom the spirits want evicted at once. The crude "bio-exorcist" Betelgeuse (Michael Keaton) seems to be their only hope, but the self-proclaimed "ghost with the most" proves to be an even bigger burden. Tim Burton's follow-up to Pee-Wee's Big Adventure is a funny, scary, and creepy romp that's even more wildly imaginative than its predecessor.
8 p.m. Friday, Aug. 12 and 4 p.m. Sunday Aug. 14
POLTERGEIST (Tobe Hooper, US 1982, 114 min.)
"They're heeere." Directed by The Texas Chainsaw Massacre's Tobe Hooper, but overwhelmingly bearing the stylistic fingerprints of writer/ producer Steven Spielberg, Poltergeist represents an unholy marriage of family film and intense horror cinema. The haunted house genre moves to the suburbs, as a family discovers that the mysterious occurrences in their new tract home - at first amusing bits of mischievous telekinesis, later more terrifying acts of deadly violence - may have something to do with the Native American burial ground underneath their subdivision.
8 p.m. Saturday, Aug. 13 and 7 p.m. Sunday, Aug. 14
FRIDAY THE 13th (Sean Cunningham, US 1980, 95 min.)
Ah - beautiful CampCrystal Lake! A group of counselors is relentlessly disposed of by a murderous maniac at CampCrystal Lake ... and that's about all you need to know. Teens had been murdered on screen before, but not with the relentless efficiency of Friday The 13th, the film that combined Halloween, Giallo, and a billion grade-Z exploitation flicks to create the slasher film as we know it.
8 p.m. Friday, Aug. 19 and 4 p.m. Sunday, Aug. 21
DIRTY DANCING (Emile Ardolino, US 1987, 100 min.)
"Nobody puts baby in a corner." Indeed. Jennifer Grey is "Baby," a plain-Jane daddy's girl, poised in the 1960s to enter the Peace Corps before going to college and marrying a doctor. But Baby's life is suddenly changed one summer when she goes on a family trip to the Catskills and falls in love with hunky dance instructor Patrick Swayze. With his regular dance partner on ice, Baby steps in. Let the dance montage begin!
10 p.m. Saturday, Aug. 20 and 7 p.m. Sunday, Aug. 21
XANADU (Robert Greenwald, US 1980, 93 min.)
Olivia Newton-John is Kira, a mysterious muse sent to inspire struggling artist Michael Beck in 1980s Los Angeles. She proposes he open a roller skating disco in partnership with an elderly gentleman (Gene Kelly in his last film role). The nightclub becomes a hit, and the two fall in love. Unfortunately, Beck forgot rule number one when dealing with a muse: never fall in love. It's the music that gives heart to this cult classic, from title song "Xanadu" to "Suddenly" and "Magic." The film's soundtrack soared to the top of the charts and inspired the successful and long-running Broadway musical.
8 p.m. Friday, Aug. 26 and 4 p.m. Sunday, Aug. 28
FAST TIMES AT RIDGEMONT HIGH (Amy Heckerling, US 1982, 90 min.)
Based on author Cameron Crowe's undercover exploits at a Los Angeles high school, Fast Times broke the mold for the teen sex comedy genre by privileging human comedy over crude laughs. Jennifer Jason Leigh leads the cast as Stacy, a sexually inexperienced teen seeking guidance from best friend Phoebe Cates, while her brother Judge Reinhold navigates the world of fast food. Stoned surfer Sean Penn barely graduates, and Forest Whitaker rips up the football field.
8 p.m. Saturday, Aug. 27 and 7 p.m. Sunday, Aug. 28
REAL GENIUS (Martha Coolidge, US 1985, 108 min.)
A group of whiz kids at PacificTechnicalUniversity are unknowingly working on a top-secret weapon for the CIA, but find themselves more concerned with pranks, partying, and a slowly developing political conscience. The always-underrated Val Kilmer anchors Coolidge's cult classic, which blends a keen insight into the teen mind with genuinely hilarious coming-of-age comedy. Regular Dryden admission for each film: $8 general/$6 students and members. For more information call (585) 271-3361 or visit dryden.eastmanhouse.org.
# # #
Contact
: Dresden Engle dengle@geh.org (585) 271.3361 ext. 213