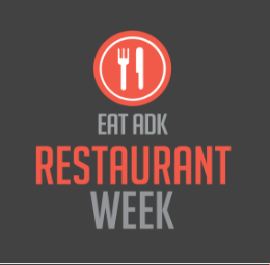 Restaurants in Lake Placid, Saranac Lake, Tupper Lake, Wilmington, and Harrietstown to Participate 
Lake Placid, NY – The region will host the third annual Eat ADK Restaurant Week from Thursday, May 3, 2018 through Thursday, May 10, 2018. This year's event features restaurants from five communities: Lake Placid, Saranac Lake, Tupper Lake, Harrietstown and Wilmington. 
Thirty-six restaurants will offer three course dinners at fixed price points of $15, $20, or $30. This year's participating restaurants are Big Tupper Brewing, Big Slide Brewery and Public House, Desperados, Lake Placid Pub and Brewery, Wyatt's, ADK Pizza and Pasta, Eleanor's Pasta Kitchen, Campfire, Top of the Park, Casa del Sol, Salt of the Earth Bistro, Red Neck Bistro, Lisa G's, Delta Blue, Generation's Tap and Grill, The Cottage, The Pourman's Tap House, Lake View Deli, Dancing Bears, Mis Amigos, Left Bank Café, The Marketplace Pub and Deli, Wiseguys Sports Bar and Grill, Bitters and Bones, The Lobster Reef, Kanu, The Interlaken Inn, Liquids and Solids, Blue Moon Café, Amado Restaurant and Café, Purple Saige, Caffe Rustica, The Fiddlehead Bistro, Taste Bistro, 'dack Shack, Lake Clear Lodge, and Well Dressed Foods. 
Presenting sponsors for this year's event are the Lake Placid Business Association and Paul Smith's College. Additional sponsors include Pure Placid, Saratoga Olive Oil, Symquest, Coca Cola, Mike Foote State Farm Insurance Agency, and Adirondack Health. 
Throughout Restaurant Week, many retailers, restaurants, and other organizations will be hosting special events related to food. "We are very excited about the diversity of participating restaurants from our five communities," said Eat ADK committee chairwoman Kelsey Cassidy. "The restaurants highlight the many culinary options available in the Olympic region." 
"The Adirondack Region offers diverse, world-class dining and accommodations that attract visitors all year long," said Jim McKenna, president of the Regional Office of Sustainable Tourism (ROOST). "The specials offered at participating restaurants during Restaurant Week will encourage locals to try new establishments and at the same time attract visitors to the area who will also stay at our hotels and shop in our stores." 
This year's event highlights both established restaurants as well as recently-opened enterprises. New participating restaurants can be found in all five participating municipalities. Paul Smith's College has provided significant support to the event. The idea for Restaurant Week originated out of a class led by assistant professor Kelly Cerialo. Cerialo's students work to organize the retail and hospitality components of the event. For continuous updates on Eat ADK Restaurant Week visit EatADK.com The purpose of the Lake Placid Business Association is to promote and protect the commercial vitality of Lake Placid's business districts, recognizing their significance to the quality of experience for our visitors in order to enhance the quality of life for our community.
###
CONTACT: Kelsey Cassidy, event organizer