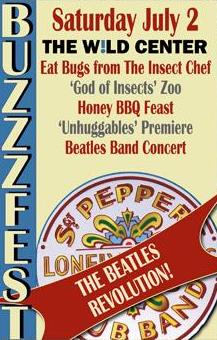 Bug Appetit!
Tupper Lake, N.Y.
- Quash that impulse to squish that bug crossing your path and instead think about how it would taste sautéed in a little butter or grilled with some fresh vegetables.  Bugs have long been considered to be a part of a well-balanced meal for people around the world, but Americans don't seem to take to the idea of a dragon fly as fast food.  BuzzzFest will give you a chance to taste what others in the world consider a delicacy.  Bug chef extraordinaire David George Gordon will be one of the highlights of 
BuzzzFest
at The Wild Center, the Adirondack place to kick off the Fourth of July weekend on 
Saturday, July 2nd from 10am until 6pm.
Want to boost your protein level, have a crunchy snack and give your friends the heebie-jeebies?  During the three live cooking shows Gordon will create culinary masterpieces using ants, grasshoppers, waterbugs, centipedes, scorpions and their kin.  Visitors can help in the cooking...and the tasting! The freewheeling naturalist has been featured in 
Ripley's Believe It or Not
, 
National Geographic Kids
, 
The Wall Street Journal
 and 
Time
 magazine. He's been a guest on 
Late Night
 with Conan O'Brien, ABC's 
Nightline
 and 
The View
. Insects have long been known to be incredibly nutritious, especially as a protein provider.  A 100-gram (3.5 oz.) portion of cooked Usata terpsichore caterpillars--commonly eaten in central Africa--contains about 28 grams (1 oz.) of protein, slightly more than you'd get from the same amount of chicken. Water bugs have four times as much iron as beef. David George Gordon's cooking is all part of Buzzzfest, an all day festival of fun with something to entertain, delight and perhaps gross out all ages.  BuzzzFest honors the creatures that make the world go round, from dragonflies to honey bees and all the buzzing, chirping and crawling things in between.  Enjoy the music of The Beatles Revolution, an internationally-known Beatles Tribute Band; pet some crazy creepy crawlies at the
 God of Insects
 petting zoo; watch the premiere of
Unhuggables
, the new live theater shows about animals that miss out on the love; try out 
CSI Bugs 
under the huge microscope; The Butterfly Garden will be open, plus insect races, insect tours, and a live bee hive demonstration with a hive expert to show you how to raise your own bees, and of course, there will be free buzzz cuts for the kids...and the willing. If an arthropod appetizer isn't your idea of a Fourth BBQ, BuzzzFest will feature honey chicken barbecue and festive Fourth of July food prepared by the Center's new Executive Chef Phil Smith and plenty of great meal offerings from area culinary enterprises. "Bring the family," said Rob Carr, who is heading up the day at the Center, "and we'll do everything we can to send you home buzzzing with ideas.  We plan to have big day where people can kick back, relax and enjoy a fun Adirondack Fourth...on the Second." North Country Public Radio is the official media sponsor for BuzzzFest. The Wild Center is open daily from 10 a.m. until 6p.m. between Memorial Day and Labor Day.  For more information, visit
www.wildcenter.org
.
# # #
Contact
: Tracey Legat Jolly
tlegatjolly@wildcenter.org