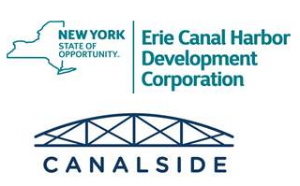 2018 programming and events schedule includes new activities, music, fitness, food and family fun
Erie Canal Harbor Development Corporation (ECHDC) and Canalside Management Group (CMG) today announced Canalside's exciting 2018 season of summer events and programming.  This year, Canalside will host hundreds of programs and daily activities from Memorial Day weekend through Labor Day weekend, as well as special events, on Buffalo's waterfront.  The packed calendar includes options just for kids and families, fitness enthusiasts, music lovers, history buffs, festival goers and more. Visit www.canalsidebuffalo.com for the full calendar of events, which is continuously updated as activities and events are booked.
"As Western New Yorkers, we like to squeeze each and every drop out of our glorious summers but with such a packed schedule at Canalside that will be darn near impossible to do this summer," said ECHDC Chairman Robert Gioia.  "Canalside Management Group has been hard at work making sure there is something for everyone, every single day so get out your shades and head on down to our beautiful waterfront." 
"Our mission is to provide world-class entertainment and food and beverage options to the visitors of Canalside all summer long," said Jon Dandes, President of CMG and Be Our Guest, Ltd.  "The summer schedule will give families a safe and affordable option to spend a day on the Buffalo waterfront, while showcasing to visitors the resurgence of Buffalo."
New offerings at Canalside in 2018 are plentiful with the team at Canalside Management Group and other partners working to make this summer unforgettable.  New activities and events for 2018 include:
10th Anniversary of the Restored Erie Canal Harbor.  Highlighted by a recreation of the "Wedding of the Waters" in July.
Canalside's 10 year Birthday Bash! The summer kicks off on Memorial Day weekend as Canalside celebrates bringing summer time programming to the waterfront for the 10th year in a row! Saturday, May 26 includes a Boardwalk Market featuring the BlueCross BlueShield of WNY Live Fearless Family Zone and the return of the Saturday Artisans Market.
Buffalo on Display is a Canalside signature event on Friday evenings featuring local musicians performing on the Canalside Boardwalk.  The program will display the talent of Western New York beginning at 6 p.m. on selected Friday Nights (June 8, July 6, July 20, August 10, August 31). 
Movie Night at Canalside Returns!  The eight week movie series returns to the Pierce Lawn at Canalside starting July 10 with a new start time!  This year, the series becomes more family friendly with the event starting at 6 p.m. and movies starting at 6:30 p.m.  Each week movie goers can participate in free activities that coincide with the film.  Highlights include Star Wars: The Last Jedi (7/17), The Wizard of Oz (8/14) and the Lego Ninjago Movie (8/21).  
More Ice Cream, Games, & Cool Gear! The Canalside Information Kiosk has received a face lift with a larger space that will provide more free lawn games for all visitors to Canalside and a new line of Canalside merchandise on display. The Canalside Info Kiosk will also sell beverages, sundries, and soft serve ice cream; making it easier for visitors to enjoy refreshments while at Canalside.    
Blue Bikes presented by BlueCross BlueShield of WNY will also have a new location, in the middle of the boardwalk by the entrance to the docks.      
Beautiful Canalside! With support from Five Star Bank, Canalside's beautification program will be in bloom by Memorial Day weekend, with flowers giving color around the entire site and the VIP Honda Pavillion.
Clinton's Dish Garden Expansion! Clinton's Dish is expanded this year and features a new menu and beer garden area that triples the size of its previous foot print. Tripling the size of the previous foot print, customers will now have a new area to enjoy the Buffalo summer with food and beverage options available.     
Every day at Canalside will feature something to do starting with Memorial Day Weekend.  We'll have a variety of programming including culture, kids' activities, and fitness.
Fitness at Canalside, presented by BlueCross BlueShield of Western New York, will feature returning classes such RevFit, Zumba, Barre Centric, Jada Blitz, Catalyst Fitness and Everyone Can Dance, as well as new classes featuring Gentle Yoga, Zumbini, Fitness 19 Peak Performance and Hoop There It Is.
"As the official health plan of Canalside, BlueCross BlueShield is excited to kick off another season of free, healthy activities," said Julie R. Snyder, Vice President, Corporate Relations, BlueCross BlueShield of Western New York. "We invite the entire community to join us in the heart of downtown at Buffalo's waterfront to get fit and have fun all summer long."
Children's programming with Explore and More Children's Museum, EPIC and WNY Family Magazine returns to Canalside for the summer.  The Beach at Canalside is also open for kids to explore and play and features the EduKids Tug Boat and the Dino Zone.
Amenities, such as table games/game rentals, BFLO Kayak tours/rentals, water bike rentals, paddle and pedal boat rentals, Spirit of Buffalo rides, History Tour Boat rides and Buffalo Sunset Chairs, will also be available throughout the summer beginning Memorial Day Weekend. Blue Bike rentals presented by BlueCross BlueShield of Western New York also have a new location on the boardwalk at the Canalside dock kiosk.
When you work up an appetite, enjoy food options that incorporate several local options, including Wardynski Hot Dogs and Ru's Pierogi.  The menu also features gluten free options, vegan and vegetarian menu items.   On those hot summer nights, be sure to visit Clinton's Dish for soft serve and hard packed Nick Charlap's ice cream cones.  Check out the entire menu here: THE DISH MENU. Additionally, Clinton's Dish will feature entertainment all summer long with live music on Sunday and Monday evenings and trivia on Wednesday evenings. The Dish is open from 11 a.m. until 9 p.m. daily. 
This schedule is in addition to the continuation of the popular Canalside Live concert series, which starts on Thursday, June 7 and ends, Friday, August 17. Taking place at Canalside's Central Wharf, this year's lineup features eight Thursday concerts, one Saturday concert in July and a Friday night finale on August 17.  Find out more about Canalside Live here.  Additionally, third party concerts will also take place this year at Canalside, including Kerfuffle on June 16, Kiss the Summer Hello on June 21, Summer Soul on June 30 and I Love the 90's on August 11.
Canalside will also once again celebrate July 4th with a dazzling Fireworks show presented by Russell J. Salvatore.  The July 4th celebration will feature an evening of live music and food and beverage options from Clinton's Dish! 
Keep checking www.canalsidebuffalo.com for the full schedule of events as new activities and events are being added daily!
Congressman Brian Higgins said, "Buffalo's waterfront has come a long way over the last 10 years and the momentum continues," said Congressman Brian Higgins.  "This is sure to be another exciting summer for residents, families and tourists visiting Canalside."
Senator Tim Kennedy said, "From outdoor movie nights to concerts featuring local musicians, the programming at Canalside continues to offer new and exciting opportunities for families and visitors to enjoy.  Buffalo's waterfront has grown beyond our wildest expectations, creating a real driver for economic and cultural growth in Western New York. I look forward to exploring all that Canalside has to offer with my family this summer."
Senator Chris Jacobs said, "Buffalo's waterfront is one of our greatest recreational assets and the new and expanded 2018 season of events and programming will be a great way to celebrate 10 years of summer fun at Canalside.  I am proud to have Canalside in my district and I know that it will be a premier destination again this year for families and visitors enjoying summertime in Buffalo and Western New York."
Assemblywoman Crystal D. Peoples-Stokes said, "Summer is finally upon us and school is almost over. Canalside is a great choice for outdoor recreational activities as they have something for everyone in the family and are complimented by our Olmsted Parks and local cultural institutions. Wishing everyone a safe, happy and healthy summer."
Assemblyman Sean Ryan said, "Visitors to Canalside have another great summer of fun to look forward to.  Buffalo's amazing waterfront is one of our greatest assets, and I'm thrilled to see so many exciting events planned for 2018.  Canalside is a truly family-friendly destination and I encourage everyone to visit this summer."
Erie County Executive Mark C. Poloncarz said, "For all visitors and in every season, there is always something to experience along our waterfront, especially during the summer months at Canalside, which has helped to transform our waterfront into a destination that attracts people to the City of Buffalo. Canalside is the place to be and I thank the Erie Canal Harbor Development Corporation for all of their hard work in helping to improve, enhance and promote one of Western New York's premiere summer destinations."
A special thanks to the following partners and sponsors: Erie Canal Harbor Development Corporation, City of Buffalo, BlueCross BlueShield of Western New York, Five Star Bank, Labatt and Honda.
About Canalside 
Canalside is a growing regional destination and entertainment district, situated on 21 historic acres along downtown Buffalo's emerging waterfront on the Buffalo River. Canalside earns its name from its storied past, when the Erie Canal Harbor was built in 1825 as the western terminus of the Erie Canal. Until five years ago, the land was barren and inaccessible, but the area has been reclaimed by the state's Erie Canal Harbor Development Corp. and developed with millions of dollars in public and private investment. With more than 1,000 yearly events and 1.5 million annual visitors, Canalside is fast becoming the go-to place for in- and out-of-towners of all ages to learn, play and relax.
About Erie Canal Harbor Development Corporation
A nine-member board consisting of seven voting directors and two non-voting, ex-officio directors governs the Erie Canal Harbor Development Corp. The seven voting directors are recommended by the New York state governor and are appointed by the New York State Urban Development Corporation d/b/a Empire State Development as sole shareholder of ECHDC. The Erie County executive and the City of Buffalo mayor hold the two non-voting, ex-officio director positions. For more information on ECHDC, visit www.eriecanalharbor.com.
###
Contact:
Erin Marra (Canalside Management Group) | erin@canalsidebufflalo.com | 716-807-8090
Laura Magee (ESD/ ECHDC) | laura.magee@esd.ny.gov   | (716) 846-8239 | (800) 260-7313