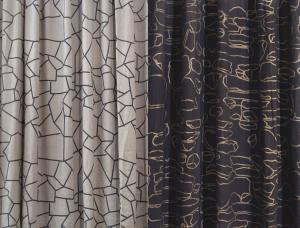 Exhibition creates a unique listening environment
December 21, 2019 to April 26, 2020
Saratoga Springs, NY —The Frances Young Tang Teaching Museum and Art Gallery at Skidmore College presents Elevator Music 40: Melissa Thorne — Landslide/Solid, on view from Dec. 21 through April 26, 2020. The exhibition marks the Tang's 40th audio-based installation in the museum's elevator.
Landslide/Solid combines interior design, hard-edge abstraction, and narrative pop to create a unique listening environment. Drawing from the artist's background in pattern painting and playing in bands, the exhibition features hand-printed sound curtains and a limited-edition 12-inch record, with audio performances by Thorne, Patrick-Ian Polk, and Jessica Catron in collaboration with musician/producer Julian Wass and artist and master printer Margaret White Lomeli. The title refers simultaneously to the visual motifs presented—inspired by those Thorne encountered while living in Los Angeles—and to the lyrics of cover songs.
A public reception in recognition of Elevator Music 40: Melissa Thorne — Landslide/Solid will be 5 p.m. Saturday, Feb. 1, which will also celebrate the concurrent exhibitions Between the Mountains, Mary Weatherford: Canyon–Daisy–Eden, and Nicole Cherubini: Shaking the Trees.
Elevator Music 40: Melissa Thorne — Landslide/Solid is organized by Dayton Director Ian Berry in collaboration with the artist and is supported by the Friends of the Tang.
About the Artist 
Melissa Thorne lives and works in upstate New York. Over the past ten years, her interest in architecture and geographic place has led to the creation of site-specific works in diverse venues, including galleries and museums, artist-run storefronts, public spaces, and abandoned cabins. Her work has been shown in solo and group exhibitions at Susanne Vielmetter Los Angeles Projects; Devin Borden Gallery, Houston; Galerie Rolf Ricke, Cologne; Galerie Anke Schmidt, Cologne; and Rosamund Felsen Gallery, Los Angeles, among others. Thorne earned her BFA from Carnegie Mellon University, and her MFA from the California Institute of the Arts.
About the Tang Teaching Museum
The Tang Teaching Museum is a pioneer of interdisciplinary exploration and learning. A cultural anchor of New York's Capital Region, the Tang's approach has become a model for university art museums across the country—with exhibition programs that bring together visual and performing arts with interdisciplinary ideas from history, economics, biology, dance, and physics to name just a few. The Tang has one of the most rigorous faculty-engagement initiatives in the nation, and a robust publication and touring exhibition program that extends the museum's reach far beyond its walls. The Tang Teaching Museum's award-winning building, designed by architect Antoine Predock, serves as a visual metaphor for the convergence of art and ideas. Admission to the museum is free (donation suggested). Hours are Tuesday through Sunday, noon to 5 p.m., with extended hours until 9 p.m. on Thursdays. http://tang.skidmore.edu.
###
Media Contact
Michael Janairo
Head of Communications
Tang Teaching Museum
mjanairo@skidmore.edu
518-580-5542
Image: Melissa Thorne, sound curtains, 2010, screenprint on hand-dyed linen, image courtesy of the artist