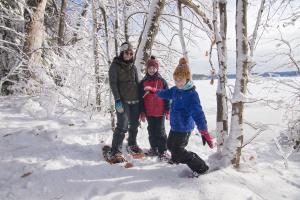 Winter Recreation – Ride, Ski, Tube, Bike, Trek
Chautauqua County, N.Y. – Proximity to Lake Erie and lake effect storms mean snow for Chautauqua County, averaging more than 200 inches annually! For downhill and cross-country snow sports, head to Peek'n Peak Ski Resort and enjoy 27 slopes and trails, state-of-the-art snowmaking, eight chairlifts, four progressive terrain parks, and a renowned ski and snowboard school. There's even a tubing area with seven lanes and a "Magic Carpet" lift that transforms into a nighttime Lunar Lights Snow Tubing experience. The thrilling and mesmerizing atmosphere features an ever-changing light show produced by thousands of LED lights and projection lights. The lights pulse, fade and change in coordination with an immersive sound system. On select dates, the massive sound and light program will be operated by a live DJ. Opening Day for winter sports at Peek'n Peak Resort is Friday, December 20, 2019.
Skiers and snowmobilers rejoice, Cockaigne Resort in Cherry Creek, NY will reopen in early January, their first winter sports season since 2011! Enjoy the new lodge and Base Pub restaurant, 15 ski/board slopes & trails, a Snowmobile Adventure Park, snowmobile trailer parking, plus convenient access to Chautauqua County's 400-mile snowmobile trail network via Lake Effect Trail Breakers C1 and Cherry Creek Sno-Goers S16.
The Snowmobile Adventure Park at Cockaigne is a ticketed feature that includes a cross-country loop around the 450-acre complex, two uphill trails, a downhill slalom, and an open field dubbed "Powder Peak." It's a great way to introduce the next generation of snowmobilers to the sport. 
Cross-country skiers, snowshoers, and fat-tire bikers will also find opportunities on the Chautauqua-Lake Erie Region's multi-use trail systems including Long Point State Park on Chautauqua Lake, Lake Erie State Park, Boutwell Hill State Forest, the Eastside and Westside Overland Trails, Chautauqua Institution and the Jamestown Audubon Community Nature Center. Winter is also a great time to explore Chautauqua County's equestrian trails with your own horse or book a trail ride at Double D.A.B. Riding Stables. 
If winter fun that doesn't require snow pants or special equipment is more your style, be sure to check out the Northwest Arena. Public Skates, DJ Skates, Drop-In Hockey, and Ice Bumper Car sessions are offered on a regular basis. Of course, their Jamestown Rebels American Junior Hockey team and Wits'n Giggles Stand-Up Comedy Series are not to be missed.
Après Ski – Cultural Attractions and Craft Beverages
Nothing warms the heart like laughter. The intuitive technology powering the National Comedy Center in Lucille Ball's hometown, Jamestown, NY, takes guests on an interactive journey through comedy's history. Recently named by TIME magazine as one of its "World's Greatest Places" -- and by People magazine as one of its"100 Reasons to Love America, the National Comedy Center is a destination to create a comedy profile, perform Comedy Karaoke, challenge friends to a Laugh Battle and explore more than 50 interactive exhibits and special collections. Dual admission to the Lucille Ball-Desi Arnaz Museum is available.
Experience other cultural attractions like the Roger Tory Peterson Institute of Natural History, Robert H. Jackson Center, Fenton History Center, or McClurg Museum. In Westfield, the hometown of Welch's, the Grape Discovery Center tells the story of the local grape industry through engaging exhibits and displays. Visitors have an opportunity to taste the flavor of the region by sampling local Lake Erie Wine Country wine and grape juice. Visit the museum store for grape-inspired art, artisanal food products, and local wine sold by the bottle.
Tour Lake Erie Wine Country's 23 wineries, each offering a unique guest experience. The Chautauqua-Lake Erie Region is also home to several craft breweries and distilleries including Southern Tier Brewing Company, Jamestown Brewery, Big Inlet Brewing, Five & 20 Spirits & Brewing, plus more.
Big Winter Events – Just a Sampling
Winter Events at Peek'n Peak Resort: Opening Day – December 20, 2019, Carriage Rides & Coco, Dinner Entertainment, LIVE Music, and more
Winter Events at Cockaigne Resort: Snowmobile Races, Torch Parade, LIVE Music, and more.
Chautauqua Institution's last 2019 Winter Village celebration will take place on December 21–22, 2019. Admission to the grounds is FREE and parking is open to the public. Festivities highlight on-grounds shopping, dining, and include special events such as wine and food pairing dinners, horse-drawn carriage and sleigh rides, and other seasonal activities.
WinterFest Celebration returns to Bemus Point on Sat., February 8, 2020, and will feature LIVE bands, vintage snowmobiles, fireworks, powersports vendors, a bonfire, and more at the Bemus Point Golf Club and Tap House.
President's Day Weekend, which coincides with Valentine's Day this year, is a great time to visit the Chautauqua-Lake Erie Region. There are three 3-day festivals to look forward to on February 14-16, 2020. The Presidents' Day Weekend Winter Festival at Mayville Lakeside Park is a banner winter celebration along Chautauqua Lake. Each year features ice and snow-themed activities, including an Ice Castle and snow sculptures when the weather allows. Fireworks light up the sky Saturday night. *Admission is FREE
The Fire & Ice Celebration returns to the Chautauqua Harbor Hotel on Feb. 14-16. 20,000 pounds of ice are meticulously carved into breathtaking sculptures, martini luges, and bars. Step inside the ballroom for a glorious spread of hors d'oeuvres, chili, and chowder, plus FREE samples from wineries, breweries, and distilleries – all included with your ticket. Booking early is strongly recommended for those also planning to overnight at the Chautauqua Harbor Hotel.
Lake Erie Wine County will host Decadent Pairings, Feb.14-16; it's a sweet and savory experience with Niagara Chocolates. Half of the participating wineries will serve a decadent chocolate dish with a premium house wine, while the other half will serve a savory small bite and wine pairing – something for everyone!
As the weather starts to warm in March and the sap begins to flow, look for details on the New York State Maple Weekends, March 21-22 and 28-29, 2020. Local sugar houses host seasonal celebrations featuring maple products including pancake breakfasts. 
Photo: Snowshoeing at Long Point State Park on Chautauqua Lake
Photo Resources: http://bit.ly/CCVB-Winter2020-photos
Credit: Chautauqua County Visitors Bureau
###
Contact: Megan L. Arnone, Marketing & Communications Coordinator
Chautauqua County Visitors Bureau
716-357-4569