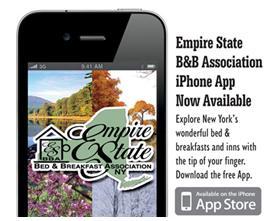 Watkins Glen, N.Y.
- Empire State Bed & Breakfast Association president
,
Barbara Schiesser
,
and iLoveInns.com, the leading publisher of bed & breakfast and country inn information, have announced the release of a new version of InnTouch for iPhone and iPod touch users. This new version specifically lists New York State bed and breakfasts who are members of the state professional organization (esbba.com) and allows users to quickly find every ESBBA member bed and breakfasts and small inn
s
located within the state of New York. The application is a free offering to travelers provided by ESBBA in the hopes of making New York State road trips and getaways easier and much more fun to organize. Travelers can stay in historic farms, city inns, fabulous country estates, contemporary homes and beautiful Colonial or Victorian gems from the past. Innkeepers at these properties know best all their areas have to offer and can guide guests in selecting the kinds of activities that will invigorate or soothe the soul. InnTouch gives access to New York's best, one-of-a-kind, bed & breakfasts on the iPhone, iPad or iPod touch. InnTouch is powered by iLoveInns.com, a leading Website for bed & breakfast information and booking. To download simply go to the iTunes store and enter "ESBBA".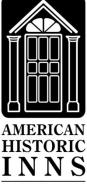 When first introduced two years ago as an exclusive B&B application nationwide, InnTouch was chosen by iTunes as a "Staff Favorite" on the App Store and saw cameo appearances in Apple's "There's an App for that" commercials. It was also featured in Mother's Day ads in millions of newspapers arranged by AT&T. This recent version, designed specifically for the Empire State Bed and Breakfast Association, is the first application of its kind for any state bed and breakfast association and exemplifies the marketing plans developed by the forward looking leadership of ESBBA. Top features of the mobile guide include descriptions and detailed information on each B&B and boutique inn featured, along with photos, the ability to locate inns near your current location, and push-to-call capability that allows users to immediately reach the inn for questions or to make reservations. Users can see the inn's address on a map, get directions, save the address in their contact list and e-mail or visit the inn's website with single-click actions. In addition, there are inn videos, and access to customer reviews, making the overall experience of travelers using the application extremely satisfying. "IPhone InnTouch is a superb tool for business travelers who can find a B&B within a few miles of their location," stated Chris Monahan, chief technology officer at iLoveInns.com. iPhones are available to be used on Verizon and AT&T networks. The website esbba.com, nybnbinns.com, nybnbinns.mobi (for any mobile device) and NOW the new ESBBA InnTouch App give travelers the tools to find boutique B&B Inns lodging and attractions in New York State.
About InnTouch
InnTouch is an application available on the iPhone App Store. Apple, the Apple logo, iPod and iPhone are trademarks of Apple, Inc. American Historic Inns, parent company to www.iloveinns.com is the publisher of more than 60 inn guidebooks and the bestselling guidebook, Bed and Breakfasts and Country Inns, with a free-night certificate inside each book. (Certificates allow travelers to get a free night on a two-night stay at more than 1,400 inns in the United States and Canada.) Hallmark Cards, American Express as well as "Good Housekeeping," the "Washington Post, and USA Today have sponsored the free-night program. iLoveInns.com offers articles, in-depth travel features and guest travel awards with thousands of inns from across the US and Canada listed.
About Empire State Bed and Breakfast Association
Empire State Bed and Breakfast Association is the leading Bed and Breakfast trade organization in New York State. As a nonprofit member-driven trade association, Empire State Bed and Breakfast Association is devoted to promoting the Bed and Breakfast industry in New York state, to fostering the professional development of members, to developing rewarding partnerships with vendors, to enhancing the lodging experience of guests, and to enthusiastically promoting the "Better Way to Stay".
###
Contact:
David Sakach 949-481-6256 Ext. 304
http://www.iloveinns.com/
david@iloveinns.com