New Outdoor Destination Offers Visitors Unique Getaway Opportunities
Investment Complements "Southern Tier Soaring" – The Region's Comprehensive Strategy to Revitalize Communities and Grow the Economy
Empire State Development (ESD) today announced the completion of the $1.9 million Naturluxe & Stars, an outdoor experience resort in Watkins Glen, Schuyler County. A ceremonial ribbon cutting was held on the grounds of the new outdoor retreat with Lieutenant Governor Kathy Hochul in attendance. Located on 48 acres of land adjacent to Watkins Glen International Speedway, Naturluxe & Stars is designed to provide guests with an opportunity to relax, disconnect and embrace the natural surroundings without sacrificing the amenities and comforts of everyday life.
"In what has been a tremendously difficult time, the great outdoors has served as an invaluable resource to get out of the house, stay active and enjoy New York's natural gems," said Lieutenant Governor Kathy Hochul. "Naturluxe & Stars' new camping site in Watkins Glen makes it even more convenient to enjoy all that New York has to offer and further represents New York State's commitment to creating new and fun ways to promote healthy outdoor recreation as well as boost local tourism."
Empire State Development Acting Commissioner and President and CEO-designate Eric Gertler said, "Traveling again—taking full advantage of the wonderful attractions that New York State has to offer—is an important step in getting back to a new normal. The Naturluxe & Stars resort, with its state-of-the-art conveniences, takes the fun of camping to a new level, for visitors to the beautiful Village of Watkins Glen. Our strategic community investments in smart projects like this are fueling regional momentum by developing spaces and places where people want to visit, play and work."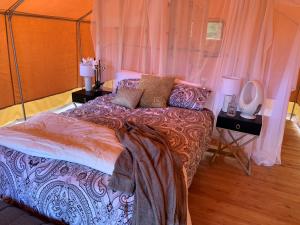 Naturluxe & Stars offers guests three different sized tent-style accommodations, including bell tents, platform tents, and safari-style platform tents with in-tent bathrooms, each lavishly furnished with its own unique character and décor. The resort offers a modern bathhouse conveniently located near tent groupings, equipped with seven individual bathrooms with private showers and an outdoor shower for the under the stars experience. Concierge-style services are available on-site to assist with all facets of the visitor experience, including luggage, reservations, and building campfires at any of the campfire pits located throughout the resort. Guests are provided complimentary individually-packaged breakfast baskets and campfire s'mores. Recognizing the different accessibility needs of travelers, Naturluxe & Stars offers an accessible parking lot and ADA-compliant bathroom facilities.
Entertainment and relaxation are paramount to the Naturluxe & Stars guest experience. Guests can relax in modern lounge seating under the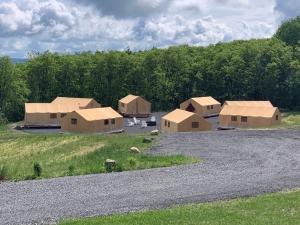 community gathering space tent or sit back in Adirondack chairs around campfire pits. Outdoor games like Bocce and horseshoes are available, along with more than 42 acres of private woods for on-site hiking and exploration. Working in tandem with local tourism partners to capitalize on the region's attractions, guided hiking tours, boating excursions and fishing charters are part of bundled packages available for visitors.
Dawn Aprile, Naturluxe & Stars owner, said, "Naturluxe & Stars allows our guests the ability to experience that magical moment of calm that occurs when you suddenly connect with nature. Our completely furnished outdoor accommodations and luxurious bathhouse on 48 acres of beautiful woods allow busy individuals to get away from the hustle and bustle and relax. I'm grateful to New York State, the Regional Council, Schuyler County, our local government leaders, and I LOVE NY, as partners that helped bring this vision for an effortless outdoor resort to fruition."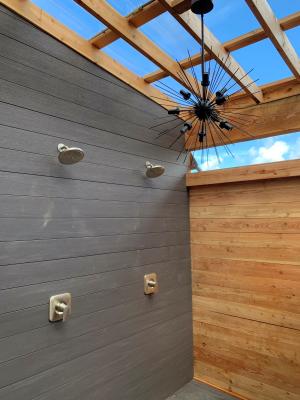 This project was supported by a $385,000 Market New York capital grant from Empire State Development through I LOVE NY, New York State's Division of Tourism. The grant was recommended by the Southern Tier Regional Economic Development Council as part of the Regional Council initiative.
New York State Executive Director of Tourism Ross D. Levi said, "I LOVE NY is proud to have supported the creation of the Naturluxe & Stars resort through our Market New York program. There is an increased demand for unique outdoor experiences, and this exciting new destination will encourage more visitors to explore the area, while serving as a perfect complement to other nearby attractions like Watkins Glen State Park and Watkins Glen International speedway. We look forward to including this in our efforts to promote all the great ways residents and visitors can enjoy a New York State vacation."
Senator Tom O'Mara said, "The Southern Tier and Finger Lakes regions already offer some of the most well-known and exciting outdoor attractions and experiences anywhere in New York State.  The new Naturluxe & Stars Resort in Watkins Glen is an outstanding addition to this network of outdoor destinations and will uniquely strengthen the foundation of our leading tourism industry."
Assemblyman Phil Palmesano, "We take great pride in maintaining, protecting, and enhancing one of New York State's most exciting regions for outdoor recreation and adventure.  Watkins Glen and Schuyler County are already home to some of our greatest attractions and the addition of the Naturluxe & Stars Resort offers a modern and exciting alternative for visitors to experience everything that the region has to offer."
STREDC Co-Chairs Judy McKinney Cherry, Executive Director of Schuyler County Partnership for Economic Development, and Broome Community College President Dr. Kevin Drumm said, "This new facility is an exceptional jewel in the Southern Tier and adds to the incredible tourism experience our region offers. Naturluxe & Stars Resort completes the diversity of accommodations that today's adventuring tourists seek. The Governor's efforts to expand the vibrancy of tourism experiences in New York is paying off in multiple ways."
For additional information about Naturluxe & Stars, visit: https://naturluxeandstars.com/.
Accelerating Southern Tier Soaring 
Today's announcement complements "Southern Tier Soaring," the region's comprehensive blueprint to generate robust economic growth and community development. The State has already invested more than $7.4 billion in the region since 2012 to lay for groundwork for the plan – attracting a talented workforce, growing business and driving innovation. Now, the region is accelerating Southern Tier Soaring with a $500 million State investment through the Upstate Revitalization Initiative, announced by Governor Cuomo in December 2015. The State's $500 million investment will incentivize private business to invest well over $2.5 billion – and the region's plan, as submitted, projects up to 10,200 new jobs. More information is available here.
About New York State
New York State is a premier vacation destination with world-class attractions, picturesque natural beauty, locally sourced cuisine and a booming craft beverage scene, an array of accommodations, and iconic, year-round festivals and events. Its 11 diverse vacation regions feature some of the world's top ranked beaches; two out of America's top three favorite state parks; breathtaking Niagara Falls; more ski areas than any other state; one of the nation's longest foliage seasons; multiple Halls of Fame; North America's longest, fastest and highest zipline; the largest publicly protected area in the contiguous United States; and soon, the country's longest multi-use trail. Add in the state's unique museums, historic landmarks, cultural sites, charming small towns and urban playgrounds, and it's no wonder New York has been consistently chosen as a top getaway by travel publications and experts. For more information, or to begin planning your next New York State vacation, please visit iloveny.com.
###
Contact:
Shari Voorhees-Vincent | Shari.Voorhees-Vincent@esd.ny.gov | (585)399-7055
ESD Press Office | PressOffice@esd.ny.gov | (800) 260-7313