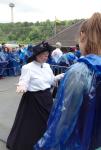 Niagara Falls, N.Y.
- For the past 4 seasons, visitors to Niagara Falls have returned home with photos of their encounter with Annie Edson Taylor, part of the "Characters of History" program at the Niagara Falls State Park.  Photos of the illustrious Daredevil, who in 1901 became the first to successfully challenge the Falls in a barrel, have traveled home around the world and across the United States and Canada.  Portrayed by local Minister and Women's Retreat Leader Kathleen Ordiway, "Annie" has led a team of actors who have portrayed significant characters of Niagara Falls History as they stroll the grounds of the Niagara Falls State Park.  Famed engineer and inventor Nikola Tesla, often described as "the man who invented the 20
th
Century", has been another fixture in the State Parks as he shares his passions - and pains - from an era of discovery when he created the Alternating-Current Distribution system.  Standing alongside Tesla is Maria Spelterini who, 136 years before Nik Wallenda's walk over the Falls - became the first woman to walk a tightrope across the gorge in various challenging situations (including wearing peach baskets on her feet).  Celinda Eliza Whitney, one of the famed "Three Sisters" for whom the outer islands were named, regales visitors with the story of how she and her sisters crossed the rapids in the early 1800's to become the first humans to walk on the Islands.  Businessman and Entrepreneur Augustus Porter delivers an unpopular point of view as he admonishes the State Park and longs for his vision - from before the Erie Canal - of turning the Niagara Falls Parks into a "vast sea of industry".  Father Louis Hennepin continues to share his amazement and marvel at the mighty cataract, which he first chronicled for European audiences based on his visit in 1679 alongside the explorer LaSalle. This season, an "old favorite" returns as Frederick Law Olmsted, renowned Landscape Architect, once again strolls the gentle parklands he designed in 1885.  Known for his many designs across the US, including New York City's Central Park, Olmsted shares his vision and passion for creating a "place for the people" amid the falling mist of the world's most famous waterfall. The program resumes on Saturdays during Memorial Day Weekend from 12-5pm and continues every Saturday until Labor Day.  In July and August, the program is added on Tuesdays from 11am-4pm.  This season there will be scheduled presentations by the various Characters in the State Park and information will be available at Park Information Centers.  There is no cost, no gratuities are solicited and the Characters pose happily for photographs.  For more information please contact
info@encounterniagara.com
or visit
http://www.encounterniagara.com/
, or telephone 716-359-6170. 
###