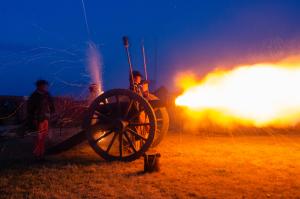 Enjoy exclusive, premium experiences through before and after-hour programs
Ticonderoga, N.Y. – Fort Ticonderoga will offer guests exclusive opportunities to experience the epic history and incredible natural beauty at Fort Ticonderoga with new premium experiences and programs this summer.
Enjoy a relaxing sunset cruise aboard Fort Ticonderoga's touring boat Carillon to discover why Lake Champlain is one of America's most historic waterways. Get the scoop on all of the salacious stories at Ticonderoga, dating back to 1755, during the Gossip Tour. Enter the Fort Ticonderoga grounds before the public to discover the guns of Ticonderoga from a new perspective during Cannon & Coffee. Explore around, on top, and inside the fort to find out Ticonderoga's unknown secrets, including areas off limits to the general public during the NEW Beneath Fortress Walls program. Marvel at the power of artillery during a dramatic demonstration as part of the Guns by Night tour.
"Premium and behind-the-scenes programs provide guests an opportunity to enrich their Fort Ticonderoga experience through tours and demonstrations, focusing on unique parts of history, led by our staff of knowledgeable and engaging historians," said Beth Hill, Fort Ticonderoga president and CEO. "These tours and events are perfect for a family outing, activity with friends, or for solo enjoyment."
Guests can choose from the following programs and tickets can be purchased online:
·         Sunset Boat Cruise on Lake Champlain - Revel in the region's scenic beauty aboard the Carillon, a 1920s-style tour boat. Toast to the King's health with a complimentary cocktail of soldiers' rum punch as you discover Ticonderoga's rich maritime history. A selection of beer, wine, soft drinks, snacks, and signature cocktails will be available.
·         Beneath Fortress Walls – In this new offering, learn the history of the building and re-building of Fort Ticonderoga and explore areas off limits to the general public. This tour involves stairs and moderate walking.
·         Cannon & Coffee – Enter Fort Ticonderoga before the public in this new program that explores the world-class collection of 18th century artillery. Spanning the Atlantic Ocean from the American, French, and Haitian Revolutions all the way to the Spanish American War and WWI, learn how historians can read these pieces and discover what they have to tell us about military history. Fresh coffee provided!
·         The Gossip Tour - Go beyond the battles to get the real story of life at Ticonderoga during this adult-only, walking tour with Curator Dr. Matthew Keagle. From high crimes to petty bickering, serving at Ticonderoga was full of drama from 1755 to 1781. This tour involves stairs and moderate walking and is not for young audiences.
·         Guns by Night - The flash of musketry and the roar of cannon fire by night will captivate you in this unique, 90-minute tour and demonstration of 18th-century firepower. Explore the workings of the firelocks and cannon that armed the many garrisons of Fort Ticonderoga that influenced and shaped the importance of this strategic citadel. Learn how these great guns were used to attack and defend the fort during the French and Indian War and made it such an important prize in the American Revolution.
To learn more about Fort Ticonderoga's evening programing, call 518-585-2821 or visit www.fortticonderoga.org. All prices are in addition to Fort Ticonderoga general admission and advanced purchase is required. Space is limited for tours. Tickets can be purchased online.
About Fort Ticonderoga:
Welcoming visitors since 1909, Fort Ticonderoga preserves North America's largest 18th-century artillery collection, 2,000 acres of historic landscape on Lake Champlain, and Carillon Battlefield, and the largest series of untouched Revolutionary War era earthworks surviving in America. As a multi-day destination and the premier place to learn more about our nation's earliest years and America's military heritage, Fort Ticonderoga engages more than 75,000 visitors each year with an economic impact of more than $12 million annually and offers programs, historic interpretation, boat cruises, tours, demonstrations, and exhibits throughout the year, and is open for daily visitation May through October. Fort Ticonderoga is supported in part through generous donations and with some general operating support made possible by the New York State Council on the Arts with the support of Governor Andrew Cuomo and the New York State Legislature.
 Photo: Enjoy exclusive, premium experiences at Ticonderoga during before and after-hour programs. Copyright Fort Ticonderoga, photo credit Chase Guttman.
For Further Information Contact:
Beth Hill - 518-585- 2821