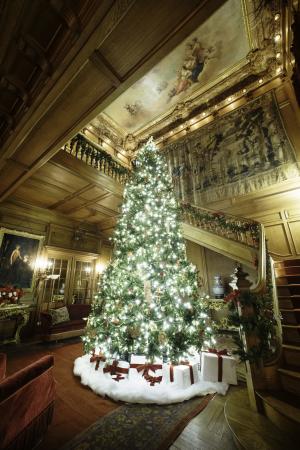 Staatsburg, N.Y. (11/19/19) – Staatsburgh State Historic Site will present A Gilded Age Christmas, featuring lavish decorations in a Gilded Age mansion, from late November through New Year's Eve.  The decorations are done in turn-of-the-century style, recreating the atmosphere of holidays long-ago at one of the great estates of the Hudson Valley.  
"Each year, the mansion receives a different decorative scheme," says site manager, Pam Malcolm: "The theme this year includes a design in the dining room featuring the Nutcracker. The historic rooms are filled with Christmas trees, garlands, lights and our annual tradition of tucking mouse houses into the historic rooms for kids to locate. The mouse houses are inspired by a children's book—Mr. Willowby's Christmas Tree—about a rich man in a mansion who has to cut down his enormous Christmas tree, and shares part of it with a mouse who lives in his walls."
Staatsburgh will open for the holiday season on Friday, November 29.  Touring hours will be Thursday through Sunday from 11 a.m. to 3 p.m. through December 31. Additional open hours include special evening hours on Friday December 20, from 5 p.m. to 8 p.m; and December 30 and 31 (Monday and Tuesday) from 11 a.m. until 3 p.m.  The site will be closed December 23-25.  Admission is $8 per person; $6 for seniors and students; children age 12 and younger are free. The mansion's gift shop offers many wonderful gift items for holiday shopping, and is open whenever the site is open.
"We have many special holiday craft and kids programs during A Gilded Age Christmas," says Malcolm, "including during school vacation.  Our Facebook page has listings for all events and programs: www.facebook.com/StaatsburghSHS"
Staatsburgh was the Gilded Age country home of financer and philanthropist Ogden Mills and his wife, Ruth Livingston Mills, a prominent figure in New York Society.  Their stately home, overlooking the Hudson River in the hamlet of Staatsburg, was redesigned and expanded to 79 rooms in 1895 by the famous architect Stanford White.
Staatsburgh State Historic Site and the Ogden Mills & Ruth Livingston Mills Memorial State Park are located on Old Post Road in Staatsburg, off Route 9 between Rhinebeck and Hyde Park. The historic site is one of 6 sites and 15 parks administered by the Taconic Region of New York State Office of Parks, Recreation and Historic Preservation. For more information, call 845-889-8851, or visit Staatsburgh's websites at https://parks.ny.gov/historic-sites/25/details.aspx
www.facebook.com/StaatsburghSHS and www.staatsburghstatehistoricsite.blogspot.com.
Staatsburgh's events are listed at https://parks.ny.gov/events/event-results.aspx?hs=25
The New York State Office of Parks, Recreation and Historic Preservation oversees more than 250 parks, historic sites, recreational trails, golf courses, boat launches and more, which are visited by 74 million people annually. A recent study found that New York State Parks generates $5 billion in park and visitor spending, which supports nearly 54,000 jobs. For more information on any of these recreation areas, call 518-474-0456 or visit http://www.parks.ny.gov/, connect with us on Facebook, or follow on Instagram and Twitter.
###
Contact: Donald Fraser | Staatsburgh State Historic Site, Interpretive Programs Assistant
Donald.Fraser@parks.ny.gov | (845) 889-8851 ext. 338