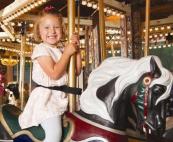 Cooperstown, N.Y. -
The Farmers' Museum in Cooperstown celebrates its season opening Saturday and Sunday, March 31 and April 1 with free rides on the Empire State Carousel.   Bring the whole family anytime between 10:00 a.m. and 4:00 p.m. to get reacquainted with our friendly barnyard animals, especially the twin Merino lambs born earlier this month. In the museum store, new offerings include exclusive Herrington teddy bears and also kitchen and garden items ideal for Mother's Day.  An eco-friendly line of children's toys made in United States will put a smile on any child's face. Visitors will also find new titles in the marvelous book section and beautiful stationery for any occasion. From March 31 through May 13, the museum will be open Tuesday through Sunday, from 10:00 a.m. and4:00 p.m., closed on Mondays. Summer hours begin on Monday, May 14. Admission prices through May 13: $10.00 (adults 13-64); $9.00 (seniors 65 and up); $5.50 (youth 7-12); free for children 6 and younger.
###
Photo credit: Photograph by Richard Walker
About The Farmers' Museum
As one of the oldest rural life museums in the country, The Farmers' Museum in Cooperstown, New York, provides visitors with a unique opportunity to experience 19th-century rural and village life first-hand through authenticdemonstrations and interpretative exhibits. The museum, founded in 1943, comprises a Colonial Revival stone barn listed on the National Register forHistoric Places, a recreated historic village circa 1845, a late- nineteenth-century Country Fair featuring The Empire State Carousel, and a working farmstead. Through its 19th-century village and farm, the museum preserves important examples of upstate New York architecture, early agricultural tools and equipment, and heritage livestock. The Farmers' Museum's outstanding collection of more than 23,000 items encompasses significant historic objects ranging from butter molds to carriages, and hand planes toplows. The museum also presents a broad range of interactive educational programs for school groups, families, and adults that explore and preserve the rich agricultural history of the region.
Contact:
Todd Kenyon, Public Relations New York State Historical Association Fenimore Art Museum/The Farmers' Museum Phone: (607) 547-1472 / E-mail:
t.kenyon@nysha.org