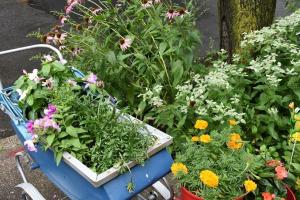 Application Deadline Is June 1!
2019 Marks 25 Years of the Contest Greening Brooklyn Block by Block
Brooklyn, NY—Brooklyn Botanic Garden (BBG) is delighted to announce the 25th annual Greenest Block in Brooklyn contest. For 25 years, the contest has been a cornerstone of Brooklyn Botanic Garden's community greening initiatives, promoting streetscape greening and neighborly connectivity. The contest supports Brooklyn residents in addressing environmental issues unique to living in a densely populated urban environment: greening in limited streetscape spaces, street tree care, use of smart, sustainable horticultural practices, and water conservation. The contest calls on neighbors to come together in their greening and to pass along horticultural knowledge to each other and the next generation.
 
Says Nina Browne, Community Greening Program Manager at Brooklyn Botanic Garden:
"Twenty-five years ago, the contest's founders were visionaries in the field of gardening competitions: Instead of rewarding individual gardeners, they chose to honor cooperation. From just 50 entries that first year, we now regularly see nearly 200 block and merchant associations using gardening as a way to develop grassroots leadership and build hyper-local community power. Faced with some of the toughest gardening challenges—litter, soil compaction, illegal dumping, and dog waste, just to name a few—the gardeners of Brooklyn are a constant source of expertise and inspiration."
 
The deadline to enter this year's contest is June 1, 2019. Presented by Brooklyn Botanic Garden in partnership with Brooklyn Borough President Eric L. Adams, the Greenest Block in Brooklyn contest promotes neighborliness and sustainability. By encouraging streetscape gardening, tree stewardship, and community involvement, the contest motivates neighbors to work together to make their blocks healthier and more connected, walkable, and resilient. The Greenest Block in Brooklyn contest is free and open to all residential blocks, commercial blocks, and community gardens in Brooklyn.
 
Contest winners are revealed in August, and dozens of prizes are awarded for both residential and commercial blocks for greenest storefront, best window box, sustainable practices, and other greening efforts.
 
To learn more about how to enter, visit bbg.org/greenestblock. Follow the fun at #GreenestBlockInBrooklyn.
 
The Greenest Block in Brooklyn contest is a project of Brooklyn Botanic Garden and Brooklyn Borough President Eric L. Adams, with leadership support from Brooklyn Community Foundation.
 
Major Support, Greenest Block in Brooklyn: Ponce De Leon Foundation
 
Major Sponsor, Community Greening Programs: National Grid
 
ABOUT BROOKLYN BOTANIC GARDEN
Founded in 1910, Brooklyn Botanic Garden (BBG) is an urban botanic garden that connects people to the world of plants, fostering delight and curiosity while inspiring an appreciation and sense of stewardship of the environment. Situated on 52 acres in the heart of Brooklyn, the Garden is home to nearly 15,000 types of plants and hosts approximately 800,000 visitors annually.
 
Learn what's happening at Brooklyn Botanic Garden at bbg.org/visit/calendar, read the Garden's blog atbbg.org/news, and find out what's in bloom at bbg.org/bloom. Visitor entrances are at 990 Washington Avenue and 455 Flatbush Avenue. For hours, directions, and admission information, please visit bbg.org/visit. Follow BBG on Facebook, Twitter, and Instagram, and join the conversation using the tags @BrooklynBotanic and #BrooklynBotanicGarden.
Photo: 2018 Greenest Block in Brooklyn Residential Winner: Lefferts Avenue between Bedford and Rogers Avenues. Courtesy of Brooklyn Botanic Garden.
Contact: communications@bbg.org, 718-623-7241