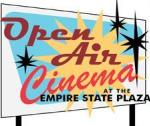 Albany, N.Y.
- Cabaret at the Playhouse, Ella at Capital Rep, and Open Air Cinema at The Plaza add up for great entertainment in New York's capital city!
Cabaret at Park Playhouse
Life is a Cabaret at Park Playhouse in Washington Park. Swing on by for this gripping production, with a beautiful set, amazing actors, and a dazzling score. Enjoy the Kander and Ebb classic in the FREE amphitheater seating, reserve preferred table seating for $12 or be part of the show with the table seating for $20.  Enjoy the action of the Kit Kat Klub, up close and personal as the actors serve you drinks before the show and during intermission! The Lakehouse in Washington Park, Albany 8pm, Tuesday through Sunday. *Through July 29 Only.
Ella at Capital Rep
It's 1966 and the first lady of song Ella Fitzgerald, performed by the incomparable Broadway veteran Tina Fabrique, is preparing for one of the most important concerts of her career. 111 N. Pearl Street, Albany Opening Night - July 24 at 7:30 p.m. (will run 8 shows a week through August 12)
Open Air Cinema at the Plaza presents Puss in Boots
Sit back, relax, and have a good laugh with your family as the Summer at the Plaza series kicks off its first Open Air Cinema night of 2012. Enjoy  the family comedy Puss in Boots surrounded by the beauty of the Empire State Plaza on a giant screen set up on the stage facing the museums' steps. So bring you blankets & seat cushions. Empire State Plaza, Albany Wednesday July 25 at 8:30 p.m. *An indoor rainsite will be set up in the event of rain.
###