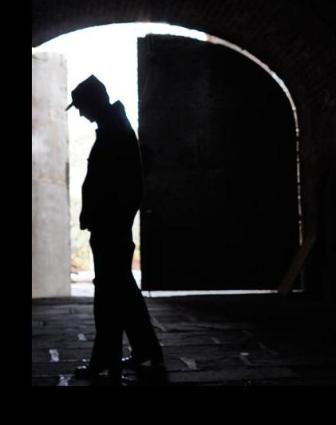 New York, N.Y.
-
Amelia
, a new play based on the true story of one woman's epic journey across Civil War America in search of her husband, will make its New York premiere in a site-specific production at a former Civil War prison camp beginning May 26, 2012. Previously developed at The Kennedy Center,
Amelia
is an Editor's Pick of
The Washington Post
that culminates at the gates of the notorious Andersonville Prison Camp where the central character is forced to disguise herself as a male Union soldier in this suspenseful and highly theatrical production. "It's a little-known fact that there were approximately 500 women who masqueraded as men and fought in the Civil War," said Alex Webb, the author of
Amelia
. "My play isn't a celebration of the legendary generals that are so often at the center of history. This is the Civil War from the perspective of a woman, the story of common people dealing with uncommon circumstances." While researching a role in
The Andersonville Trial
, the play by Saul Levitt, Webb came across a single line in an Andersonville prison journal that caught his attention. It read, "Rumor has it that a woman has come in here after her man." 
Amelia
is Webb's answer to that intriguing mystery.
Amelia
will be presented in the Fort Jay Powder Magazine on New York City's Governors Island, a former Civil War prison camp. Webb portrays multiple characters opposite Shirleyann Kaladjian, who plays the title character. Webb and Kaladjian are veterans of New York City's Aquila Theater Company. "I am passionate about the lost stories," said Webb. "The true heroics of so-called average people are drowned out by the bluster of those who have the power to write history.
Amelia
is a celebration of the inherent theatricality of two actors using only their voices, bodies and passion to recreate the power and tragedy of the American Civil War."
Amelia
will be directed by five-time Helen Hayes Award nominee Bill Largess, Artistic Director of the Washington Stage Guild. Four-time Helen Hayes Award nominee Marianne Meadows (national tours of
Cook
,
Dixon and Young
) is the lighting designer. Sigridur Johannesdottir (
Carmen
at the Washington Opera) is the costume designer. Stowe Nelson (
Samuel & Alasdair: A Personal History of the Robot War
) is the sound designer.
Amelia
will be presented Thursdays through Sundays from May 26 through June 17, 2012. All performances begin at 3pm. Admission is free, but reservations are required. To make a reservation, visit
http://www.ameliatheplay.com/
.
Amelia
runs 95 minutes and is performed without an intermission. For more information visit
http://www.ameliatheplay.com/
.  
About Amelia
Amelia
had its world premiere at the Washington Stage Guild in Washington, D.C. in January 2012. It had two previous public developmental readings. It was selected to inaugurate the Davenport Reading Series sponsored by producer Ken Davenport (
Godspell, Blithe Spirit, Oleanna
). It was then invited to be a part of the Kennedy Center's Page to Stage reading series.  
About Alex Webb and Shirleyann Kaladjian
ALEX WEBB
was an associate artist with the acclaimed Aquila Theatre Company for five years.  Favorite roles with Aquila include Lady Bracknell in
The Importance of Being Earnest
, Zeus in
The Iliad
and Casca in
Julius Caesar
at Lincoln Center.  He originated his roles in AMELIA at the Washington Stage Guild.  He has also performed at The Public Theatre, Arena Stage, La Jolla Playhouse, St. Louis Rep, Meadow Brook Theatre, GeVa Theatre, the Folger Theatre and Olney Theatre. His TV and film credits include
Prime
with Meryl Streep,
Boiler Room, OZ, Law and Order, Law and Order: CI, Homicide
and Comedy Central's
SportsDome
. He wrote and directed the film
Hove (The Wind)
featuring Olympia Dukakis and Shirleyann Kaladjian. His films have been official selections at the Montreal, Los Angeles, Palm Springs, Boston, Houston and Cleveland International Film Festivals.  
SHIRLEYANN KALADJIAN
originated the role of Amelia at the Washington Stage Guild in Washington, D.C.  In New York, she has performed with the Aquila Theatre Company at Manhattan Ensemble Theatre, the Culture Project and Lincoln Center in
Much Ado About Nothing, Julius Caesar, Cyrano de Bergerac
and
The Iliad
. She has also performed improv at Magnet Theatre and Upright Citizen's Brigade.  Regionally, Shirleyann has appeared at the Rep Theatre of St. Louis, American Stage, Geva Theatre, Skylight Opera Theatre, Totem Pole Playhouse and Meadow Brook Theatre. She has toured the U.S. with the Aquila Theatre Company and has sung throughout Europe and the Middle East in Broadway Cabaret. Her TV and film appearances include
Law and Order: SVU
, John Waters'
A Dirty Shame
and the award-winning film
Hove (The Wind)
with Olympia Dukakis.  
The Creative Team
Bill Largess
(Director)
is the Artistic Director of the Washington Stage Guild and a founding member.  He directed the World Premiere of
Amelia
at the Guild
. 
He has directed works by Shaw, Eliot, Beaumarchais and Molnar among others.  He has also acted and directed for many other companies including the Manhattan Theatre Club, the Shakespeare Theatre Company, Provincetown Playhouse and Rep Stage.  He has been nominated five times for Helen Hayes Awards (including nominations for Man and Superman and An Ideal Husband at the Stage Guild) and has been awarded two Individual Artist Fellowships from the DC Commission on the Arts and Humanities.  
Marianne Meadows
(Lighting Design)
Member, United Scenic Artists Local #829. National Tours:
Cook, Dixon and Young
, The Acting Company.  Resident lighting designer, Washington Stage Guild since 1994.  She has designed for 1
st
 Stage, Scena Theatre, Ford's Theatre, Wooly Mammoth, Studio Theatre, Theatre J, Washington Jewish Theatre and the Washington Shakespeare Company.  She has been nominated for four Helen Hayes awards for her lighting designs.
Sigridur Johannesdottir
(Costume Design)
is a native of Iceland.  Sigrid has her own decorative arts company, Scene Studios, Inc. as well as Dedua, a business focusing on fashion accessories.  She has designed various theatrical productions in Washington, DC, as well as worked on Carmen for the Washington Opera  She has taught theatrical design at American University and costume design at George Washington University.
Stowe Nelson
(Sound Design)
Stowe has developed new works with the Women's Project, Dance Exchange and the Mad Ones and most recently designed the world-premiere of SITI Company's
Cafe Variations
at ArtsEmerson.  Stowe is a co-founder of the Telephonic Literary Union--a company that devises phone-based storytelling experiences for a single audience member.  His design for 
Samuel & Alasdair: A Personal History of the Robot War 
won the 2010 NY Innovative Theatre Award for Outstanding Sound Design.
MEDIA CONTACT:
JOHN CAPO /
212.729.7697
JOHN@JOHNCAPOPR.COM