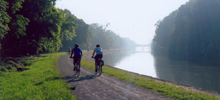 Nineteen events to benefit in 2009
WATERFORD, NY
- The Erie Canalway National Heritage Corridor Commission announced today nineteen events and festivals in the National Heritage Corridor that are receiving event sponsorships in the amount of $500. "Cultural, heritage, and recreational events deliver significant tourism and economic benefits to communities," said Joseph Callahan, Erie Canalway Commission Chair. "Making an investment in events is good for residents, visitors, and event sponsors." Festival and event-related visitors generate more than $209 million each year in direct sales revenues in the Erie Canalway, according to a 2007 Economic Impact Study conducted by the New York State Canal Corporation. The number reported for attending festivals and events more than doubled from 873,000 in 2002 to 2 million in 2007.
2009 Event and Festival Sponsorship Recipients
(listed in event date order) Waterford Canal Festival, Waterford, May 9 2009 American CAAP Society NE Regionals, Baldwinsville, May 13-16 Celebrate Commemorate Memorial Day, Waterloo, May 21-25 Fairport Canal Days Arts Festival, Fairport, June 5-7 Art Alive, Buffalo, June 6 Canal Fest--A Tribute to Canallers: Yesterday and Today, Chittenango, June 21 2009 Waterford Steamboat Meet, Waterford, July 4 Peppermint Days, Lyons, July 9-12 Canal Fest Week at the Lumber City History Center, North Tonawanda, July 19-26 Waterfront Music and Art Series, Cayuga, August 1
22nd Annual Little Falls Canal Celebration, Little Falls, August 3-9 Pirates of the Erie Canal, Palmyra, August 7-9 Medina Canal Heritage Day, Medina, August 8 Lock 7-12 Canalfest, Schenectady, August 8-9 Taste of the Tonawandas, Tonawanda, August 15 Waterford Tugboat Roundup, Waterford, Sept 11-13 Mohawk Valley Garlic and Herb Festival, East Herkimer, Sept 12 A Celebration of Native American Heritage, Schenectady, September 25-October 25 Connect the Canal Communities, Western New York,
throughout the season
In addition to the $500 event sponsorships, the Erie Canalway is a major sponsor of several Corridor-wide events, including: the Canalway Trail Celebration, June 6; Cycling the Erie Canal, July 12-19, Canal Splash, August 7-9, and the 2009 Quadricentennial Voyage of the Day Peckinpaugh, August through September.
For more information, visit
www.eriecanalway.org
###
Media Contact:
Jean Mackay Director of Communications and Outreach Erie Canalway National Heritage Corridor P.O. Box 219 Waterford, NY 12188 (518) 237-7000, extension 222
jean_mackay@partner.nps.gov
http://www.eriecanalway.org/