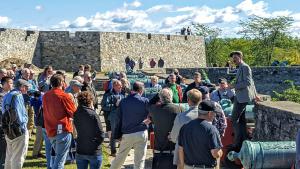 Ticonderoga, N.Y. - This summer, enrich your Fort Ticonderoga experience with the new behind-the-scenes evening program "Defend the Fort!" During this program, explore areas of Fort Ticonderoga off-limits to daily visitation. Get a museum hack perspective with Curator Matthew Keagle and discover how the fort's garrison prepared to tackle all of the contingencies of war from sudden attack, to bombardment, to a formal siege. Get an exclusive look at the strengths and weaknesses of the iconic fort and why and how it ultimately fell to the British while exploring it inside and out.
"Our special programs allow guests to enhance their Fort Ticonderoga experience through tours and demonstrations, focusing on unique parts of our history, led by our staff of engaging historians," said Beth Hill, Fort Ticonderoga President and CEO. "This year, visitors have the opportunity to go behind-the-scenes for an unforgettable experience for the whole family."
Other special tour opportunities include the highly acclaimed Guns by Night, Sunset Boat Cruises, and Beyond Bullets and Blades. Guns by Night captivates guests during a unique tour and demonstration of 18th-century firepower, concluding with a dramatic nighttime firing of weapons that you will not see anywhere else! Sunset Cruises aboard tour boat, Carillon, provides visitors with the breathtaking lake views of commanding mountains and the majestic fort, accompanied by a narrated tour of the most archaeologically rich waters in North America. Beyond Bullets and Blades introduces a rare opportunity to go beyond the exhibition case to examine and handle original 18th-century weapons with the supervision and knowledge of Fort Ticonderoga's expert museum staff.
All programs are rain or shine and require advanced reservations due to limited availability. For more information, visit http://www.fortticonderoga.org/visit/behind-scenes. To check availability and to reserve your spot today, call (518) 585-2821.
Every day is an event at Fort Ticonderoga and every year is a new experience. Fort Ticonderoga is the only site in America that tells a new story each year through dynamic historical interpretation.
Fort Ticonderoga: America's Fort™
The Fort Ticonderoga Association is an independent nonprofit educational organization that serves its mission to ensure that present and future generations learn from the struggles, sacrifices, and victories that shaped the nations of North America and changed world history. It serves this mission by preserving and enhancing its historic structures, collections, gardens and landscapes; and educating the public as it learns about the history of Fort Ticonderoga. Welcoming visitors since 1909, it preserves North America's largest 18th-century artillery collection, 2000 acres of historic landscape on Lake Champlain, and Carillon Battlefield, and the largest series of untouched 18th-century earthworks surviving in America.  Fort Ticonderoga engages more than 75,000 visitors each year and offers programs, historic interpretation, boat cruises, tours, demonstrations, and exhibits throughout the year and is open for daily visitation May through October. Fort Ticonderoga is accredited by the American Association of Museums and pursues its vision to be the premier cultural destination in North America. Visit www.FortTiconderoga.org for a full list of ongoing programs or call 518-585-2821. Fort Ticonderoga is located at 102 Fort Ti Road, Ticonderoga, New York.
America's Fort is a registered trademark of the Fort Ticonderoga Association.
Photo: Fort Ticonderoga introduces a new special program "Defend the Fort" on select days starting July 18, 2017. For more information and to reserve your spot, call (518) 585-2821.
Contact:
Beth Hill - 518-585- 2821