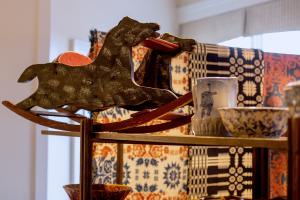 Mumford, N.Y. (September 1, 2020) — As summer turns to autumn, Genesee Country Village & Museum has a colorful array of programs on offer now through October 12. Usually found in the spring, the Antique Show has been re-located to September this year, adding the extra perk of the Historic Village and grounds still being open and in full swing with wide-open spaces to explore and enjoy the early autumn season.
On Saturday, September 26, visitors will have the opportunity to peruse the quality collections of more than 30 of Western New York's finest dealers, and also see antiques in their natural surroundings as part of the Museum's extensive collection throughout the historic houses and Wehle Gallery. The Preview Party from 5-7:30 pm on Friday, September 25, offers a relaxed atmosphere to enjoy hors d'oeuvres accompanied by local wine and the Museum's very own historic ales while browsing the antiques for sale throughout the exhibition areas.
Tickets for the Preview Party include Museum admission on Saturday as well, and Saturday's admission allows guests entry to the Antique Show as well as the Museum grounds, Historic Village, and Gallery, where demonstrations and talks will be happening throughout the day. Pre-sale tickets to the Preview Party and Antique Show are available online at gcv.org at a discount over at-the-door pricing. Members are free on Saturday, and receive discounted Member pricing on Friday's preview.
This year's Agricultural Fair will be held on Saturday and Sunday, October 3-4. In the tradition of a classic county fair, the Museum will have entertainers, vendors, animal exhibits, and cooking demonstrations, spread across the picturesque grounds of GCV&M's Historic Village.
Family favorites like Punch and Judy, sheep herding dogs, and the Cast Iron Chef cooking competition will return this year as well. As this is one of the Museum's most popular events and capacity is limited, GCV&M recommends that visitors pre-purchase tickets, which will be times for the morning or afternoon, in order to guarantee admission. Pre-sale tickets are available online at gcv.org at a discount of $2 per ticket up until the day before the event. Members are free and do not need to pre-register.
In addition to special event weekends, GCV&M is open for regular visitation Thursdays-Sundays and on Columbus Day, Monday, October 12, which will be the last day of the regular season, and a day when kids 12 and under receive free admission.  The Museum also has a cornucopia of classes, webinars, and in-person programming throughout the fall. With so many students learning remotely from home during the week, a new addition this season is the Family Field Trip program, allowing parents and kids to visit for a day of fun and learning at discounted, "field trip" prices. Historic interpreters will have demonstrations and talks to bring history, art, and nature alive for kids and adults alike on these special days that will stretch into late fall, providing plenty of learning opportunities across several subject areas. This fall, GCV&M offers not only a variety of programs and events, but is also a great way to get outside during Western New York's most colorful season.
To see the full roster of events and activities, visit the Museum website www.gcv.org or find them on social media at @gcvmuseum.
Photo: Antiques Show, Beth Kingston
Additional photos are available by request.
GCV&M is the largest living history museum in New York State with the largest collection of historic buildings in the Northeast. The Museum, with its John L. Wehle Gallery, working brewery, vintage base ball park, and Nature Center, is located in Mumford, NY, 20 miles southwest of Rochester and 45 miles east of Buffalo. Visit www.gcv.org for more information.
Contact
 Jen VanRy
(585) 294-8280
Day of Event Contact: 
 Becky Wehle