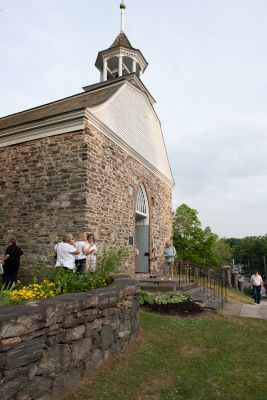 Explore historic sites with your cell, IPhone, IPad, IPod or MP3 Player
Experience Apple's First Tour "app"
White Plains, N.Y. --
History meets "tech-savvy" in Westchester as three historic sites offer cell phone tours with Apple's first tour "app" at the Old Dutch Church and Burying Ground. "We are very excited about the new 'tech-savvy' tours offered by the Old Dutch Church, Bronx River Pathway and Lyndhurst," said Kim Sinistore, Director, Westchester County Tourism & Film, "The only thing hotter than this summer's weather is history meeting new technology and providing cutting edge ways to enjoy all that Westchester has to offer." 
Old Dutch Church and Burying Ground
430 North Broadway, Tarrytown, NY  10591 914 631-4497
http://www.olddutchchurchfriends.org/
iPad tours
Get ready for Apple's
first
tour "app" as the oldest church in New York State and the first house of worship in the area showcases the importance of colonial Dutch religious life and its impact on American history, literature and art. The application guides visitors on a 30-minute tour of the church and graves made famous by Washington Irving. Celebrate the church's 325
th
anniversary as this multi-touch, multi-media tour brings the Old Dutch's storied history to life.  iPads are available for a $10 rental fee and offer a crystal clear 9.7 inch LED screen and audio capacity.
Bronx River Pathway
Audio tour
http://www.westchester1.com/index.php?option=com_content&view=article&id=628:annual-holiday-boutique-at-westchester-reform-temple&catid=78:the-project&Itemid=153
America's oldest parkway has a fascinating history and now, thanks to the Friends of Westchester County Parks, Inc., learning the history of the Bronx River Parkway just got a lot easier. Hikers and cyclists along the 9.6 mile Bronx River Walk will have the opportunity to hear the rich history of this area through a free interactive 26-stop audio tour, narrated by none-other than former CBS News anchor and award-winning journalist, Dan Rather. Using their cell phones, walkers can get information about any one of the 26 points of interest by calling (914) 517-5575. Visitors will also be able plan their walk in advance by logging on to
www.friendsofwestchesterparks.com
and downloading the information and a map to their IPods or MP3 players.
Lyndhurst
635 South Broadway, Tarrytown, NY  10591 914 631-4481
http://www.lyndhurst.org/
Cell Audio Tours of the Mansion and Grounds
America's great 1838 Gothic Revival castle, occupied by three prominent New York City families, including financier Jay Gould.  Now the property of the National Trust for Historic Preservation, Lyndhurst offers one of the finest examples of nineteenth-century estate landscapes, with splendid grounds and gardens. Cell Phone tours last from 45 minutes to 3 hours, depending on your pace, available any time between
10:30 a.m. and 3:30 p.m. There is no additional cost, with your paid admission, except for your cell phone minutes. A self-guided cell phone tour of the grounds may be taken before or after a paid guided tour of the mansion, at no additional charge. For more information about traveling to Westchester, including maps, hotels and events visit
http://www.westchestertourism.com/
or contact Westchester County Tourism & Film at
tourism@westchestergov.com
or 800 833-9282 / 914 995-8500. Editors note: Digital images are available, please contact
larx@westchestergov.com