Exhibition: December 4, 2009 - January 10, 2010
Opening Reception:   Friday, December 4th, 2009, 6-9 p.m.
Garnerville, NY
- A site-specific installation by Tamara Gayer will be on view at the GAGA Arts Center in Garnerville, NY from December 4
th
to January 10
th
. The show,
Everything's For Sale
, is comprised of 'Skyline,' a large scale installation that will use the windows in Gallery B at GAGA as a substrate; and 'Window,' a lightbox positioned opposite these windows. 'Skyline' plays with the image of the skyline of Manhattan, depicting some of the iconic buildings of this vista and outlining the power and aesthetic history of the City. This piece takes this engagement a stage further by altering some of the specifics, toying with our perception of the generic image of the City. The light box 'Window' offers the complementary intimate view of the City.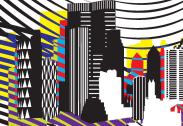 Gayer's juxtaposition is not only a conversation about the history of New York but a play on light, color and patterns. Gayer uses our basic predisposition to assemble patterns to create undulating landscapes that evoke movement and promote discovery. In this show she will focus on plays of light and shadow both natural and artificial. This show is a continuation of the conversation Gayer seeks to promote about the spaces in which we live and the ongoing changes to our environment.  Tamara Gayer is an artist transfixed by Manhattan. Suspended between the impulses of an image-maker and a builder, she creates work that mutates from drawing to installation to video. Born in NYC, Gayer grew up in Jerusalem and Tel-Aviv. She holds a BA from Sarah Lawrence College and an MFA from Hunter College. In New York her work has been show at Priska Juschka Fine Art, Foxy Production, and Exit Art among others. She is represented in several prominent collections, including that of the Museum of Modern Art.
Gallery Hours:
Fridays- 4-8PM, Saturdays 2-6PM and Sundays 12-4PM                           
Closed December 25
th
through 27
th
and January 1
st
through 3rd
Location and Contact Information:
GAGA is located at the Garnerville Arts & Industrial Center, 55 Railroad Avenue, Garnerville, NY 10923 in the Village of West Haverstraw, Rockland County. For directions and additional information, visit:
http://www.gagaartscenter.org/
; call 845-947-7108, or email
gaga@garnervillearts.com
Contact
: Ursula Schneider, Gallery B Director (845) 429-5636 James Tyler, Executive Director (845) 548-8918