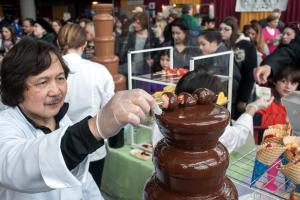 Taking place at Long Island's Cradle of Aviation Museum  
Visitors from near and far expected to enjoy treats from 80+ vendor booths and numerous entertainment inclusions at one of the largest air & space museums in the world!
Garden City, NY – The Chocolate Expo, America's largest and most unique chocolate festival, will be returning to Long Island's spectacular NYCB Presents Cradle of Aviation Museum in Garden City, NY, on Sunday, March 1, 2020, from 10 a.m. until 7 p.m.
At The Chocolate Expo, attendees will get to taste, purchase, celebrate and otherwise indulge in delicious gourmet chocolates, baked goods, specialty foods, cheeses, wines, spirits, hard ciders, craft sodas and much more while touring one of the largest air and space museums in the world with a historic collection that includes one of Charles Lindbergh's original planes and prototypes from NASA's Apollo Space Program.
In the Museum's three-story lobby, guests will be greeted by chocolate fountains located directly below a Blue Angels jet suspended from the glass ceiling. The fountains will be overflowing with dark chocolate, milk chocolate and white chocolate that can deliciously drench a yummy selection of fresh strawberries, sweet pineapple, marshmallows, pretzels and crisp rice treats.
Participating chocolatiers in this year's festival will offer chocolate bon bons, chocolate bars, raw chocolate, hot chocolate, chocolate fudge, chocolate novelties, chocolate barks, chocolate-coverage pretzels, chocolate-covered bacon and so much more.
Cake jars, cupcakes, brownies, donuts, raw cookie dough treats, challahs, hamantaschen, Bahamian-style rum cakes and gluten-free offerings will be showcased along with other baked goods, while chocolate spirits, chocolate wines, chocolate beers, sangria and hard ciders will be among the craft beverages available for tastings and to purchase by the bottle.
New at The Chocolate Expo this year is the "Long Island Honey Market" featuring hundreds of local, regional and international honeys and honey products, plus for this first time the festival will have a "New England Pavilion" to highlight vendors from that region offering handcrafted chocolates, desserts and other items.
Entertainment, always at the core of The Chocolate Expo experience, will be on impressive display at this year's event.
DJ CHEF, winner of Food Network's Cutthroat Kitchen, who spins tunes and cooks, will be hosting The Chocolate Expo's famous "Hangar 2 Dance Party" from 11:30 a.m. until 4:30 p.m. featuring appearances by authentically-costumed Star Wars characters from the 501st Empire City Garrison and other costumed characters, all while surrounded by historic aircraft.
On The Chocolate Expo Stage, located on the second floor of the Museum's Atrium Lobby, presentations will include a TV-style chef competition, a chocolate spa experience and a discussion about the effect of chocolate on your brain by a neuroscientist.
The "Chocolate Challenge" competition will be hosted by Chef Lawrence Rosenberg (as seen on one of Food Network's most popular episodes of Guy's Grocery Games) at 12:00 p.m. and 3:00 p.m. In the Challenge, home cooks selected from the audience with compete against each other using ingredients from Chocolate Expo vendors, plus the 3:00 p.m. competition will add Girl Scout Cookies as a key ingredient to be incorporated into each chef's creations.
The Chocolate Expo's first-ever "Chocolate Spa Experience" hosted by bodycare expert Cristy Bergeron of ScrubIt NH, will take place at 1:00 p.m. and 4:00 p.m. Volunteers from the audience will be selected to experience chocolate skincare and beauty products firsthand, with samples distributed and a grand prize gift basket being given to one lucky winner at the end of each presentation.
World-renowned neurologist and author Dr. Jay Lombard (www.DrJayLombard.com) will present "Chocolate and Brain Health" at 2:00 p.m. Topics include how chocolate activates key chemicals in the brain that are associated with pleasure and how antioxidants in chocolate promote overall well-being. The presentation will be followed by an audience Q&A session.
Showings of "Apollo 11: First Steps" are included for Chocolate Expo guests at no extra charge (regularly $10/adult and $9/child) in the JetBlue Sky Theater & Planetarium at 12:00 p.m., 3:00 p.m. and 5:00 p.m. for an all-encompassing sight-and-sound experience.
Free face painting and balloon twisting activities for children will take place in The Chocolate Expo's "Kidz Zone" inside the Museum's Junior Jet Club, along with chocolate-themed crafts. For a small additional fee, families can also take a spin on historic Nunley's Carousel, which was made famous by Billy Joel's Waltz #1 ("Nunley's Carousel"), as a tribute to his beloved ride.
The Girl Scouts of Nassau County Chorus, which famously sang "True Colors" by Cyndi Lauper in Dove's highly-acclaimed "Campaign for Real Beauty" TV ad during Super Bowl XL, will be performing in the Cradle of Aviation's Atrium Lobby at 11:00 a.m.
In partnership with the Harry Chapin Food Bank of Long Island Cares, a Food Drive will take place on the day of the Expo. Guests are asked to bring non-perishable food items for donation.
The Harry Chapin Food Bank will also be selling deluxe Chocolate Expo insulated tote bags on the very day New York State's new "bag law" takes effect, which prohibits most retailers from distributing plastic bags. The proceeds of these reusable bags, which are great for shopping at The Chocolate Expo and ideal for everyday use, will benefit Long Island residents who face daily hunger-related challenges.
Timed-entry tickets to The Chocolate Expo are $15/adult and $10/child (ages 2-12), when purchased online from www.TheChocolateExpo.com, or $21/adult and $16/child (ages 2-12) at the door. With the time-entry tickets, guests get priority entry during the specific time they choose to help even-out entry arrival flow but can stay as long as they like.
For greater savings, The Chocolate Expo's "5PM Special" ticket is priced at just $10/person (all ages 2 and up) for admission after 5 p.m., when purchased online, and $16/person, when purchased at the door.
A special VIP ticket, priced at $35/person and available online only, provides priority entry at all times during the day, plus a VIP badge, a deluxe Chocolate Expo insulated tote bag (a $10 value) and a chocolate spa bath bar (a $7 value), as well as a donation to the Harry Chapin Food Bank.
Online tickets to The Chocolate Expo include all air & space exhibits for less than the price of regular admission to the Cradle of Aviation, while raising funds for the important preservation and education missions of the Museum.
Because of the expected demand, it is highly recommended that tickets be purchased online in advance at www.TheChocolateExpo.com, where more information is also available about the festival. Additional information for the NYCB Presents Cradle of Aviation Museum can be found at www.CradleofAviation.org.
# # #
ABOUT THE CHOCOLATE EXPO:
The Chocolate Expo is a Baum Image Group event. Prior creations of Baum Image Group include the official Woodstock 35th Anniversary Celebration in 2004 (under license from Woodstock Ventures) and the New York Chocolate Expo.
ABOUT THE NYCB PRESENTS CRADLE OF AVIATION MUSEUM:
The Cradle of Aviation Museum celebrates the remarkable accomplishments and contributions of Long Island to our nation's development and to the history of aviation. The Museum features 75 fascinating exhibits, the Jet Blue Sky Theater Planetarium and a historic carousel.
Digital photographs are available to accompany this story at:
https://www.dropbox.com/sh/5zyu84oq2anfgry/AAA2tDBBAXOw0W8upIWh-m3Wa?dl=0
Please credit images where indicated © to photographer Chuck Fishman, unless otherwise noted in the file name.