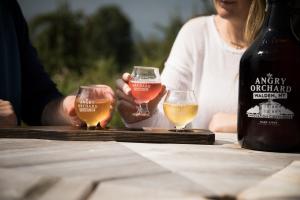 Visit the county's many breweries, cideries, distilleries, and wineries offering outdoor seating
Orange County, N.Y. (July 27, 2020) – Along with many of Orange County, N.Y.'s restaurants, craft beverage locations began offering patrons outdoor seating as part of the phased reopening of businesses throughout New York State. In addition to delivery and curbside pick-up options, residents and visitors can enjoy a cold glass of their favorite locally sourced beer, wine, cider, or spirits while taking in the beautiful views and wide-open spaces of the Hudson Valley.
"Our roots run deep in the craft beverage industry, and we recognize the resilience of our many brewmasters, viners, and distillers during this challenging time," said Orange County Tourism Director Amanda Dana. "As more of our local dining and craft beverage establishments open up their doors and offer outdoor seating, we encourage you to stop by and raise a glass of your favorite refreshing beverage."
Below is a sampling of Orange County, N.Y. wineries, breweries, cideries, and distilleries currently offering outside seating. Before visiting any of the county's craft beverage locations, please contact the venue directly to confirm that they are open.
Angry Orchard, 2241 Albany Post Road, Walden: Surrounded by 60 acres of apple trees, Angry Orchard's outdoor Cider Garden offers outdoor seating with a relaxing fireplace and a variety of ciders. Outdoor table service is available Friday-Sunday, 11 a.m. - 6 p.m. by reservation only. Parties are limited to six people, and reservations are for 90 minutes. angryorchard.com
Newburgh Brewing Company, 88 Colden Street, Newburgh: "Brewed with heart in Newburgh," is the slogan of this brewery, which is among Orange County's earliest craft beer producers. Its brews range from the traditional to the adventurous, including the Newburgh Cream and Brown Ales, the very "hopular" Boss series IPAs, and the Café Sour infused with Ethiopian coffee. The taproom at Newburgh Brewing Company is open Friday from 4 - 10 p.m., and Saturday and Sunday from 12 - 8 p.m. Reservations are recommended, but walk-ins are welcome. Delivery is also available within a 25-mile radius on Mondays and Thursdays only. newburghbrewing.com.
Orange County Distillery at Brown Barn Farms, 286 Maple Avenue, New Hampton: Sip on farm-fresh cocktails beside a beautiful old barn on 23 acres. Orange County Distillery sources all of their ingredients from its farm behind the tasting room. The distillery is open for outdoor and tented seating, and limited dining in its front room and loft. Parties are limited to 10 people. Orange County Distillery is also offering curbside pickup and delivery within New York State. Hours of operations are Friday from 4 - 9 p.m., Saturday from 12 - 9 p.m., and Sunday from 12 - 7 p.m. orangecountydistillery.com
Rushing Duck Brewing Company, 1 Battiato Lane, Chester: This small, family-owned and operated brewery has been a craft beer lover's haven in Chester's historic district since 2012. Their menu of signature and seasonal brews includes varieties from hoppy to malty, American-styled and Belgian-influenced, barrel aged, sours, and more. The brewery is open Thursday from 12 - 6 p.m., Saturday from 12 - 8 p.m., and Sunday from 12 - 5 p.m. for outdoor seating and beers to go, as well as delivery within 20 miles of its Chester location. rushingduck.com
Applewood Winery, 82 Four Corners Rd., Warwick: Applewood Winery sources the ingredients for its wines, ciders and spirits from its own vineyards and orchards, and from farms across the state. Along with notable barrel-fermented reds and crisp, steel-aged whites, Applewood has also become known for its award-winning Naked Flock Hard Cider. The venue is open Wednesday through Sunday, 11 a.m. - 5 p.m., for outdoor table service and limited indoor seating. Advanced tickets are strongly recommended for weekend visits. applewoodwinery.com
Download the OCNY Craft Beverage Tour app, now available on the Google Play and Apple Store. The app features an interactive map with all craft beverage locations that allows users to find destinations nearest to them and learn about the many wineries, breweries, distilleries, and cideries located throughout Orange County.
For a full list of Orange County, N.Y. restaurants and craft beverage locations offering outdoor dining as well as delivery and carry-out options, visit orangetourism.org/carry-out-restaurants. These lists are continually updated to reflect any changes that may occur. Additionally, a new fun, free, 56-page travel guide is available for digital download or by request at www.orangetourism.org/travel-guide.
About Orange County Tourism
Orange County Tourism, based in Goshen, N.Y., is the county's tourism headquarters and a participant in the I LOVE NY program. A comprehensive listing of area attractions, lodging, and events can be found at www.OrangeTourism.org. Like Orange County Tourism on Facebook for the latest news on local happenings.
###
Photo features: Angry Orchard in Walden, N.Y.
For more information, contact:
J.P. McGuirk
Focus Media, Inc.
845-576-2212