Cooperstown, N.Y.
- Discover
how rural New Yorkers typically celebrated Thanksgiving in the 1840s when The Farmers' Museum re-opens its doors on the Friday and Saturday following the holiday - November 25 and 26 from 10:00 a.m. to 4:00 p.m. Visitors will see traditional Thanksgiving foods prepared over the open hearth at the rustic Lippitt Farmhouse. Look in on the museum's live turkeys and see their unusual turkey hutch, ride the Empire State Carousel, or just enjoy a peaceful walk around the museum's historic village. You can also learn about unusual 19
th
century digestive medicines as they are created at Dr. Thrall's Pharmacy and see the blacksmith create kitchen utensils used in the 1840s.  Watch our farmers "drive the turkeys to market" at 12:00 and 2:00 p.m.  The Farmers' Museum is the ideal setting to spend time with family and friends over the Thanksgiving holiday. Catch up on your holiday shopping at Todd's General Store in the Historic Village and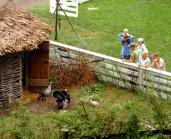 TheFarmers' Museum Store. The museum stores feature unique wooden toys, books, Solmate Sox, Marble jewelry, artisan-made products, and much more.  Beautiful holiday items and greeting cards are in stock including handmade, glass ornaments from Peggy Kaar.  NYSHA members receive 20% off! The Crossroads Café will also be open for your refreshment needs.  Admission: $10 adults, $9 seniors (age 65 and over), $5.50 children age 7-12, free for children 6 and under and for members of the New York State Historical Association.  Visit FarmersMuseum.org/thanksgiving for a complete schedule of activities.
###
Image1: Gwen Miner, Supervisor of Domestic Arts at The Farmers' Museum, is shown preparing traditional Thanksgiving foods in the Lippitt Farmhouse during the event "Thanksgiving at The Farm," which takes place the Friday and Saturday after Thanksgiving Day at the museum.
Image2: A group visits with some of the many live turkeys at The Farmers' Museum in Cooperstown.
About The Farmers' Museum
As one of the oldest rural life museums in the country, The Farmers' Museum in Cooperstown, New York, provides visitors with a unique opportunity to experience 19th-century rural and village life first-hand through authentic demonstrations and interpretative exhibits. The museum, founded in 1943, comprises a Colonial Revival stone barn listed on the National Register for Historic Places, a recreated historic village circa 1845, a late- nineteenth-century Country Fair featuring The Empire State Carousel, and a working farmstead. Through its 19th-century village and farm, the museum preserves important examples of upstate New York architecture, early agricultural tools and equipment, and heritage livestock. The Farmers' Museum's outstanding collection of more than 23,000 items encompasses significant historic objects ranging from butter molds to carriages, and hand planes toplows. The museum also presents a broad range of interactive educational programs for school groups, families, and adults that explore and preserve the rich agricultural history of the region.
For more information or images, please contact:
Todd Kenyon, Public Relations New York State Historical Association Fenimore Art Museum/The Farmers' Museum Phone: (607) 547-1472 / E-mail:
t.kenyon@nysha.org