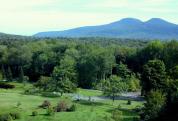 The 11th Annual Mountain Top Arboretum Garden Fair will be held Saturday, June 30th featuring guided nature walks and free admission.
Tannersville, N.Y. -
Mountain residents and visitors will gather for the 11
th
Annual Garden Fair at the Mountain Top Arboretum on Saturday, June 30
th
, from 10 a.m. to 3 p.m. This year, guests are invited to take guided nature walks through 2 of its areas: the West Meadow and the Woodland Walk, both featuring distinctive terrains. Admission to the fair is free and includes special gardening demonstrations, an art show presented by Windham Arts Alliance, refreshments and the opportunity to purchase hardy, native trees and shrubs. The Mountain Top Arboretum is a unique nature sanctuary in the heart of the Catskill Mountains. Expansive, distinctive areas afford visitors a new experience each time they venture into the gardens. The Arboretum allows guests to immerse themselves in the dazzling array of trees and plants that adorn the mountaintop and to commune with the splendor of the natural scenery that defines the region. This year, the Mountain Top Arboretum is working with the Windham Arts Alliance to feature art with a horticultural theme at the Fair. The art show will showcase some of the best work created by local artists. The art will be offered for sale. Submission information can be found at windhamartsalliance.org. For those interested in horticulture, there will be demonstrations for guests to learn to plant in the Arts and Crafts style. As in years past, there will be available for purchase an assortment of shrubs, trees, and perennials specially selected for growth on the mountaintop. Mountain Laurels are a big favorite, and often sell out quickly. In addition, Master Gardeners will be available to test your soil sample's PH and to answer questions. The Mountain Top Arboretum is a fantastic destination for those looking to escape civilization for a few hours. It is just a short drive from the Capital Region and the lower counties of New York State. The pavilion-style event will take place rain or shine. Refreshments will be available and admission is free.
About the Mountain Top Arboretum
The Mountain Top Arboretum is a public garden in the northern Catskill Mountains of New York. It has 179 acres of beautiful trees and shrubs that can successfully adapt to the rigorous climate at its 2,400 ft. elevation, as well as native woodlands and wetlands. Its mission is to engage in the applied science of horticulture, promote stewardship of the environment, and offer a diversity of programs for the education and pleasure of the public. The Arboretum is open every day of the year and admission is free. Visit our website at MTArboretum.org and find us on Facebook at http://www.facebook.com/MountainTopArboretum.